NBA suspends DeMarcus Cousins for hitting O.J. Mayo in the groin
Cousins will miss Wednesday's game after being suspended for striking Mayo in the groin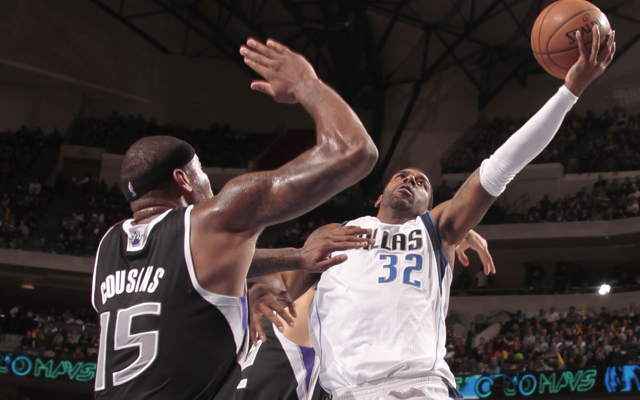 Cousins will miss Wednesday's game.
(Getty Images)
The NBA on Wednesday suspended Sacramento Kings forward DeMarcus Cousins one game for "striking O.J. Mayo of the Dallas Mavericks in the groin" Monday. 
Here's the play: 
Mayo was seriously livid during the play and complained to both the officials and his coach. Can you blame the man? After the game, he said Cousins has "mental issues."
Cousins defended himself Wednesday, saying that it was unintentional, and questioning Mayo's questioning of him.  
This story is, in a nutshell, DeMarcus Cousins. He clearly nailed Mayo in the groin on purpose, and then not only tries to say it wasn't on purpose (which is fine, he's trying to avoid the penalty), but he goes after the guy he hit. Cousins has so much talent, so much ability, such a bright future. But he's such a headache for everyone. Kicked off of Team USA Select, complained about by veterans and younger players alike, Cousins has a terrible reputation, and all of this without a single off-court issue.
This will be the third game Cousins has missed this season due to suspension, after missing two games for his altercation with Sean Elliot of the Spurs' broadcast team. 
Keep it right here for all of the news, notes, scores and highlights from around the leagu...

The NBA's City edition Nike jerseys are bold and very different

The Wolves may be smoke and mirrors, but the Pacers have the look of a team that can hang in...
LeBron said it might be difficult if the Lakers rookie ducks out of the way before he gets...

Galin Dragiev has his finger on the pulse of the Mavericks and just locked in a play for Thursday's...

The Crimson Tide point guard has been impressive so far and joins the top tier of prospect...