NBA Trade Deadline: Andrew Bogut on the block?
Since the Bucks made him the No. 1 overall pick in 2005, Andrew Bogut's time in Milwaukee has been up and down. And now the Bucks could be dealing him.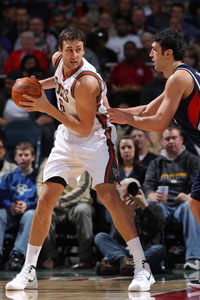 The Bucks are open to trading Bogut?
(Getty Images)
Since the Bucks made him the No. 1 overall pick in 2005, Andrew Bogut's time in Milwaukee has been up and down. Mostly down though. Injuries, lack of success and more injuries have sort of derailed what seemed to be a good thing.
And now both Bogut and the Bucks might be open to parting ways.
Via ESPN.com
:
NBA front-office sources say that the Bucks, who have always swatted away trade inquiries for Bogut in the past, are now listening to pitches for the 7-foot Australian, who is said to be intrigued by the prospect of a fresh start elsewhere after more than two years of injury misfortune and teamwide tension under coach Scott Skiles over the past two disappointing seasons.

This development, though, comes with a crucial caveat:

Sources say that the Bucks, at least for the moment, are insisting that any team that trades for Bogut take on the disgruntled Stephen Jackson as part of the trade.
Bogut and his agent aren't exactly refuting that either.
"In today's business, the best player in the world has changed teams already, LeBron James. He's changed teams, not a trade,"
Bogut told the Journal Sentinel
. "Seven years (with the Bucks). It could work for us to part ways or it could work for us to stay together. I'll make it a positive either way."
And his agent, David Bauman: "There's a lot of teams interested in calling [Bucks GM] John Hammond," Bauman said. "I don't know what they (the Bucks) will end up doing."
Bogut suffered a broken left ankle in late January and likely will miss the remainder of the regular season. His timetable had him out 8-12 weeks, so it's unlikely he'd be able to contribute to a new team this season. Bogut is signed through 2014 though.
If a Bogut trade must include Stephen Jackson, I wouldn't count on it happening.
As Ken Berger of CBSSports.com reported
Friday, teams aren't exactly interested in Captain Jack. So a Bogut deal might be a bit unlikely.
Still, the fact the franchise and their franchise player appear to be at a bit of a crossroads is big. The Bucks seem to be stuck in neutral and his injury issues certainly haven't helped that. The asking price is going to be high for him, but if the Bucks can get ample return, a parting of the ways might be worthwhile for both sides.
LeBron said he was frustrated by the President's recent actions

A look at the various actors and elements in the latest sensational blockbuster trade in the...

Blockbuster deal doesn't change the Thunder's projected finish in the West
The Thunder strike again this offseason, and Knicks, entering a new chapter, also make out...

The Warriors have responded to the White House rescinding their invitation

Carmelo Anthony has to change his game in Oklahoma City