NBA Trade Deadline Buzz 2.18.14: The race is on
The lastest on NBA trade rumors including Rajon Rondo, the Clippers, Jarrett Jack, and Anthony Morrow.
by

Eye on Basketball staff

• 2 min read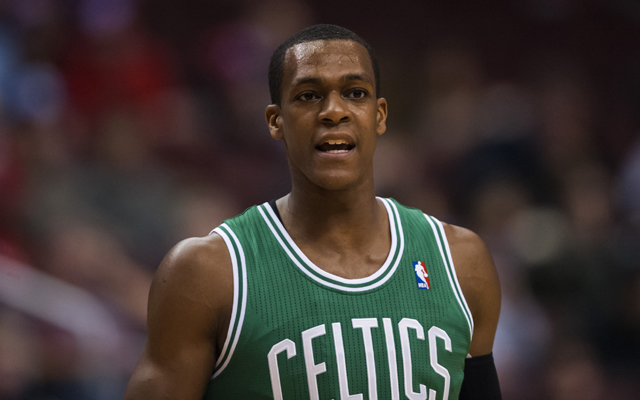 It took a while, but the trade rumors started flying fast and furious on Tuesday in advance of Thursday's deadline. Here's the latest. 
3:30 p.m.
Sacramento and Brooklyn discussing a deal centered on Marcus Thornton for Jason Terry and Reggie Evans, league sources tell Yahoo Sports.

— Adrian Wojnarowski (@WojYahooNBA) February 18, 2014
12:34 p.m.
•Ken Berger of CBSSports.com reports the New Orleans Pelicans have made Anthony Morrow available. The sharpshooter is always seemingly available despite his talent. 
New Orleans has made Anthony Morrow available for a draft pick, league source says. Morrow has a $1.15M player option for next season.

— Ken Berger (@KBergCBS) February 18, 2014
•ESPN reports that both Brooklyn and the Sacramento Kings are chasing Cleveland backup point guard Jarrett Jack . 
Sacramento, I'm told, is another team that has engaged in talks with Cleveland about Brooklyn backcourt target Jarrett Jack

— Marc Stein (@ESPNSteinLine) February 18, 2014
•As one would expect, the Sixers are open for business. Tank on, you crazy diamond. 
The Sixers are one of the busiest teams in the league with deadline approaching. Have room to take contracts and are below minimum payroll.

— Ken Berger (@KBergCBS) February 18, 2014
•The Houston Rockets are always busy at the deadline, and this time they want Mike Dunleavy according to USA Today, but the Chicago Bulls aren't biting so far.
Trade deadline rumblings: Houston's hope of landing Bulls' Dunleavy not looking good, as I'm told Chicago doesn't appear willing to move him

— Sam Amick (@sam_amick) February 18, 2014
•The Los Angeles Clippers are willing to move Barnes or Dudley for frontcourt help, according to Ken Berger of CBSSports.com.
Clippers interested in flipping wing player (Dudley, perhaps Barnes) for frontcourt help, per source. Jamison, Mullens also available.

— Ken Berger (@KBergCBS) February 18, 2014
•USA Today reports that (predictably) the Orlando Magic are trying to move Jameer Nelson and Glen Davis , but not so much Arron Afflalo .
The Magic have been focused on talks involving vets like Jameer Nelson & Glen Davis, but not getting anywhere just yet.

— Sam Amick (@sam_amick) February 18, 2014
•USA Today also reports that the Wolves have made everyone but Kevin Love available, which is kind of surprising in that that would include Ricky Rubio .
With Minnesota in eternal pursuit of keeping Kevin Love, rival teams given impression that anybody but Love himself is up for discussion.

— Sam Amick (@sam_amick) February 18, 2014
Add the Raptors to the list of teams who want a crack at Rondo. 
12:00 p.m.
•Talks fell apart between Charlotte and the Milwaukee Bucks for Gary Neal and Caron Butler , which should be a huge relief to Charlotte Hornets fans. 
•Doc Rivers wants the Clippers to add another big man. This isn't a shock since they loaded up on wings last summer. 
•The Kings reportedly discussed a deal with Boston to send Isaiah Thomas , Ben McLemore , and two picks to Boston for Rajon Rondo . Boston of course says the Kings offered that, the Kings say it was Boston and they said no. Of course, Boston has said they're not trading for Rondo for weeks and yet he keeps popping up in talks.
•The Los Angeles Lakers and Brooklyn Nets are talking about a trade of Jordan Hill .
•The Minnesota Timberwolves and Memphis Grizzlies are discussing a trade involving Chase Budinger , Tayshaun Prince , and J.J. Barea . A league source told CBSSports.com Tuesday that the Grizzlies are "strongly predisposed" against trading Tony Allen , who is also said to have been discussed. 
Enes Kanter isn't seeing much comedy in the Kevin Durant social media situation

Iggy nearly joined the Rockets before giving the Warriors a final chance to raise their offer,...

The Celtics guard is leaning towards siding with his new teammate but has questions about the...
Knicks media day and the first day of training camp in New York is Monday

A former Michigan State football player is suing Green over an alleged 2016 assault

Kanter took exception to KD saying he couldn't win a title with those "cats" from OKC