NBA trade rumor: Could J.J. Redick be traded?
The Magic aren't ready to move J.J. Redick yet, reportedly, but if they do, they'll have a strong market for him.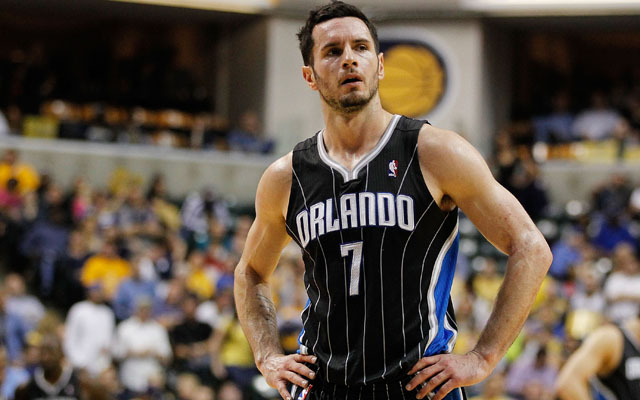 Redick could be traded this season.
(Getty Images)
J.J. Redick is a perfect trade asset for the Magic. They're in a rebuilding mode... kind of. (They keep winning, inexplicably, which is both pleasatly surprising and very damaging to their overall objectives.) So they can afford to ship him out for assets instead of an upgrade. Redick's a quality shooter in good health who learned to be a quality defender under Stan Van Gundy. He's 28, and has an expiring $6 million contract. 
Basically, he's about as close to perfect on the trade market as you're going to get for a non-superstar. 
And the Magic are going to have a lot of options if they put him on the market. But they're not doing that yet, reportedly. 
Ric Bucher of CSN Bay Area reports that the Magic aren't putting Redick on the market yet, but teams have already started sniffing around to guage the market value. 
If Redick is moved, it will be for a younger talent and/or a draft pick and the Magic wouldn't mind staying competitive for as long as they can this season. As of right now, the potential suitors aren't anywhere near making their best offer. The likeliest trade partners: Chicago, Memphis, Minnesota, Milwaukee, Utah.
via Ric Buchers post on LA Sports | Latest updates on Sulia.
The Magic have plenty of time to let the market for Redick simmer. If he gets hurt, it would be unfortunate obviously, but his money comes off the books anyway. And the Magic can continue to see if they have something they can win with now without ramification. But if they do make a move, that's a strong combination of suitors. 
The Bulls would likely want to send Rip Hamilton's expiring, but the Magic might be able to get a young asset along with him. Memphis has young players and the depth to spare. Redick would fit perfectly with the Grizzlies and could be a difference maker in their playoff run. The Bucks have 7,000 frontcourt players to deal and a number of versatile players on reasonable contracts. Utah is likely looking for a minor tweak, but the Jazz are also known to make huge moves out of the blue. And they have legitimate star players with possible trade situations. 
It's going to be something to watch, but expect Redick to be a major topic of conversation when February comes along. 
With 2K18 out everybody wants to know who has the 10 highest ratings in the game. Here's the...

Durant noted in an interview that all of the criticism in the immediate aftermath hit him...

Want the swagger of LaVar Ball? "NBA 2K18" lets you copy his absurd run from his WWE appea...
Durant apologized for a few tweets in which he criticized OKC and his former coach Billy D...

Lue does not expect the Cavs' big trade to affect the team's starting frontcourt ... at least...

Dwight Howard wants to be a farmer in his future and retire with his donkeys