NBA trading deadline 2014: What to watch for
The NBA trading deadline is rapidly approaching, and as rumors continue to swirl -- even if only slightly -- here's what you need to know until the deals are done.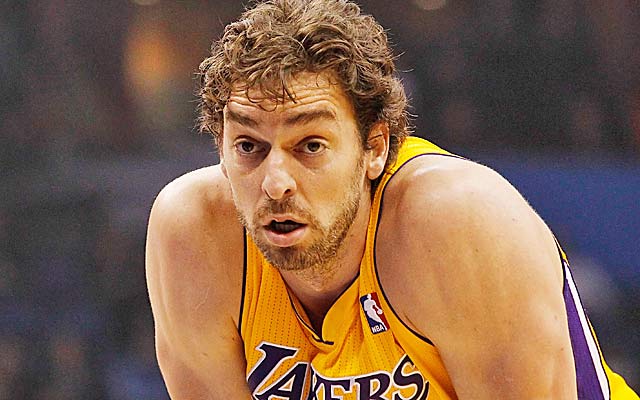 The NBA trading deadline is rapidly approaching, and as rumors continue to swirl -- even if only slightly -- here's what to watch for until the deals are done.
What: NBA Trade Deadline 2014  | When: Thursday, Feb. 20, 3 p.m. ET.
How: Teams can trade any eligible player up until the deadline. After that, you're locked in with your roster till draft night. Teams can trade players, players' rights, draft picks, trade exceptions and, of course. almighty cash.
Why: Because otherwise it would be total chaos until and throughout the playoffs. Also, the deadline provides a heightened week of anticipation, rumors, and discussion after the All-Star break, boosting the NBA's visibility which is always a good thing for them.
What to expect: All in all, it's been a much quieter week-before-deadline than expected. Early indications were that with so many teams tanking and so many teams desperate to make the playoffs now, we were set for a crazy rush. But instead, it's been dead quiet as major deals involving Luol Deng and Rudy Gay have already gone down, no one wants to trade picks in this super-valuable draft, and many teams that would be willing to move their pick (Washington, Indiana, Golden State) have already moved theirs.
That said it's extremely unlikely to see a deadline go by with no moves.
Some more general information:
Picks to burn
Since several teams already have traded their pick, that means other clubs have multiple first-round picks which they can use to make a deal. There are eight:
Suns (possible four total)

Boston Celtics

(possible three, but one is lottery-protected from Philly and that ain't happening)

Charlotte Hornets

(possible three total)

Chicago Bulls

(possible three, but more likely two)

Cleveland Cavaliers

(possible two)

Oklahoma City Thunder

(possible two)
76ers (possible two)
Jazz (Two)
On the move?
There are of course players heavily rumored to be on the market. Reports conflict on all these guys, since in the history of man, no team has ever wanted to admit that a player was available, but here are the ones that consistently come up in rumors.
Pau Gasol

(we could name this list after him)

Rajon Rondo

Kevin Love

Andre Miller

Kenneth Faried

Kyle Lowry

(but that's mostly died down)

Omer Asik

Greg Monroe

Evan Turner

Spencer Hawes

Thaddeus Young

Any Sixers player not named

Michael Carter-Williams

or

Nerlens Noel

Emeka Okafor

Eric Gordon
Make a move, or stick
Separate of what is actually being reported as happening, there are five teams that need to make a deal:
1. Detroit Pistons : The big three in the frontcourt is not working. They can't afford big extensions for Greg Monroe and Andre Drummond after giving Josh Smith his contract. Something's got to be done. My favorite trade idea is Wilson Chandler , Andre Miller, and Kenneth Faried from Denver for Rodney Stuckey and Monroe.
2. Phoenix Suns : They have possibly four draft picks. They have the sixth seed. There's no reason not to swing for a home run with one of the picks as bait. I don't know if Pau Gasol actually is a taking a cut that gets out of the infield, let alone the park, but they should swing at something.
3. Dallas Mavericks : They have the offense to make some noise in the playoffs, but really need a rim protector. Samuel Dalembert and DeJuan Blair are not it.
4. Philadelphia 76ers : Because Thad Young deserves more than this and it's time to go even further into the tank.
5. Houston Rockets : Give up the ghost, Daryl Morey. Trade Omer Asik.
At the other end, there are five teams which should stand pat:
1. Golden State Warriors : They're still a really good team. They could be way better than the record indicates, and a model for playoff succsss (three-pointers plus good interior and perimeter defense). No need for a panic trade.
2. Los Angeles Clippers : They're hitting their stride and should to see what's possible with the group they have now.
3. Washington Wizards : Unless you can trade coaches, this team has enough to accomplish its goal: Reach the playoff. Re-evaluate after that.
4. New Orleans Pelicans : I want to see what a full, healthy roster for this team could do with more time together.
5. Toronto Raptors : I want them to get trapped between being bad and a legit contender, so fans and media can understand why trading Kyle Lowry and bottoming out beforehand would have been better.
The Money Dodge
Teams are always making moves at the deadline for reasons beyond basketball. Two teams, the Bulls and Los Angeles Lakers , are set to be at or near the luxury tax. the Lakers are $7.5 million over and in a disaster season like this, do they really want to waste a year of their repeater-tax hits?
The Bulls are under, but only $678,000, so they might feel more comfortable getting further under. Read this, and its follow up, from ShamSports.com on why teams would want more breathing room for cap space.
Salary caps in play
Five teams have cap room to take on huge contracts in salary dumps to acquire future assets:
Philadelphia 76ers: $11 million

Orlando Magic

: $5.6 million
Phoenix Suns: $5.2 million

Utah Jazz

: $1.7 million

Atlanta Hawks

: $1.7 million
The Pacers believe the Lakers tampered with Paul George before they traded him

Among the questionable decisions by Jackson was signing Noah to a long-term, lucrative dea...

This Akron store doesn't want their hometown hero to leave again
Milwaukee's star did not get cleared to play for his national team due to a painful knee i...

Ball, the second overall pick in the NBA Draft, is receiving even more hype

Rap mogul supports the vision the outspoken father has for his brand and sons