NBA Twitter reacts to the DeAndre Jordan free agency saga
Kobe, Jordan, and so, so many emojis as DeAndre Jordan returns to the Clippers and leaves the Mavericks hanging.
It was quite the day on NBA social media Wednesday as the DeAndre Jordan saga unfolded. Early Wednesday word leaked that Jordan was reconsidering his decision to leave the Clippers for the Mavericks. That started the series of transportation emoji we shared with you earlier. Then things really got out of hand. 
Kobe dropped the jewelry reference.

Strong statement, but then, of course... MJ upped him. Or at least his brand's company account did. 


Boom. Drop the mic, GOAT.
Just as the DeAndre stuff got going, Clippers center Ekpe Udoh had a pretty fantastic tweet.
Ohhh this is gettin good pic.twitter.com/YWmscVUPpI

— Ekpe Udoh (@EkpeUdoh) July 8, 2015
Paul Pierce being too old to understand how to use emoji was tremendous. 
July 8, 2015
And that was pretty much how everyone was all day watching his roll out. Right about the time that the reports surfaced that the Clippers weren't leaving Jordan's house, prompting jokes about it being a hostage situation, Blake Griffin -- who was at the meeting -- got in on the gag.
Don't agree with the furniture layout but I'm not an interior designer. pic.twitter.com/23PNgQB88z

— Blake Griffin (@blakegriffin32) July 9, 2015
That's a world-class troll right there.
He followed it up with a sleepover gag.
Alright everybody goodnight! pic.twitter.com/cME0rFR5LC

— Blake Griffin (@blakegriffin32) July 9, 2015
Then slightly after midnight ET, the Clips made it official. DJ was back in the fold.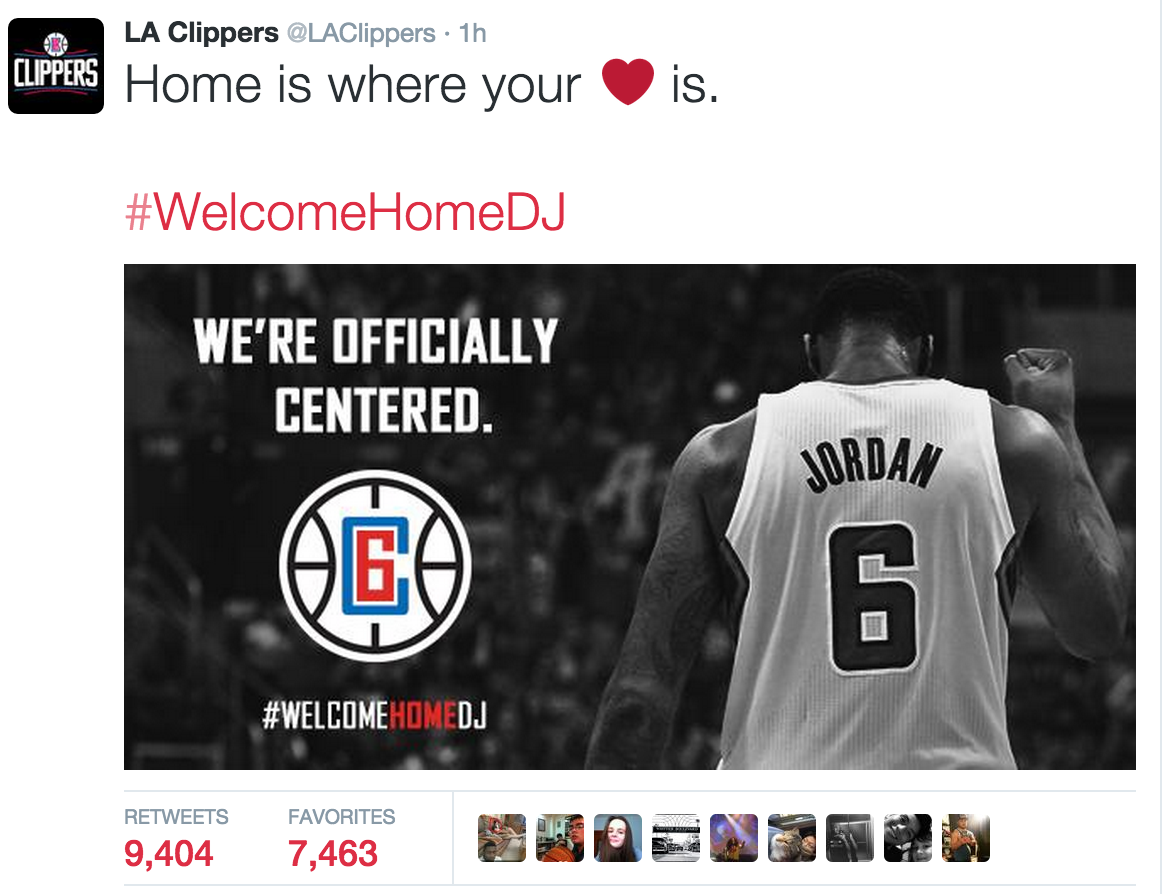 Paul Pierce of course took credit for closing the deal.
That's why they brought me here lol pic.twitter.com/Z64Tkiyp01

— Paul Pierce (@paulpierce34) July 9, 2015
Chris Paul had been attached to talk that he had helped drive Jordan away, but reportedly was a strong part of the pitch to get Jordan back... after he got off the banana boat of course.
Dropping a Poe reference. Deep cut there, CP3.
Clippers announcer Ralph Lawler was excited.
The LOB. The JAM!

— Ralph Lawler (@Ohmeomy) July 9, 2015
And to wrap it all up, J.J. Redick adjusted his free agency grade for the Clips, and drove back to Austin, Texas to be with his infant kiddos.

And to all a good night! Except for the Mavericks. Because that's just sad. Although Chandler Parsons had an amazing burn on DJ. 
I thought I had a good pump fake.

— Chandler Parsons (@ChandlerParsons) July 9, 2015
And in conclusion, no really, Paul Pierce is too old to understand emoji.
July 9, 2015
CBS Sports HQ Daily Newsletter
Get the best highlights and stories - yeah, just the good stuff handpicked by our team to start your day.
Please check the opt-in box to acknowledge that you would like to subscribe.
Thanks for signing up!
Keep an eye on your inbox for the latest sports news.
Sorry!
There was an error processing your subscription.
Perhaps there was a little more to the Knicks moving Porzingis than just cutting salary

The Bucks head coach has an issue with Drake's antics during games

Milwaukee and Toronto will both be looking to gain the upper hand in Game 5 of the Eastern...
Rudy Gobert, Marcus Smart and Eric Bledsoe round out the first team

Also, LeBron James is showing public support for the Lakers, but how long will be be happy...

A look at every series in the NBA postseason