NBPA exec: Game 1 conditions 'unacceptable;' Thorn disagrees
The air conditioning failed in Game 1 of the NBA Finals on Thursday, and NBPA acting executive director Ron Klempner was not pleased that the game went on as planned.
• 1 min read
More Game 1: Court Vision | Green goes nuts | Spurs overcome turnover trouble
The NBA Finals got going with a highly competitive, well-played game unfortunately marred by an air conditioning malfunction. The arena was extremely hot, and Miami Heat superstar LeBron James cramped up, unable to contribute like he wanted to in the fourth quarter. After the 110-95 San Antonio Spurs win, NBA president of basketball operations Rod Thorn met the media and said that the conditions on the court were safe, so the league never considered cancelling the game. He added that he expects the issue to be rectified by Sunday's Game 2.
"In live sporting events, sometimes things transpire that you don't expect," Thorn said. "Obviously, you would like to have the air conditioner where it normally is and play the game under those conditions, but tonight, you know, it wasn't like that. The game continued and the game was played."
NBPA acting executive director Ron Klempner, however, wasn't satisfied with how the situation was handled, via Bloomberg's Scott Soshnick:
Text from Ron Klempner, acting exec director of @TheNBPA: The playing conditions for tonight's game were completely unacceptable from the

— Scott Soshnick (@soshnick) June 6, 2014
Klempner continued: opening tip. In a situation like this, there needs to be more open communication before a decision is made that could

— Scott Soshnick (@soshnick) June 6, 2014
Klempner continued: potentially place players at risk.

— Scott Soshnick (@soshnick) June 6, 2014
It was a strange situation all around. Thorn's right in that players were not slipping and falling, and no one was seriously in danger. It's hard to argue that this didn't have any bearing on the game, though, as James cramping up was directly related to the air conditioning problem. Nonetheless, there's nothing that can be done now, aside from making sure that this doesn't happen again.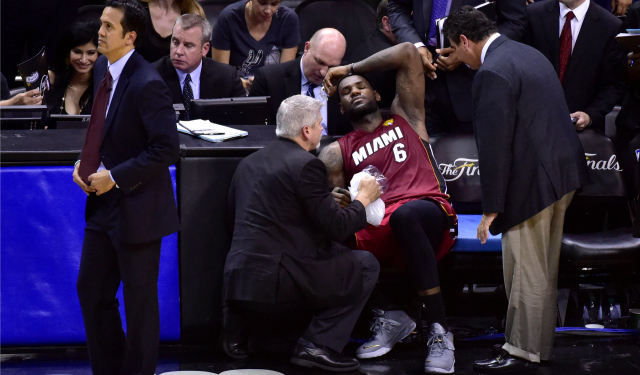 There's no shortage of moments to choose from

The Trail Blazers almost traded for Charles Barkley, but when they didn't, it put them in debt...

The self-proclaimed ASG snub Williams may be bitter about Butler requesting to sit out Sun...
The commish said they were overly conservative with the decision this year, but that should...

A dive into the NBA history books for every result from every NBA All-Star Game

James set the tone during practice that this year's All-Star Game was going to be differen...