NBPA exec Hunter responds to allegations; lawyers vow to fight
Attorneys for Billy Hunter released a rebuttal Friday to a massive report that questioned his judgment and leadership of the National Basketball Players Association, citing their disappointment that the executive director has not been invited to All-Star weekend to defend himself in person.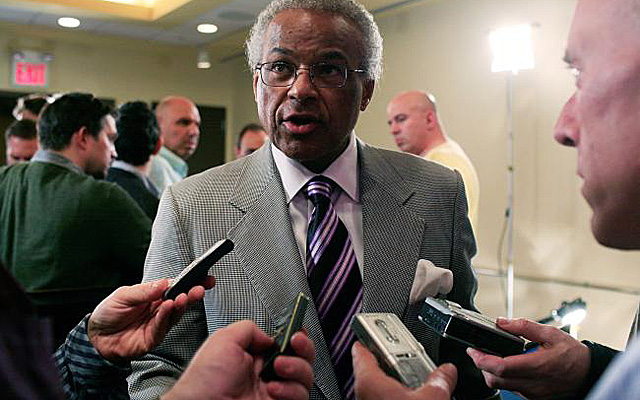 Not invited to All-Star weekend in Houston, Billy Hunter has gone online to make his case. (Getty)
UPDATED 8:53 p.m. ET
HOUSTON -- Attorneys for Billy Hunter released a rebuttal on Friday to a massive report that questioned his judgment and leadership of the National Basketball Players Association, citing their disappointment that the executive director has not been invited to All-Star Weekend to defend himself in person.
"When a law firm spends $5 million digging through 17 years of someone's life and interviews more than three dozen people, fairness dictates that the person be allowed an opportunity to respond in person to the people who are most concerned," Hunter's attorney's wrote in the 21-page rebuttal posted online.
More on NBPA
Related links
More NBA coverage
Hunter, placed on indefinite leave by an interim executive committee on Feb. 1, has not received clearance from interim authorities at the union or their outside counsel to attend Saturday's board of player representatives meeting -- at which a vote on Hunter's future as executive director is expected. 
The rebuttal, posted on a new website and signed by four attorneys from three law firms, takes the Paul-Weiss report to task for a "lack of objectivity" and for being "rife with inaccuracies."
"If Mr. Hunter ever needs to address the report line-by-line and point-by-point, he will do so," his attorneys wrote.
But not during All-Star weekend. One of Hunter's attorneys, Michael Carlinksky of Quinn, Emanuel, Urquhart & Sullivan, said in a statement that Hunter would not be attending the players' meeting in Houston Saturday after being told repeatedly that he would not be welcome.
"We have been asking for two weeks if we can come," Carlinsky said. "The message from the interim executive committee was you are not coming."
Hunter's lawyers respond to the Paul-Weiss conclusions about Hunter's hiring practices, handling of conflicts of interest, payments for accrued vacation pay and other issues raised in the 469-page report conducted over a nine-month period. But with Hunter's job and the $10.5 million remaining on his contract at stake, chief among the arguments made by his lawyers was an assertion that Hunter's 2010 contract extension is valid under the laws of Delaware, where the NBPA is incorporated.
"There were no smoke-filled backrooms or secret deals," Hunter's lawyers wrote. "The contract extension was negotiated in the open. The Executive Committee, which is elected by the players, approved it. The President of the Union, Derek Fisher, signed it. And there was never any attempt to hide it. Importantly, the Report does not even conclude that the terms of the contract extension were unfair."
The rebuttal asserts that the union's constitution and by-laws only require a vote of the player representatives for the contract of a newly hired executive director but not for subsequent contract renewals of an existing director. Indeed, the report states that Hunter's previous extensions in 1999 and 2005 were handled in the same manner.
If Hunter is ousted this weekend, it's clear his attorneys will argue he must be paid the balance of the contract because Fisher and the executive committee approved his contract and had the authority to do so under Delaware law.
"Nowhere does the Report state a conclusion that Mr. Hunter may be terminated for cause," his lawyers wrote. "If the Union elects to terminate Mr. Hunter without cause, it would owe him full performance on his contract -- more than $10 million."
Additionally, Hunter's lawyers argue that if Fisher believed further approval by the player reps was necessary or that outside counsel was needed to negotiate Hunter's contract, it was his responsibility under the union's constitution and by-laws to ensure those steps were taken.
"Mr. Fisher, the President of the Union, had the responsibility (indeed the legal obligation) to read and understand Mr. Hunter's six page contract extension before signing it," Hunter's lawyers wrote. "There is no indication that he did not do so and as the report concludes, Mr. Fisher could have sought independent counsel if he wished."
Steve Novak, the Knicks' alternate player representative, said the purpose of Saturday's meeting is to "make sure everybody has the same information and decide what that information means." But Novak said Hunter should be given the opportunity to present his side to the players who will decide his future.
"I don't think any decision should be made without both sides, on any issue," Novak said. "Obviously, the reports have come out and guys have all seen that and that's from one side. I think as a union and him being our representative for so many years, it wouldn't be right not to hear from both sides."
The Spurs' Matt Bonner, one of the five interim committee members who voted to put Hunter on leave, said he'd read Hunter's rebuttal and added, "Personally, I already know his side of things."
"I think I have a good grasp of both sides of the story to make an educated decision on how to move forward," Bonner said. "I think a lot of players are in the same boat. ... I think players will be informed on both sides regardless of whether Billy is able to make a presentation or not."
Hunter's rebuttal defends his duty as executive director to exercise his "business judgment in making informed investment decisions" and cites the union's improved financial condition under his leadership -- from $5 million in debt when he took over in 1996 to net assets now totaling more than $80 million. It also includes a digital presentation that Hunter had planned to deliver to the player reps on Saturday had he been permitted to attend the meeting at which his future will be decided.
But the rebuttal does not address an alleged written agreement between the NBPA and the financial firm Prim Capital, of which Hunter's son, Todd, is a director.
The five-year contract called for the union to pay Prim more than $600,000 annually for investment advisory services with no means for the union to terminate it. According to Paul-Weiss, Prim furnished the document two days before its report was released after no union official interviewed during the investigation -- including Hunter -- had divulged under questioning that it existed.
Hunter has sinced severed ties with Prim and announced a series of governance and policy changes in response to the Paul-Weiss report, including the termination of all family members on the union payroll.
Paul-Weiss issued a statement on Thursday that it had decided not to furnish to the players in time for Saturday's meeting its subsequent findings about the suspicious Prim document, which is subject to an ongoing U.S. Attorney's office investigation.
"We are convinced that disclosing additional findings from our continued investigation now could jeopardize the integrity of the government's criminal investigation," Paul-Weiss said.
The Reno Aces are concerned about the new WNBA franchise stealing their thunder

Hinkie parted ways with the 76ers in 2016 after drastically changing the direction of the...

SportsLine's Mike McClure, a DFS pro with more than $1M in winnings, gives optimal lineup...
LaVar Ball's sons signed with agents last week, making it impossible for them to play college...

SportsLine simulated Monday night's Warriors-Trail Blazers game 10,000 times

The refs didn't take kindly to Pierce questioning their television setup