NBPA VP Roger Mason Jr. says Billy Hunter is 'a man of integrity'
NBPA vice president Roger Mason Jr. comments on the executive committee's decision to place Billy Hunter on indefinite leave of absence.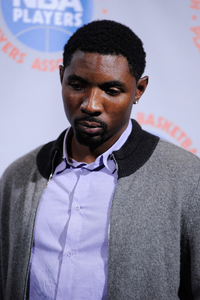 Mason
(Getty Images)
Friday morning, NBPA executive director Billy Hunter was placed on an indefinite leave of absence effective immediately following a report outlining misconduct, as Ken Berger of CBSSports.com reports.
NBPA vice president Roger Mason Jr. commented on the situation Friday to CBSSports.com, backing Hunter's character while also advocating for patience in the process of reviewing Hunter's actions. 
"Personally, (I have a) lot of respect for Billy," Mason said. "I know he's a man of integrity. I know this is a tough time for our union. We have to get the facts. Obviously the report came out, and he's on an indefinite leave of absence. We'll get to the bottom of everything and everything will come to light at some point."
Jared Dudley and Steve Novak are among players voicing their concern with Hunter to Berger. Dudley is advocating a player vote on the situation.
Mason seemingly voted in favor of placing Hunter on the leave of absence, as the vote was reportedly unanimous. Mason is also a member of the interim committee charged with handling the transition to interim director Ron Klempner.
Is this rock bottom for the Cavaliers because it sure feels like it is

Wade, as he's done so many times in his career, threw it up to LeBron for the thunderous f...

The Warriors coach added there should be no shame in being picked last since everyone's an...
We've got all the scores, highlights and news from all of Saturday's games

The two teams have reportedly not had any substantial discussions to this point

Oladipo may be getting most of the shine, but this second-year big man has been phenomenal...