Nene booed in Brazil over national team status
Wizards center criticized by legend Oscar Schmidt over refusal to consistently play for Brazilian national team.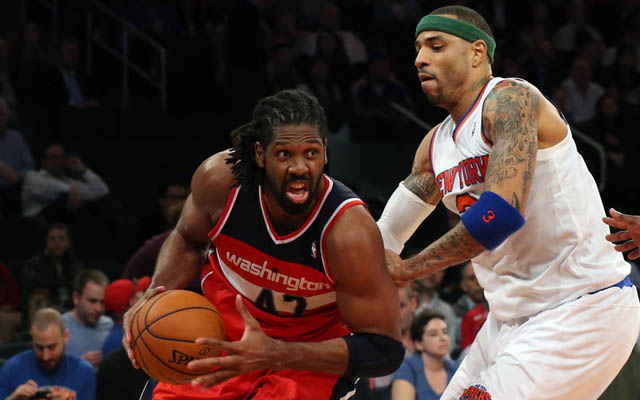 With the NBA making Brazil part of its "Global Games" preseason tour, it made sense to send the Wizards. After all, they feature one of the true NBA stars from Brazil, Nene. But despite being a hero to many in the country, Nene was booed throughout the game. Huh? 
See, here's the deal. Despite the fact that Nene contributes a huge amount of his time and money every year to causes in his home country and has spoken openly about his desire to retire and devote his time to his church there in the near future, Nene has also played for the Brazilian national team only twice since joining the NBA. He has had conflicts over how the team has been run and most consistently, over insurance policies. Nene played in 2012 and suffered a foot injury which has continued to plague him over the past year. 
The situation has soured some Brazilian fans against him, including international basketball legend Oscar Schmidt. Schmidt's comments at the game Saturday were... uh... 
"That's not my fault," Schmidt said when asked about Nene's reception. "Everybody knows what he's done. If you don't want to play for national team, don't talk about your country. Ever."
via Washington Wizards' Nene receives poor reception in Brazil homecoming - The Washington Post.
Oooooouch. 
Nene, though, brushed it off. From the Washington Post (linked above): 
Asked about his decision not to play for the national team, Nene said, "I don't have to defend myself because I didn't steal, I didn't kill and I didn't rob.

"Sometimes people try to create a bad situation when one doesn't exist, but I know everything was the best that could be done," Nene continued, speaking through a Portuguese interpreter. "I'm here as an example. I know I'm a role model to many people. What I was able to conquer, the people can't take away from me. That's one of the reasons basketball has a problem developing in Brazil, but I'm sure that in the future it will be able to grow."
Overall, Nene had an emotional week where he bonded with children and fans in the streets, and generally absorbed the impact his athletic performance has had upon his home country. Nothing can really take that away from him. But it shows how international basketball comes with a host of complications. The efforts by the NBA to have a stronger stake in the FIBA World Cup of Basketball are entirely selfish, but could also hopefully resolve some of these issues. It must be difficult for Nene to return home, only to spend part of his day as the hero, part of his day the villain because of constructs beyond his control. 
Keep it right here for all of the news, notes, scores, and highlights from around the Asso...

LeBron has a player option for next season, and is expected to opt out and become a free a...

The Pistons will be looking to snap a five-game losing streak when they host the Celtics on...
Bryant offers some advice for Ball and other rookies about having a sense of urgency in the...

Burks has stepped up in a big way for the Jazz, averaging over 20 points per game since Rodney...

Nooooooo James Harden don't do Noah Vonleh like that