Nene considered retirement, did not inform coach he's out for rest of year
Nene thought about retiring because of how beat up he was, and surprised his coach by telling reporters he won't play in the team's final two games.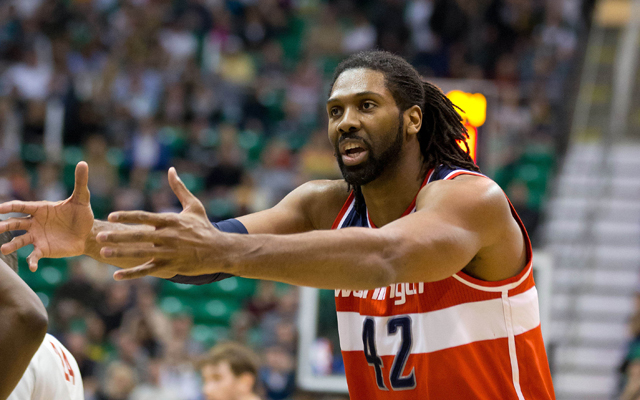 The Denver Nuggets signed Nene two years ago to a monster extension worth $13 million per year and then dealt him to the Wizards when they came to understand his health might never right itself. Denver got the uneven JaVale McGee and then re-signed him to a four-year deal, based mostly on where they think he'll be in three years as NBA big men develop later and later now. 
Nene was supposed to be the offensive big-man anchor to help John Wall fulfill his potential. Instead, he entered camp with the painful plantar fasciitis, missed the first month of the season and struggled physically while on the court, though he played well and helped the Wizards become respectable when Wall returned. 
But how bad was the pain? Bad enough that he almost retired. 
How tough? Tough enough to think about the end of my career? Yeah, that's how tough it was," he said. "It was so hard to play the way I did it. I thought to end my career because it's so painful, my body can't support. I'm glad I finished the season, but the way I suffer, I hope, never again."

Nene, who is owed $39 million for the next three seasons, said conversations with his wife, Lauren, and business manager, Alex Santos, persuaded him to keep going. The 6-foot-11 Brazilian said he remains motivated to play because of faith in God and his young son, Mateos, but that he needs to rest and focus on being healthy for next season.
via Nene will sit out Washington Wizards' final two games with nagging injuries -- The Washington Post.
So that's not good. 
Fasciitis only goes away with rest, but his knee issues, foot issues and shoulder issues are likely to linger and worsen as he gets older. Whether the Wizards can get a single fully productive year out of Nene remains in doubt. But if they do, if they do, he can be a major part of them finally getting a good season and starting on a true road to recovery. If not, it could be damaging to their cap prospects. 
The Wizards needed to trade McGee; that goes without question. And the Nene trade might have been a good gamble that has yet to pay off. But they need to get him healthy. He's the first to admit that. And he's starting now, as he has decided to sit the remaining two games for Washington. 
Funny story, though. He didn't exactly tell his coach. From the Washington Post again: 
"To play through pain, that's not necessary," said Nene, 30, who will have an injection in his right knee to relieve some of his agony. "For what? I'm going to sit down. Let the young guys play. They need the work."

Forwards Martell Webster (abdominal strain) and Trevor Ariza (left knee) will also be shut down for the remainder of the season, hindering the Wizards' efforts to finish with 30 wins. Coach Randy Wittman was surprised to hear that Nene didn't plan on participating in the final two games -- "News to me," he said -- but agreed that Nene needed to get healthy.

"It's a big summer for him to work on his body and then when the season rolls around here, we're hitting the floor running right from the start and we didn't have that luxury with John [Wall] or him this year," Wittman said. "We have to have our main guys healthy and playing as many games as you can to get to that level of playoffs."
via Nene will sit out Washington Wizards' final two games with nagging injuries -- The Washington Post.
This is what I love about the Nene. A 30-year-old veteran didn't feel it necessary to inform his coach that he was not going to play in the team's final two games, nor did the coach inquire about his status. The player just informed reporters, and the coach is like "Oh, OK." 
And this happens all the time. This is why the NBA is great. Stories like this. 
Meanwhile, the young guys will get a chance to play, which means A.J. Price and Kevin Seraphin going to run this town (tonight). Fun times for everyone! 
CBS Sports HQ Daily Newsletter
Get the best highlights and stories - yeah, just the good stuff handpicked by our team to start your day.
Please check the opt-in box to acknowledge that you would like to subscribe.
Thanks for signing up!
Keep an eye on your inbox for the latest sports news.
Sorry!
There was an error processing your subscription.
Golden State is giving us a glimpse into a future without Durant, and it looks a lot like their...

Lillard has struggled all series against the Warriors, and went 5 of 18 in Game 3

Iguodala only played 18 minutes in the win, and only four in the second half
Our CBS Sports NBA experts predict the winner of every playoff round, all the way through the...

The Warriors erased an 18-point deficit to take a 3-0 lead in the series

The Western Conference finals continues on Saturday night