Nerlens Noel: 'I've been 100 percent for months,' will play summer league
Nerlens Noel sounds rather excited to play basketball again in July after missing the entire season with an ACL injury.
• 1 min read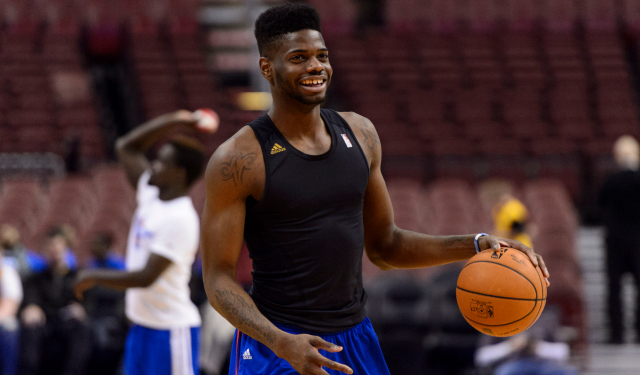 More Offseason Analysis: Coaching changes, news | Free Agency | Draft
Philadelphia 76ers center Nerlens Noel, the No. 6 pick in last year's draft, will make his professional debut in July after missing all of the 2013-2014 season. He's been waiting a long while to get on the court, via the Boston Globe's Gary Washburn:
"I've been 100 percent for months now," Noel told the Globe. "I feel great and continue to get stronger in all parts of my body, just continuing my growth really. I will be playing in summer games and summer league."

…

"It's beyond words [to play], it's been a long time coming," he said. "I feel I'm definitely ready and focused. The whole offseason, I've focused on being stronger and working on my skill points, working on my shot, which I have progressed a lot with, working on my technique. Every part of my game I feel I've definitely improved on."
Philadelphia general manager Sam Hinkie told Philadelphia radio station 94WIP on Thursday afternoon that he expected Noel to make his debut at summer league in Orlando, which begins on July 5, via Philly.com.
Noel spent the Sixers' 19-63 season rehabbing his torn ACL and working on improving his shot -- Noel could be found shooting free throws with coach Brett Brown before every game -- the big man is understandably eager to compete. Summer league isn't the same standard as the NBA, but it will be important for Noel. Given that Philadelphia owns the Nos. 3 and 10 picks in the upcoming draft, no fan base will be more excited about watching its summer squad.
Could be an awkward meeting, whether Melo suits up for the home team or the visitors

If Chicago was fleeced -- the prevailing thought -- when dealing its star, so were a lot of...

I.T. is optimistic about returning in time from a hip injury, but it all depends on how things...
Noel, now being represented by Rich Paul of Klutch Sports, reportedly feels he's worth a max...

Steve Kerr opens up about his back issues and more

OJ Mayo, banned from the NBA for positive drug test, is considering playing overseas