Nets-Bulls: Chicago's unlikely cast carries them through three OTs
In a three-overtime marathon, the Chicago Bulls are lifted to victory over the Brooklyn Nets, thanks to their unlikely supporting cast.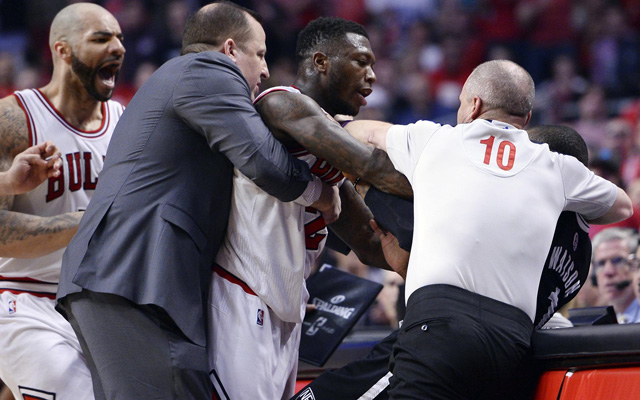 If I told you before Game 4 that the Chicago Bulls were going to score 142 points, how many overtime periods would you expect? Six? Nine? A week?
It took three overtimes for the Bulls to score 142 points and finally dispatch the Brooklyn Nets by eight points to take a commanding 3-1 lead in the series. They can thank their merry band of unlikely role players for battling with the Nets throughout the game, making an incredible run to force the first overtime and finally secure the victory. 
More on NBA playoffs
Related links
The biggest story of this game starts with Nate Robinson's performance. Robinson can be kind of a polarizing figure for NBA fans. He's mouthy, and he does a lot of celebrating throughout a game. He can rub opposing fans and even his own fans the wrong way at times. But his fearless nature and his insistance on keeping his team within striking distance to take the win when they were down 14 points with three minutes left in the fourth quarter were the keys to Chicago extending this game.
A 12-0 run by Robinson cut the deficit to two as the Nets completely unraveled in a game that should have evened up the series at 2-2. Then he found Carlos Boozer inside to tie the game. After, two Brook Lopez free throws allowed Brooklyn to take a two-point lead, Joakim Noah made a tip-in basket off his own missed tip-in to essentially send the game to overtime. 
Over the course of the final 18 minutes of game time, Robinson scored 18 points (he had 34 points overall), the Bulls weathered 11 clutch points from Joe Johnson (on 12 shots), Noah had 12 points and eight rebounds while battling Lopez and plantar fasciitis, and Kirk Hinrich had five assists. What the Bulls' role players managed to pull off in this game is nothing short of remarkable. 
There is no savior for Chicago. Derrick Rose isn't walking through that door yet. They have All-Star caliber players left in the wake of his injury but nobody that you can give the ball to at the top of the key or on the wing and expect to create a basket. Everything has to be systemic and methodical for them to grind out points. And they're facing a Nets team featuring three really good scorers, in Lopez, Johnson and Deron Williams.
But Tom Thibodeau keeps preaching hard work to them and to trust the system. He keeps getting role players to buy into a Voltron-like formation against their opponents to pull out victories from the clutches of defeat. Robinson steps up, Hinrich plays out of his mind, Noah guts through incredible foot pain, Boozer shows up, and the Bulls manage to go up 3-1 in a playoff series. This coming just three games after a horrible Game 1 performance that left people overreacting with the notion that Chicago might not win a single game.
This is what the Bulls are. They are hard work. They are an unlikely outcome in the face of superstardom. And they are stepping over all of the roadblocks ahead of them to be on the verge of busting into the second round. This is a Bulls team that had its bench gutted in the offseason in a penny-pinching effort for the period of time that Rose could be out. This is a supporting cast accomplishing what a seemingly better group of role players couldn't do when Rose went down against the Philadelphia 76ers a year ago.
Three overtimes, 142 points and zero stars. This is your 2012-13 Chicago Bulls -- an unlikely bunch.
Davis left the Pelicans' game against the Nuggets in the third quarter

Popovich was upset about an out of bounds call

Wall went 3-for-12 from the field, and had just eight points in the Wizards' loss
Noah was reinstated from his 20-game suspension on Monday, but is yet to play for the Knic...

In his first season with the Cavs, Rose has not played since Nov. 7

Keep it right here for all your Friday NBA scores, updates and highlights