Nets-Bulls: Which Deron Williams will Chicago let in the door?
After the Chicago Bulls stole home-court advantage from the Brooklyn Nets, Deron Williams will have to figure out how to take it back in Game 3.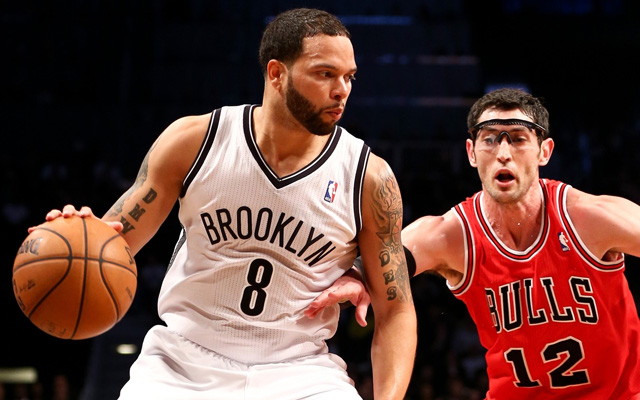 One concern that many people (myself included) had about the Brooklyn Nets headed into this series against the Chicago Bulls was Deron Williams.
Williams received plasma treatments and cortisone shots for his bad ankles in late February and, since that time, he looked like his old self. He was bullying smaller point guards with his size, knocking down shots with a pain-free and balanced shooting motion, and getting into the lane with the old quickness he used to have. It was the same Williams whom we saw in Utah when he was leading the Jazz to the playoffs and challenging Chris Paul for the title of "best point guard in the world."
However, the problem with getting healthier due to cortisone shots is eventually the relief fades away. And if the relief fades away and the injuries have not healed, then you have a $100 million point guard struggling to move in a manner that allows him to be the effective point guard that this Nets team needs to advance in the playoffs.
There's another concern with Williams, though, and it's that the Bulls are really good at keeping people out of the paint. Whether it's the ankles worsening or the defense locking down on the Nets' point guard, there are plenty of obstacles in the way of a consistency from Williams in leading his team. It's hard to blame him for either one.
Looking at the way that he scored in Game 1 during Brooklyn's blowout victory, Williams lived in the paint. He was able to get out in transition and get easy baskets, including a double-pump reverse dunk on a breakaway that left his teammates in awe that he could dunk still (mainly because of the ankles). 
Here's Williams' shot chart from Game 1:
He had a great game, but for the most part his jumper wasn't spectacular. What he did so well was he basically lived in the paint, thanks to transition opportunities and defensive breakdowns by the Bulls. Outside of the restricted area, he was just 2 of 7 from the field, but the majority of his shots and makes were right around the basket.
Here's a video of Williams' nine made baskets in the game:
Aside from the fast-break scores, look at two freeze frames from back-to-back, half-court buckets that he gets at the rim.
There's absolutely no help cutting him off from getting to the basket in the middle of the lane. All it took was a hesitation step by Williams to blow by Kirk Hinrich, and Carlos Boozer never cut off the middle. As Williams is gathering to go up for the layup, Boozer and Hinrich are both basically behind him. Jimmy Butler and Taj Gibson just watch him go without leaving their men to protect the rim.
Williams hits Nate Robinson with a great spin move to get to the baseline. With Williams' huge size advantage on Robinson, all he has to do is avoid the help defense and he should, at worst, go to the free-throw line for this drive. Luckily for him, the help never even thinks about sliding over. Both Boozer and Luol Deng have the body language of two people waiting in line to get into a movie theater. They just watch the layup, which isn't like the Bulls' defensive schemes at all.
So, what changed between Game 1 and Game 2?
They took away Williams attacking the middle, managed to get him to shoot off-balance on many of his jumpers and turned him into a facilitator more than a scorer. And without Williams getting into the lane to create a little chaos in the defense, the Nets become much easier to defend.
Here's his shot chart from Game 2:
That is a huge difference from Game 1. The only basket that he made was an off-balance fadeaway shot in the lane. Everything else was perimeter oriented. Here's the video of his nine field-goal attempts:
This is a completely different Deron Williams. I don't know if the ankles started bothering him again or the Bulls just clamped down defensively and decided he wasn't allowed to beat them, but this is the inconsistency that worried many people trying to predict this series in Brooklyn's favor. 
If you notice the jumpers in the first video and the jumpers that he takes in the second video, there's a weird kickout that he does with his legs that tilts his body backward and doesn't give him the same upright approach that we usually see from him. He always has a bit of a natural leg kick, but it was overextended in Game 2. 
You want that imaginary line to be straight up and down, and Butler isn't even close enough to Williams to truly challenge or tip the shot. So, why is he leaning back so far? 
A couple of those jumpers were open, and he just missed them. He also rushed a couple of his shots and probably should have gotten a foul call on his missed layup against Hinrich. But other than that, the Bulls just turned him away at the door that would let him into the basket. A big reason for this was the inspired play of Joakim Noah.
When the Nets were running a pick-and-roll with Williams and Brook Lopez, Noah walled off the middle of the lane and took away any driving angle that Williams might be able to find. This turned him strictly into a distributor, which the Bulls will live with in this situation. On this particular play, he ends up kicking it to Lopez, who knocks down a 20-foot jumper. But Chicago has established the standard that they're not going to allow him to get into the paint.
On another pick-and-roll, Noah hedges hard on Williams and forces him backward while teaming up with Hinrich to trap the ball handler. They have him covered both ways, and the only thing that he can do is drop a pass over the trap. Again, he drops the ball down to Lopez for a long jumper that is successful. But it's a poison the Bulls would much rather pick than having Williams disrupt the defense's core values of keeping players out of the paint.
The Nets scored just 30 points in the paint in Game 2 after dropping 56 points in the paint in Game 1. Why? They didn't let Williams go where he wanted to go.
If the Bulls want to win Game 3 and maintain their newfound home-court advantage, they'll continue to be stingy with access to the lane. If the Nets want to grab home-court advantage back with a win in Chicago, they're going to have to get creative and possibly run Williams off more screens and more curls without the ball so he can sneak into paint.
DH12 is picked for free throws after a teammate gets ejected. He makes both, and lets Scott...

Bell was injured defending a Robin Lopez dunk and had to be taken off the floor in a wheel...

Trevor Ariza and Gerald Green are reportedly both suspended two games
We've got all the scores, highlights and news from the night's games

Jonah Keri talks with NFL and NBA broadcaster Ian Eagle

SportsLine simulated Wednesday's Nuggets-Clippers game 10,000 times