Nets' Deron Williams says his confidence is not his highest
Brooklyn Nets' point guard Deron Williams has low confidence due to his inability to get consistency with his play as he battles injuries.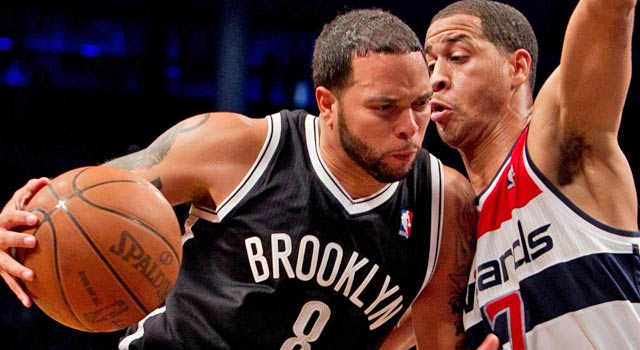 The Brooklyn Nets aren't going to end up the title hopefuls some pegged them as before the 2013-14 season started, but they're no longer the embarrassing high-priced team that can't win an acceptable number of games. They've managed to swing back toward .500 over the past month and could find themselves as a 3-seed in the East if they keep this turnaround going. However, even with the turnaround we've seen as of late from Brooklyn, they still have yet to find a way to get Deron Williams to bounce back to form.
Williams has battled ankle injuries for the past three seasons and it's kept him from being able to get any consistency with his play or even his place in the lineup. After struggling Saturday in his first start since January 4, Williams admitted to the media afterward that his confidence is not high right now and the struggle of being in and out of the lineup has taken its toll on him. From Tim Bontemps of the New York Post: 
After going 3-for-12 on his way to 13 points and six assists in his return to the starting lineup, Williams admitted his confidence — always an issue for the franchise star — isn't where he needs it to be.

"It's not my highest," he said with a sheepish smile. "It's been tough … just being in and out of the lineups, missing two weeks here and there.

"I feel like I get my legs back, get my legs in shape, and then I go out again. Then I've got to just do it all over again. It's just been a struggle."
After falling to 10-21 with their New Year's Eve blowout loss to the San Antonio Spurs, the Nets have put together a stretch of winning 10 of their last 14 games. Despite Brook Lopez losing the rest of this season to a foot injury, the Nets have found a bit of a rhythm with Kevin Garnett moving to the center position and Andre Kirilenko getting consistently back into the lineup. Shaun Livingston has also stepped up to give some solid play at the point guard position as they wait for the ankle procedures that were supposed to reinvigorate Williams. 
Instead, Williams still can't seem to earn back any consistency to his game. The Nets have won four of their seven games since he returned on January 20, but this recent loss to the Indiana Pacers on Saturday was the first of those seven games in which he was in the starting lineup. He had been coming off the bench in the previous six games, averaging 11.7 points and 7.0 assists in 30.8 minutes.
His first start since January 4 yielded just 13 points and six assists on 3-of-12 shooting from the field. If he can keep his ankles healthy and get his legs under him, he'll be sure to bounce back to an All-Star form. However, he hasn't been able to stay on the court with 13 consecutive games played standing as his season high during 2013-14.
The NBA broke its silence with a statement related to the Lakers-Paul George tampering cha...

The Clippers big man thinks LeBron will reunite with the banana boat crew at some point

Have the Clippers reportedly found their next GM?
The NBA stayed to the point in their response to the Greek basketball federation

The Pacers believe the Lakers tampered with Paul George before they traded him

Among the questionable decisions by Jackson was signing Noah to a long-term, lucrative dea...