Nets have decided not to retain P.J. Carlesimo as head coach
The Nets have decided not to retain P.J. Carlesimo as head coach. Jeff Van Gundy is reportedly on their wish list for coach.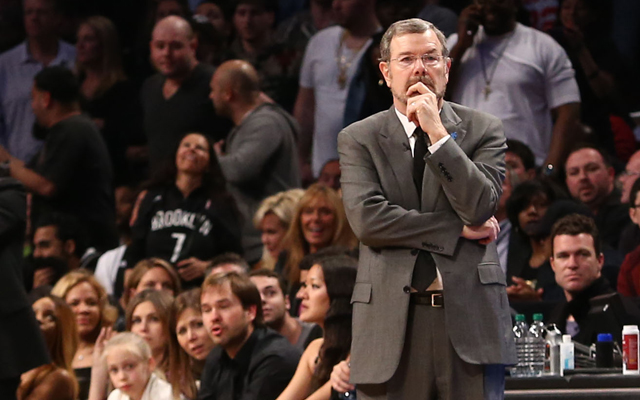 Hello, Brooklyn; goodbye, P.J.
After the Nets were eliminated in Game 7 on their home court in the first round by the Bulls on Saturday night, they announced Sunday morning they have elected not to retain interim head coach P.J. Carlesimo.
Carlesimo took over after Avery Johnson was fired in December, guiding the Nets to the fourth seed in the East. But a more determined effort from the Bulls allowed Chicago to get a 3-1 series lead, and despite rampant injuries, to close out the Nets in Barclays Center. 
The coaching search begins, and Yahoo Sports reports that Jeff Van Gundy is considered a leading candidate. It will be one of the most attractive open positions in the league this summer, with a huge payroll, true starpower, and an owner willing to do whatever it takes to win. And living in New York. That's nice, too.
Carlesimo honestly did a terrific job with this roster given what they showed throughout the season, and it's hard to pin their flameout on him. The roster needs to find its edge, and that's not something the coaching staff gets to decide.
Ken Berger reported early Sunday morning that Carlesimo was likely gone. 
Several teams spoke about Trump's recent comments about protests and the Warriors' White House...

Lonzo's signature shoe, the ZO2 Prime, was recently re-released after the original design was...

The Bucks will soon need to decide whether they should maintain their patient approach or make...
Frank Vogel had nothing but praise for his former star player in Paul George

The reigning MVP reiterated that he wants to be in OKC, but didn't say when he will sign the...

It was a wild summer that featured trade demands, big signings and an end to the Melodrama...