Nets job, working in New York have Phil Jackson 'intrigued'
Doomed by an unhappy star and unrealistic expectations from the owner, Avery Johnson doesn't make it out of December as coach of the Brooklyn Nets.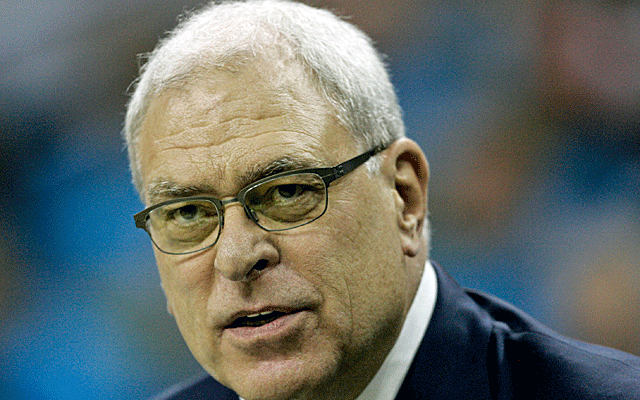 Snubbed by the Lakers, could Phil be headed to Brooklyn? (

US Presswire)
UPDATED 3:54 p.m. ET, Dec. 28
As the Nets enter the search for Avery Johnson's replacement, the most decorated coach in NBA history is only a phone call away.
Phil Jackson, the 11-time champion coach, would be interested in exploring the possibility of coaching the Brooklyn franchise "for sure," a person with knowledge of his thinking told CBSSports.com Thursday night.
More on NBA
Related links
An earlier public statement from Jackson's agent, Todd Musburger, that he wasn't interested in the job "at this time" should be taken quite literally. Jackson has never been one to lobby for jobs, and he's meticulous in his decision-making process. In other words, Jackson would want to explore all aspects of the job -- from roster to personnel decisions to philosophical compatibility -- with the team's decision-makers before signaling his willingness to jump back to the sideline.
The interest is mutual. League coaching sources told CBSSports.com Friday that the Nets will, in fact, reach out to Jackson to inquire about his interest and possibly arrange a meeting to disuss the particulars. While the Nets' front office is taking a patient posture and isn't planning for a fast-paced search, the Jackson aspect of the equation has the potential to move quickly in one direction or another.
Nets officials will begin meeting with owner Mikhail Prokhorov over the next couple of days, sources said, to formalize a list of candidates and set parameters for the search. No candidates have been contacted or will be contacted until Prokhorov is formally looped into the process. It is clear that evaluating the fit and interest level of the game's most decorated coach is at the top of the Nets' list of priorities.
Jackson, 67, is one of several candidates in play for the Nets, sources say, but given his resume and Prokhorov's affinity for big names -- not to mention the added benefit that would come from hiring an ex-Knick -- a conversation between Jackson and the Nets would seem to be a formality. Coaching in New York is "a situation that would intrigue him," the person familiar with Jackson's thinking said. "He has a lot of history with that place."
After Jackson got passed over for the Lakers job -- which the whole world, including Jackson, thought would be his to turn down -- those close to him began to doubt that he would ever return to the sideline. But it can't be forgotten how much Jackson loves New York and money, two things Prokhorov can offer him.
As for whether Jackson's triangle offense would fit the Nets' roster -- and whether it could be taught in the middle of the season with no training camp -- it's worth pointing out that the system would give Deron Williams the kind of freedom he craves. Reigniting Williams' All-Star career, which is in the midst of a two-year slide, will be the first priority for whomever the Nets hire.
Jackson isn't the only respected, available coach interested in the job. Former Clippers, Blazers, Bucks and Lakers coach Mike Dunleavy threw his name in the ring Friday on his national radio show. On Off the Dribble, which he co-hosts with Justin Termine on Sirius-XM, the Brooklyn-born Dunleavy said coaching the Nets would be "a dream come true."
No discussion of possible permanent replacements for Johnson can be had without mentioning Stan Van Gundy, whose body of work in Orlando looks even more impressive now that Dwight Howard has joined the Lakers and failed to make an impact on a more talented team than the one he was part of in Orlando.
Staying in the family, coaching industry sources believe Stan's brother, Jeff Van Gundy, is getting closer to entertaining offers to return to coaching. Would a high-profile job in New York, in a conference where defense still carries the day, be enough to lure him away from the broadcast microphone? The Nets plan to find out. League coaching sources told CBSSports.com Friday that the Nets actually prefer Jeff over Stan and have a genuine interest in speaking with the current ESPN/ABC announcer and former Knicks coach about the job.
Former Trail Blazers coach Nate McMillan also is available and has a strong relationship with Williams from their time together with Team USA. McMillan's emphasis on defense is well known, but it isn't clear how his low-possession, ball-control offensive style would be any better for Williams than what Johnson had been able to devise.
John Calipari? Given minority owner Jay-Z's relationship with the Kentucky coach ... oh, let me stop myself right there. Sources say the answer to whether the Nets will consider Calipari is an unequivocal no. Moving on ...
Former Russian national team coach David Blatt is viewed in the coaching industry as a longshot at best for the job. His name does not appear to be on the preliminary list of candidates that Nets officials plan to discus with Prokhorov.
Jerry Sloan? The coach who abruptly retired in Utah after some well-publicized scrapes with Williams? Hard to imagine, though don't forget that Williams reminisced recently about how much more comfortable he was in Sloan's offense than in Johnson's. 
Come to think of it, letting Williams have a strong say in the hire wouldn't be the worst thing in the world. That way, Williams would be accountable for his play, for his leadership on the team and for how far he can take the Nets with enough talent around him to win.
Enough talent for the conference finals? Teams that have come from whence the Nets came rarely make that big of a jump in one year. But that doesn't mean the owner isn't entitled to expect it, and it doesn't mean the coach can expect to survive when the expectations aren't met. Soon, those expectations will be someone else's problem.
The Nets fired Johnson on Thursday and elevated assistant P.J. Carlesimo to the interim job. With a 14-14 record, the Nets were hardly living up to their new, swanky address in Brooklyn -- not to mention Prokhorov's preseason statement that "a good plan is maybe conference final" for a team that lost 172 games the past three seasons and hasn't finished with a winning record since 2005-06.
The Nets' 108-93 loss in Milwaukee on Wednesday night was their 10th in 13 games, with the struggles coming against teams with a collective winning percentage well above .500. But the bar had been set, and the Nets clearly were not meeting it under Johnson -- especially in the eyes of their most important player, Williams.
Despite a feeling among some in the Nets' organization that Johnson would be given more time to turn things around, patience clearly was not something Prokhorov was willing to have. His revamped roster pushes deep into the luxury tax this season (more than $13 million over) and next (more than $15 million over), a condition that Prokhorov has said he would tolerate as long as the team was contending for championships.
Thomas took to Twitter to let the Celtics know he doesn't want to ruin Pierce's night

The Hall of Famer's jersey was retired by the Celtics in 1982

It's rare to see a legit punch in an NBA fight, but this was definitely one of them
We've got all the scores, highlights and news from an NBA Tuesday

The former Slam Dunk Contest champion will take his talents to Tri-State

Do NBA players have look-a-likes from famous paintings? We found out on the new Arts & Culture...