Nets' Kevin Garnett enduring most frustrating season of his career
Brooklyn Nets big man Kevin Garnett opened up to the media on Wednesday and talked about the most frustrating season of his career.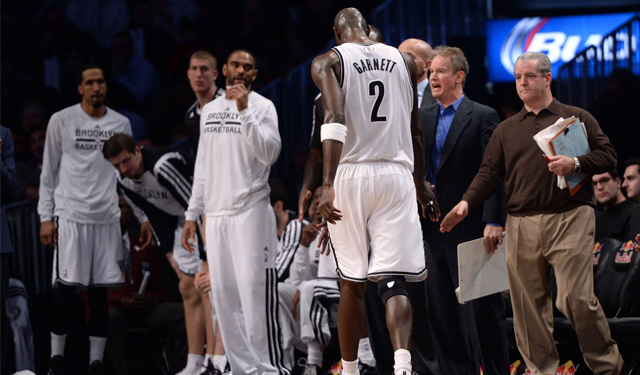 In a disastrous season for the Brooklyn Nets, Kevin Garnett has probably been the biggest disappointment for the team outside of Jason Kidd's coaching performance and the foot injury that ended Brook Lopez's season. Garnett was brought in with Paul Pierce and Jason Terry to fix any potential energy and defensive issues last season's team may have had. The Nets were putting together a team worthy of approaching title contention.
That's not how things have turned out. The team has been a circus with injuries, poor play, and coaching drama that has left everybody scratching their heads. The poster boy for the disappointment of the Nets has definitely been Garnett, who is going through the worst season of his career. Garnett talked about the frustrating season today, after not talking to the media after the previous seven losses.
An introspective Kevin Garnett said today that this is the most frustrating season of his career.

— Stefan Bondy (@NYDNInterNets) January 1, 2014
Kevin Garnett said he has no rhythm and he doesn't know where he fits into the offense.

— Stefan Bondy (@NYDNInterNets) January 1, 2014
In his 19th season in the NBA, Garnett is easily having the worst campaign of his career. He's shooting the worst percentage of his career by far. His 36.4 percent from the field is nearly 10 percent lower than the 46.0 percent that previously represented his career low. He's also averaging career lows in points (6.5), assists (1.6), steals (0.8), and blocks (0.6). His 6.9 rebounds per game are the second lowest of his career (6.3).
The Nets' offense is significantly worse with him on the floor (98.1 points per 100 possessions) than when he's on the bench (104.3). The defense has been improved with his presence on the floor (3.6 points per 100 possessions better) but the 104.5 mark the Nets give up with him in the game is still abysmal. 
KG: "I show up everyday and I try to be a professional and give everything I have. You put Father Time on top of that, it doesn't help."

— Stefan Bondy (@NYDNInterNets) January 1, 2014
KG on team's biggest issue: "No idea. We have many issues. Right now I'm trying to make sure that eventually I'm able to give something."

— Stefan Bondy (@NYDNInterNets) January 1, 2014
The line about Father Time not helping what he's doing this season is the obvious reason for why he's struggled so much. He's played the ninth most games in NBA history at 1,351. He's played the fifth most minutes in NBA history at 48,403. The mileage he's put on his body makes it seem pretty improbable that he'll be able to snap out of this physical funk and help him get his confidence back.
Garnett is signed through the 2014-15 season and is slated to make $12 million in his final year of the deal. The question is with the way this season has gone, is he willing to endure another season like this or even worse, a season that makes this one not look so bad? Will he be able to bounce back and give the Nets the lift they need to get back into the playoffs? 
As of right now, it's looking like a depressing finish to a historic career.
Among the questionable decisions by Jackson was signing Noah to a long-term, lucrative dea...

This Akron store doesn't want their hometown hero to leave again

Milwaukee's star did not get cleared to play for his national team due to a painful knee i...
Ball, the second overall pick in the NBA Draft, is receiving even more hype

Rap mogul supports the vision the outspoken father has for his brand and sons

Deciding who to watch on League Pass can be difficult, but these rankings promise to help