Nets' November victory means more to Brooklyn than Miami
The Nets' victory over the defending champion Heat on Friday night was great theater for November, but that's all it is for now.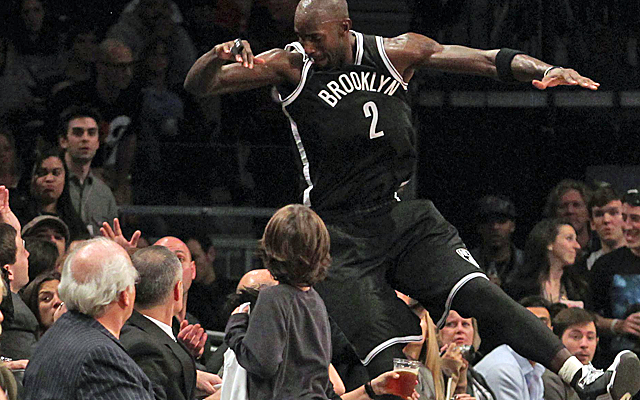 NEW YORK -- Whatever you take away from the Nets' victory over the defending champion Heat on Friday night, remember this: It always means more to the underdog.
And as crazy as it sounds that a team whose starting lineup makes more money than 27 entire NBA rosters (h/t Brian Windhorst) could be considered an underdog, that is the reality. That is what the Nets, Bulls, Pacers and Knicks are to the Heat until proven otherwise.
Speed bumps.
Money has bought Mikhail Prokhorov a very, very good basketball team with championship experience and enough institutional knowledge to beat the Miami Heat. Prokhorov was on the YES broadcast at halftime of Brooklyn's 101-100 victory over Miami smugly proclaiming that he has no regard for the NBA's luxury tax and no qualms about spending more in David Stern's wealth redistribution program than most teams spend on their players. That much we know; there are no limits to Prokhorov's spending, or his hauteur.
"Heck, no," Prokhorov said, when asked if he's worried about the $190 million that the Nets will cost him in salaries and tax this season. It's the kind of answer you'd expect from a man who is worth $13 billion. 
But money cannot buy Prokhorov -- or anyone -- what the Heat have. First, they have LeBron James. Second, they have two straight NBA championships, and it is difficult to win those. Nobody knows that more than Pierce, who along with Kevin Garnett won a title in Boston and have made it back to the Finals only once since -- due, in large part, to LeBron.
"A lot of these rivalries are born in the playoffs," Pierce said. "Maybe it's something that can build up. Maybe we see them in the playoffs."
And for a team that has been built the way the Nets have, that is all that matters -- the playoffs. Not what happened on Nov. 1.
"When we came off a championship and certain teams beat us, we always looked at it like it doesn't matter; we'll get 'em in the playoffs," Pierce said. "So I don't know if we got their attention or not. But it was good for our psyche."
There's no question about that. What happened on Friday night in the Nets' home opener mattered a lot more to the Nets than it did to the Heat. Miami played like it, too; oddly disengaged, almost uninterested. 
The season is not even a week old, and already the Heat have gotten a taste of some of the medicine that awaits them in the Eastern Conference as they go for a fourth straight trip to the Finals and third consecutive title. They've seen the Bulls with Derrick Rose back. They've seen the Nets with top-to-bottom talent, size that will give them trouble in a playoff series and the experience and drive of Pierce and Garnett.
Sandwiched in between was a loss in Philadelphia, to a Sixers team that is supposed to be tanking for the No. 1 pick but is 2-0 instead. At 1-2, the Heat managed to lose two straight games for the first time since January of last season while falling below .500 for the first time since they were 0-1 in the first season of the Big Three era (2010-11).
What does all of this mean? Not much.
"I'm not commenting on any other team, OK?" James said in the visiting locker room, standing by a policy he announced when Miami was here in the preseason -- after comments he made about how Ray Allen was criticized for leaving Boston while Garnett and Pierce were lauded blew up the Internet.
"They won," James said. "They won one."
In beating the Heat, the Nets did more to boost their own opinions of themselves than damage Miami's. They needed it more; "wanted it a little bit more," Garnett said.
"A little bit of unmotivated basketball, I thought, at the start," James explained.
The temporary mileage that the Nets get out of a game like this is exactly the kind of fuel, the scent of winning that Pierce and Garnett can use to revive this blood war with James from their Boston days come springtime. It was almost like James didn't want to give them the satisfaction of his full arsenal, during or after the game.
"Whenever you're trying to establish something against the champs, you've got to expect it to be a playoff-type atmosphere," Pierce said. "KG talked about that coming into the game: 'Expect it to be like the playoffs. Don't expect anything to go our way; they're the team to beat.' It was good that we got a taste of this type of atmosphere this early in the season to try to see where we're at. Miami, whenever they come into town, they're a measuring stick for everybody."
The talent has gotten better in the East; the challenges more formidable for Miami. It is always that way when a team has won multiple titles. The road gets harder.
The Pacers are better and deeper. The Bulls have Rose. The Knicks have the desperation that goes along with keeping Carmelo Anthony content and engaged. In Brooklyn, James' old foes from Boston have been reincarnated. 
It's great fun, glorious theater -- even in November. But that's all it is, for now.
We've got all the scores, highlights and news from all of Sunday's games

The Rockets beat the Warriors 116-108 on Saturday night

The Cavaliers gave up 148 points in their loss Saturday afternoon to the Thunder
Blatt made the comment before coaching in the All-Star Game in Turkey

Is this rock bottom for the Cavaliers because it sure feels like it is

Wade, as he's done so many times in his career, threw it up to LeBron for the thunderous f...