Nets open with win as Prokhorov eyes conference finals
The Nets opened their Brooklyn era with a 107-100 victory over the Toronto Raptors Saturday night, and owner Mikhail Prokhorov set the bar pretty high: conference finals or bust.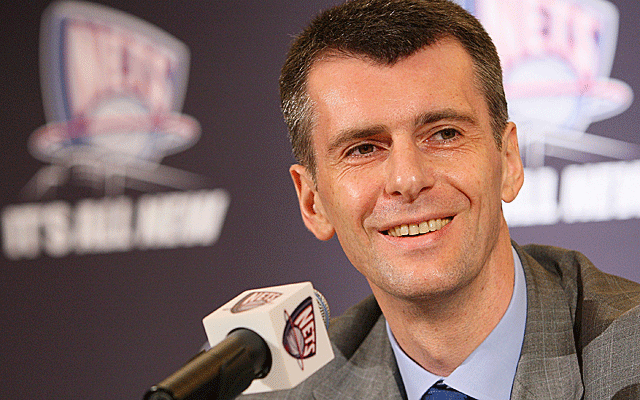 Team owner and Russian billionaire Mikhail Prokhorov has very high expectations for the Nets and Avery Johnson.
(Getty)
NEW YORK -- Appropriately enough, Deron Williams made the first basket in Brooklyn Nets history, which was hardly surprising. His coach, Avery Johnson, had told fans at a local restaurant in recent days that the first play would be drawn up for the star who made all of this possible by staying.
Johnson also revealed after the Nets opened their Brooklyn chapter with a 107-100 victory over the Toronto Raptors that no matter what Williams did on this night, no matter the outcome, he'd be getting the game ball.
Johnson got something, too, on Saturday night, the delayed and anticlimactic season opener for the new franchise in Brooklyn. Well, he got a couple of things. After the game, a P.R. man handed him a cell phone displaying an injury update on Gerald Wallace, who turned his left ankle late in the game. That news was good; X-rays were negative, and Wallace is day-to-day, like the rest of us.
The news Johnson got before the game was not so good. His owner, Mikhail Prokhorov, believes a successful season for the Nets in Year One at Barclays Center would be defined by a trip to the Eastern Conference finals.
"A good plan is maybe conference final," Prokhorov said, without humor, in a pregame news conference. 
Welcome to Brooklyn, Avery. The bar has been set.
"He has a great roster of talent," Prokhorov said, "and for him, it's also a very great challenge."
Now the Nets can move on from this long-anticipated storyline: The team that fled New Jersey opening for business in their new home six miles from the rival Knicks' long-established home at Madison Square Garden. For obvious reasons and tragic events, the planned opening Thursday night against those Knicks was not possible. For various reasons, all of them understandable, not everyone scheduled to be among the sellout crowd of 17,732 made it out to the borough. The Nets played before a loud crowd for once, albeit with some scattered empty seats.
The fact that the Nets opened a night after the Knicks packed the Garden for a stirring, 20-point victory over the defending champion Heat did not dampen Prokhorov's enthusiasm, optimism or sense of humor.
"Yesterday, I went to bed at 8 o'clock in order to be up at 4 in the morning for a great workout," Prokhorov said.
As for his personal goal of stealing some of the Knicks' thunder, not to mention some of their fans, Prokhorov said, "Usually , I stay at the Four Seasons in Manhattan so I need to keep an eye on the competition."
The Knicks and Nets will play their postponed season opener on Nov. 26, and who knows? Maybe that will be among the 30 percent of home games Prokhorov estimated Saturday he'll be attending. For now, he just dropped in with his endless supply of one-liners and unrealistic expectations, perhaps not realizing that everyone will remember those words come May whether he's around or not.
Or perhaps realizing it and not caring.
"I only have three years left," Prokhorov said when asked how long he was willing to wait for a championship. "Because I said if not, I will get married. So maybe I am the most motivated guy for the championship now."
Ba-dump-tish.
But seriously, folks, other than the Raptors replacing the Knicks as the opening night opponent, all went pretty much as planned on the first official night of this journey. Commissioner David Stern and commissioner-elect Adam Silver were on hand to behold the latest episode of NBA franchise musical chairs. Minority owner Jay-Z sat courtside, as did his wife, Beyonce. And let's be honest, if Beyonce is happy, so are the rest of us.
Brook Lopez had an assertive 27 points, including a three-point play that gave the Nets the cushion they needed to close out their home opener, and it wasn't even the best thing that happened to him. Lopez, a renowned comic-book geek, left Barclays clutching a promotional comic featuring a super hero called the Brooklyn Knight, who somewhat unfortunately was lowered onto the court from the rafters during a smoke-filled pre-game introduction.
"This night meant a whole lot to a whole lot of people," Johnson said, and he did mean the night, not the Knight, if I read him correctly.
There was time, in fact, to offer a nod to the past -- a moment for nostalgia. On hand to witness Brooklyn's first major league team since the Dodgers left for Los Angeles in 1957 were former Dodgers Ralph Branca and Joe Pignatano and the son of perhaps the most beloved Dodger of them all, Gil Hodges. Branca, 86, made his way to his seat wearing Lopez's jersey after promising that the loyalty and old-school Brooklyn fandom would be revived in the borough for the Nets.
"The ballclub was really the heart of the town, and when the Dodgers left, part of Brooklyn left," Branca said. "But now it's come back. ... Brooklyn fans will be the same: loyal to the end."
Branca, of course, played in an era when he and teammates Carl Erskine, Duke Snider and others lived in Bay Ridge and carpooled to the games -- a foregone era when, Branca said, the butcher would give him free meat for a barbecue when he won his scheduled start. Neighbors, just regular folks from the neighborhood, would come by to partake of the spoils.
Suffice it to say, times have changed. Nets fans new and old have little connection to the players on this team or those on any team in their memories. It's like that all over, not just in Brooklyn. The Nets' players don't even live in Brooklyn, except temporarily now, as the team has been displaced from its flooded New Jersey practice facility and players and staff are staying in nearby hotels.
"Brooklyn has always been considered second-fiddle to Manhattan, but that's only Manhattan's thinking," Branca said. "Brooklyn's the best."
Yes, for one night, Brooklyn was back, and it was a good show. It's impossible to imagine the borough forming anything close to the bond it had with the Dodgers -- the love-hate relationship it had with Dem Bums. But this passed for progress in the modern sports world. The borough has a major league team again. It has a team worth rooting for thanks to a mercurial point guard who chose not to leave as a free agent, something that existed for Walter O'Malley in 1957 but not for Duke Snider or Ralph Branca.
It has arguably the most spectacular arena in the NBA, which a Russian oligarch was able to get built across the street from the very spot where O'Malley had wanted to build a new Ebbets Field for the Dodgers. So it goes.
If only Russian oligarchs could've owned American sports teams in 1957. The Dodgers might never have left.
Golden State led by 17 on ring night, but they missed Draymond Green and Andre Iguodala in...

Durant's shot is too late and the champs lose; Hayward's awful injury overshadowed Cleveland's...

Chris Paul sat out the fourth quarter of the Rockets win due to an apparent knee injury
Durant couldn't quite get the shot off in time, and the Rockets prevailed

Draymond Green walked off the floor limping and rubbing his knee in the third quarter

Golden State raised its second banner in three years. Now they start their run for another