Nets owner dropped $68 million on a deposit for a house he didn't buy
Mikhail Prokhorov is rich. Like, really rich. Like, no, seriously, you wouldn't believe how richy rich rich he is.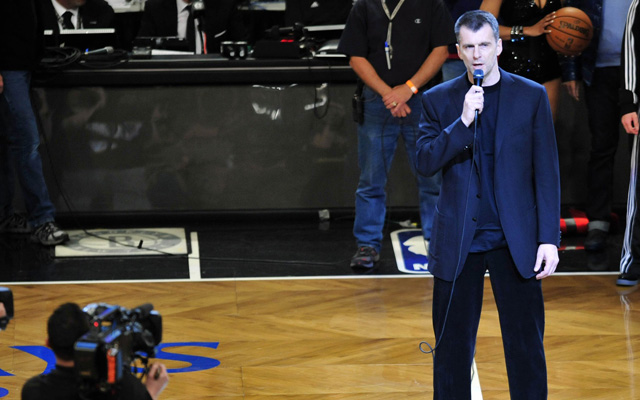 Here's your "Mikhail Prokhorov is so rich he found the money to pay for the Nets' roster in his couch" story of the day. The Brookyln Game points us to a Forbes article on some of the richest housing properties in the world. Prokhorov was interested a few years back in purchasing the second most expensive mansion on the planet, but he backed out. So, just like you and that college apartment you wanted to get with your friend before they flaked out on you, he had to drop his deposit. 
Which was worth over $68 million dollars. 
In second place is Lily Safra's Villa Leopolda, in Villefranche-sur-mer, France. The estate is reportedly one of several waterside homes that King Leopold II of Belgium built for his many mistresses. Set on 20 acres, the massive home was valued at 500 million euros ($750 million at the time), when Russian billionaire Mikhail Prokhorov tried to buy it in 2008. Prokhorov eventually backed out of deal, losing his 50 million euro deposit.
via The Most Expensive Billionaire Homes In The World.
Brooklyn Game has that deposit valued at $70 million, Google says $68.5 million. Either way, the guy dropped $68 million like it was nothing. Nothing. Think about that if the Nets are eliminated in five games by the Miami Heat Wednesday, meaning that he paid about $200 million for a team that made it to the second round. 
Prokhorov gives zero flips. He doesn't have to. 
Wealth is crazy. The end. 
We've got all the scores, top plays and news from a busy NBA Friday

Our advanced computer model simulated Saturday's Magic vs. 76ers game 10,000 times

Several playoff contenders could use the services of Ilyasova, who's nearing a buyout agre...
Durant says he probably wouldn't have gone to college because he 'needed the money'

Ball, who has missed the last 15 games with a sprained MCL, will be on a minutes restricti...

Larry Hartstein is in the midst of his best run of the season and released a pick for Mavericks...