Nets trade Jason Terry, Reggie Evans to Kings for Marcus Thornton
Deal involving Jason Terry and Reggie Evans has been completed. Kings send Thornton to Nets.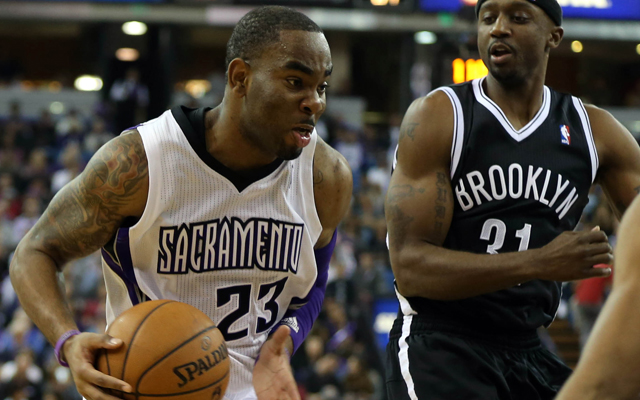 Update 2:16 p.m. Ken Berger of CBSSports.com confirms the deal is done: 
The Nets and Kings have agreed on their deal sending Jason Terry and Reggie Evans to Sacramento for Marcus Thornton, source confirms.

— Ken Berger (@KBergCBS) February 19, 2014
Sacramento and Brooklyn have reached an agreement in principle on the three-player trade, league source tells Yahoo Sports.

— Adrian Wojnarowski (@WojYahooNBA) February 19, 2014
Source confirms Nets getting Marcus Thornton from Sac for Reggie Evans & Jason @jasonterry31

— Chris Broussard (@Chris_Broussard) February 19, 2014
1:00 p.m. ET
Ken Berger is confirming reports that the Sacramento Kings and Brooklyn Nets are nearing completion of a trade. The Kings would be sending shooting guard Marcus Thornton to the Nets in exchange for shooting guard Jason Terry and power forward Reggie Evans.
The Nets and Kings are on the verge of completing the Marcus Thornton for Jason Terry and Reggie Evans deal, sources confirm.

— Ken Berger (@KBergCBS) February 19, 2014
The Nets would be bolstering the scoring off their bench by replacing Terry with Thornton, and possibly setting themselves up to absorb another contract, probably a big man, either by using their Disabled Player Exception or some other trade chip. Losing the rebounding of Evans would be tough for the Nets but they can find a replacement on the trade market.
The Kings would be freeing up more space for Ben McLemore to play heavier minutes and saving themselves a little over $1 million through the 2014-15 season if they end up keeping Terry and Evans.
The NBA broke its silence with a statement related to the Lakers-Paul George tampering cha...

The Clippers big man thinks LeBron will reunite with the banana boat crew at some point

Have the Clippers reportedly found their next GM?
The NBA stayed to the point in their response to the Greek basketball federation

The Pacers believe the Lakers tampered with Paul George before they traded him

Among the questionable decisions by Jackson was signing Noah to a long-term, lucrative dea...