Nets' Williams will have MRI on ankle; says he'll start training camp
Nets PG will have an MRI on his right ankle, but says again that he'll be good to go for the start of training camp.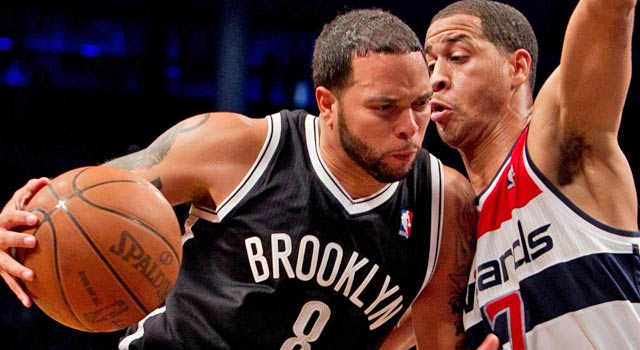 Deron Williams tweaked his ankle last week in a workout and suffered an ankle sprain and a bone bruise. He said he'd be ready for camp, no big deal. But at his annual (and awesome) dodgeball event Thursday, it was revealed that he'll be getting an MRI on the ankle, just in case. From ESPN NY:
Brooklyn Nets point guard Deron Williams (sprained right ankle, bone bruise) is confident that he'll be ready for the start of training camp on Oct. 1, but will undergo another MRI next week before being cleared to get his walking boot off.

"(My ankle's) good. It's good. As long as I'm ready for the start of the regular season (Oct. 30 in Cleveland), that's all that matters, but I'll be ready for the start of camp," Williams said Thursday at his Dodgeball charity event in Manhattan.
via D-Will to undergo MRI next week - Brooklyn Nets Blog - ESPN New York.
Williams says the MRI is mostly the team being cautious in an effort to protect him from himself. It's always going to make you nervous when MRI's come along, but a. they've been used more and more as a precautionary measure and b. in my experience, ankle MRI's rarely reveal anything serious. You tear something, you know it. You break something, you know it, and an X-Ray will reveal that. 
It's better to be sure. Until it comes back negative, fans are going to be a nervous, but Williams seems pretty confident he'll be good to go when camp kicks off in eleven days. 
LeBron said it might be difficult if the Lakers rookie ducks out of the way before he gets...

Galin Dragiev has his finger on the pulse of the Mavericks and just locked in a play for Thursday's...

The Crimson Tide point guard has been impressive so far and joins the top tier of prospect...
The speculation has been rampant, but seeing James in purple and gold is far from a sure t...

Andrew Bogut and Corey Brewer talked to CBS Sports about Ball's reserved personality

Instead, the Hornets eventually moved to New Orleans