Nets.com squatters redirect site to Raptors' homepage
Trolling in the deep with the squatters of what should be the Brooklyn Nets' official URL.
Go to http://nets.com, which should be the official website of the Brooklyn Nets, right now. Go ahead, I'll wait. 
That's funny, that doesn't look like the Nets' homepage.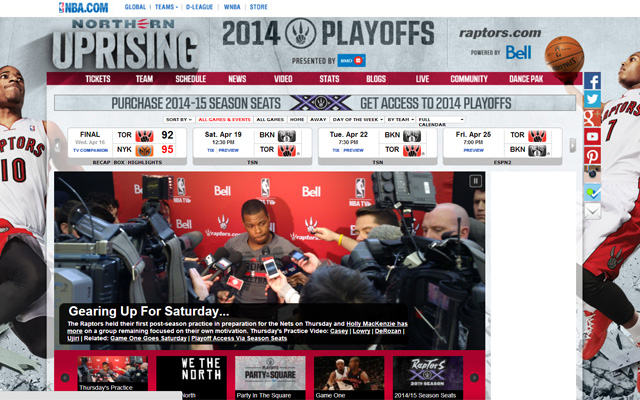 Whoops. See, someone has been squatting on Nets.com for years, hoping to get the team to pony up. From TheBrooklynGame.com in 2012 back when the site would redirect to the Knicks' homepage: 
UPDATE: As a few have pointed out, the site is allegedly owned by Cyber Mesa, a telecommunications company in New Mexico. According to league sources close to Net Income of NetsDaily, the only reason they're messing with the Nets is in hope to get the Nets to pony up some serious cash (seven-figure style) to buy the domain name.
via The Plot Thickens: Nets.com Redirects to Knicks Website.
Good times. Redirecting the site to the website of the first round opponent. The actual Nets site is at http://brooklynnets.com.
That's some master trolling. Also funny that owner Mikhail Prokhorov will spring for a luxury tax bigger than the GDP of most small nations but not to buy off these dudes to get the URL back. 
Raptors-Nets Game 1 tips Saturday.
The Pacers believe the Lakers tampered with Paul George before they traded him

Among the questionable decisions by Jackson was signing Noah to a long-term, lucrative dea...

This Akron store doesn't want their hometown hero to leave again
Milwaukee's star did not get cleared to play for his national team due to a painful knee i...

Ball, the second overall pick in the NBA Draft, is receiving even more hype

Rap mogul supports the vision the outspoken father has for his brand and sons