New Orleans Hornets match offer sheet from Phoenix Suns for Eric Gordon
The Hornets have matched Eric Gordon's 4-year, $58 million offer sheet from the Suns on Saturday, despite his resistance to New Orleans and not being allowed to go to Phoenix.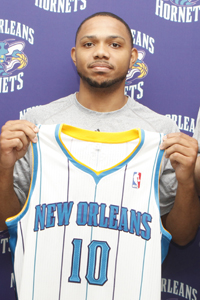 The Hornets have matched the Suns' offer for Gordon .
(Getty Images)
Eric Gordon better get used to the beads, beer, and beauty of New Orleans, because he's going to be around a while. The Hornets announced Saturday they have matched the four-year, $58 million offer sheet the Suns signed Gordon to earlier this week. 
"We are pleased to announce that we have matched the offer sheet for Eric Gordon. Eric is a phenomenal player that we are thrilled to have in our organization," Hornets general manager Dell Demps said in a press release. "We thank Tom and Gayle Benson for making this possible with their commitment to the team, our fans and the New Orleans Community."
Said Gordon in the release: "There is always a business element to the NBA when dealing with contracts but I never lost my appreciation for the New Orleans fans. I look forward to giving my very best on the court this season to make our team successful."
The Hornets never had any intention to let the one player that held up the Chris Paul trade with the Clippers over New Orleans' insistence on his inclusion walk in free agency. That was never going to happen. They were always going to match any offer for him, and the reason they were so laid back about the approach was their confidence in letting the market establish the shooting guard's worth, allowing them to not rush into any decisions. 
This isn't rocket science, and as much as Gordon has fussed about the match, it's business. He will, in fact, have to play basketball in New Orleans. 
But interestingly, Monty Williams didn't shut the door on dealing Gordon if he becomes a problem. From the Times-Picayune: 
"I just think when you're going through free agency and you're talking about that kind of money, certain things are said and felt,'' Williams said. "At the same time, I'm not going to back off that stance: We want people that want to be here. If you don't want to be here, then we have to make some adjustments.''
via New Orleans Hornets expected to match Phoenix Suns' offer for Eric Gordon today | NOLA.com.
The King acknowledged the mega trade late on Tuesday, calling Kyrie a 'special talent/guy'

Winger reportedly accepted the job after being offered last week

Irving isn't only switching teams, but also numbers
Irving made it clear he wanted to start camp on a different team, and the Cavs made it hap...

James, and the other principals, will be judged by what comes next for the Cavaliers and C...

A look at who came out ahead after Tuesday's megadeal swaps the point guards on the East's...