New York Knicks coaching staff getting tired of J.R. Smith's act
Mike Woodson is frustrated with J.R. Smith in New York.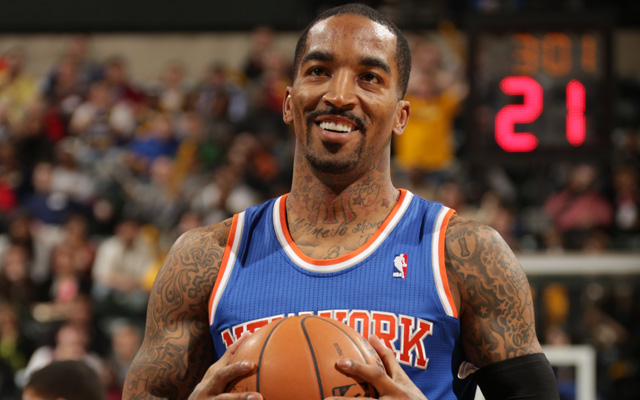 Smith has drawn the ire of Knicks coach Mike Woodson.
(Getty Images)
J.R. Smith comes with certain complications. The veteran guard has his own way of doing things, and at times that comes with a total disregard for authority. Coaches, officials, gameplans, teammates -- you name it. When things were going great this season, everything was awesome. Smith had "changed." Grown up. Developed. 
But as the season's progressed, we've seen more of the old, not-so-grown-up Smith. Terrible shot selection, poor shot making and attitude. Lots of attitude.
That attitude problem boiled over in the Knicks' blowout loss to the Pacers on Wednesday. Smith was ejected and generally acting up both during and after the game. And Knicks coach Mike Woodson is getting tired of it. From the New York Post: 
Asked if he had spoken to Smith about his behavior, an angry Woodson said: "I'm not happy about how we played and how we carried ourselves professionally on the basketball court. We can't do that. I'm not going to tolerate that. I'm just not."

Smith also had an incident with the Knicks' mild-mannered assistant coach, Herb Williams. In the first half, Williams and Smith exchanged angry words on the bench during a timeout. After the game, Williams' anger seemed to carry over.

As Smith talked to a media scrum, Williams walked over and ordered Smith to take his headphones off while he was addressing reporters. Smith's headphones were draped around his head. Smith took them off and Williams shook his head in disgust as he walked away.
via J.R. Smith's antics frustrate New York Knicks coaching staff -- NYPOST.com.
You had to know this was coming. Woodson certainly did. You know what you're getting into when you hitch your wagon to J.R. Smith. 
Now, this will blow over. It always does. Smith's talent, inefficient as it might be, is too much for it not to. And he'll wind up making some big shots in the playoffs at some point. But you run this risk with relying on Smith. The only question is just how big of a problem Smith will make himself and how many Advil Woodson will have to take to deal with it. 
Smith is averaging 17.3 points on 16.1 shots this season, averaging 39.7 percent from the field. Some considered him a Sixth Man of the Year candidate. 
The younger Ball brothers are heading to BC Prienai, but that could spell trouble

Keep it right here for all of the news, notes, scores, and highlights from around the Asso...

SportsLine's advanced computer model simulated Tuesday night's Lakers-Knicks game 10,000 t...
The Reno Aces are concerned about the new WNBA franchise stealing their thunder

Hinkie parted ways with the 76ers in 2016 after drastically changing the direction of the...

SportsLine's Mike McClure, a DFS pro with more than $1M in winnings, gives optimal lineup...