New York Knicks pull their controversial ads
The New York Knicks had some ambitious advertisements placed around New York City. They'll be removing them now.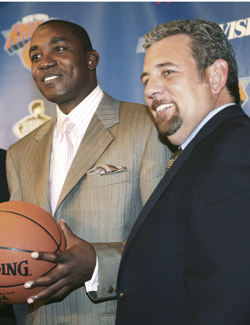 The Knicks are offensive for a different reason than usual.
(Getty Images)
The New York Knicks are no longer alone in the New York City basketball world. With the Brooklyn Nets infiltrating the market, the advertising campaigns of both teams have been topics of conversation here and there.
The Nets have been poking and prodding the Knicks through billboards and advertisements, reminding them the city is no longer a one-team race. Both teams now battle for locals to purchase their tickets on a nightly basis. Well, the Knicks came out with a "clever" campaign that quickly backfired and has caused MSG Network to pull the ads from various points in the city.
Darren Rovell of ESPN.com reported about the decision on Wednesday:
On Tuesday, the company said it would take down all posters associated with its recent advertising campaign, which generated buzz but also was considered controversial.

After ESPN.com contacted the MSG Network about an ad seen in the New York area on Tuesday morning, the network confirmed that that ad, as well as what is believed to be at least three other similar type ads, would be completely removed from all its locations.
What ads could be causing such action from the Knicks?
There are a couple from the story. One is an ad stating, "It's Friday night. You can either go out and attempt to pick up sixes and sevens or stay home and watch Kidd dish out dimes."
Another one of the ads said, "It's Friday night. You can either see a Broadway harness malfunctioning or you can watch real men fly."
I would imagine it was the malfunctioning harness ad that received the most ire from patrons around the city. Actors have actually been injured because of bad harnesses during the Spiderman musical on Broadway, "Spiderman: Turn Off The Dark." While you can see why it would be clever on some level, it's pretty surprising it got through all of the departments that had to approve this to get it on advertising space throughout the city.
The one talking about Jason Kidd is unrealistic, simply because he's only averaging about 3.7 assists per game in 22 minutes of action every night through the first week. It's not that he can't do stuff like that; it just would have been more accurate had this ad taken place a few years ago.
Was this advertising campaign incredibly insensitive that required immediate reaction and correction? Personally, it doesn't seem that bad to me. Unless the actors who had been injured took offense to it, it probably shouldn't be a big deal. However, when you're an advertiser in today's society, you do have to be sensitive to things that could offend people. At least the product on the court is good right now.
Vince Carter is destined for a Raptors reunion; he doesn't know when it'll happen

Thomas has a target date for his return, and with the Cavaliers scorching, this could be h...

LeBron James once again is using his platform to be socially active
Not many games, but still plenty of action and intrigue Sunday in the Association

Kobe Bryant had a solid piece of advice for back in 2016 when he left OKC for Golden State

An old rivalry is reignited between LeBron James and the Cavaliers and John Wall and the W...