New York Knicks to sign Kenyon Martin to 10-day contract
After trading away Ronnie Brewer, the New York Knicks will sign forward Kenyon Martin to a 10-day contract.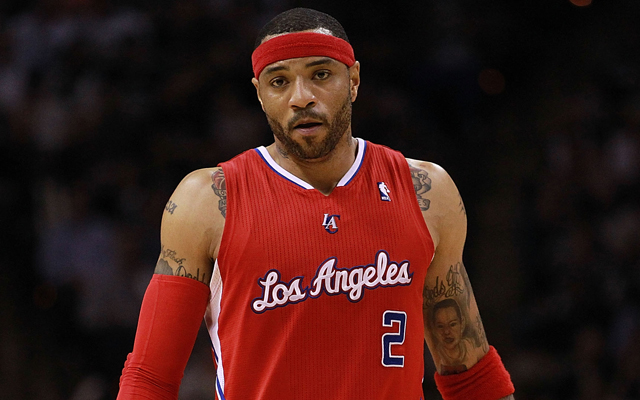 10-day contract for Martin? Sounds like a blue-light special.
(Getty Images)
After trading away guard Ronnie Brewer to the Oklahoma City Thunder, the New York Knicks haven't let the vacated roster spot last long. Ken Berger of CBSSports.com tweeted that the Knicks will sign veteran forward Kenyon Martin to a 10-day contract. 
The Knicks made quick work of roster spot cleared with the Ronnie Brewer trade, signing Kenyon Martin to a 10-day contract, source confirms.

— Ken Berger (@KBergCBS) February 21, 2013
With Marcus Camby and Rasheed Wallace out for the time being, acquiring a veteran like Martin at such a cheap price tag is a pretty nice get for the Knicks for the next 10 days, and possibly beyond that. After spending part of the lockout-shortened season in the Chinese League, Martin signed with the Los Angeles Clippers last year and was a key reserve for them. 
While the offensive end of the floor for K-Mart was the worst performance of his career (averaged 5.2 points in 22.4 minutes while shooting 44.1 percent from the field and 37 percent from the free-throw line), he was a pretty solid defensive presence on a Clippers team that really needed defense out of their frontcourt. His play greatly improved for the Clippers in their 11 playoff games when he shot 52.4 percent from the field, 62.5 percent from the free-throw line in 17.5 minutes per game. 
The Knicks' defensive problems right now don't exactly come from the frontcourt as much as they come from the perimeter. The guards and wings for the Knicks allow too much dribble penetration, which puts their bigs at a huge disadvantage in the middle of the floor. Having a more experienced big man off the bench while Camby and Wallace are out is nice, but Martin is unlikely to see a big load of minutes with Carmelo Anthony (4), Amar'e Stoudemire (4/5), and Tyson Chandler (5) seeing the bulk of the minutes at the power forward and center positions. 
James Harden is the only player representing the best team in the NBA

Adam Silver sees a 1-16 playoff as a real possibility in the future if they can figure out...

Galin Dragiev is SportsLine's No 1. NBA expert and locked in a pick for Team LeBron vs. Team...
LeBron and Durant both responded to a newswoman's recent comments, telling them to 'shut up...

Mitchell's Slam Dunk Contest win was the icing on the cake of an incredible run of success

Dennis Smith Jr. had a great dunk contest, but the judges didn't feel the same way