Next chapter in Dwightmare could come from Howard himself
Dwight Howard is scheduled to return to Orlando for his annual youth camp in two weeks, providing the next mile-marker in the endless saga of his desired departure from the Magic.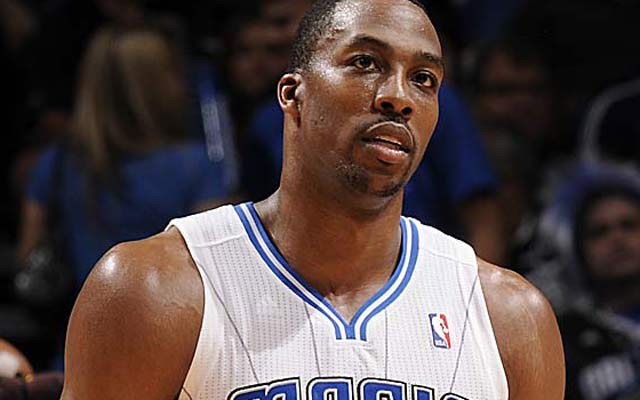 Dwight Howard's return to Orlando figures to be the next mile-marker in his summer of discontent.
(Getty Images)
In less than two weeks, Dwight Howard will be back in Orlando. At least for a couple of days, anyway. So says DwightHoward.com, which lists the rescheduled dates for the All-Star center's youth basketball camp as August 12-13.
This should be interesting, considering Howard hasn't been seen in Orlando since undergoing season-ending back surgery April 20 in Los Angeles. That's where Howard has been rehabbing, and it's where Magic GM Rob Hennigan met with Howard last week to get a face-to-face update on his situation.
Hennigan probably didn't need to go all the way to L.A. to learn that the situation is a mess, but there were other goals behind the meeting. It's been barely three months since Howard had a herniated disk in his back repaired and fragments removed by renowned back specialist Dr. Robert Watkins. So you could understand Hennigan's interest in the progress his most prized asset -- trade asset or otherwise -- has been making.
More on Magic
Related links
While Howard is said to be not even close to doing on-court activities yet, his rehab is progressing on schedule by all indications. The procedure was said to be routine; "uneventful," was how Watkins described it. It's always easy to call back surgery uneventful when it's performed on someone else's back.
Either way, Howard's return to Orlando figures to be the next mile-marker in his summer of discontent. There will be so much to discuss. Does Howard still want to be traded? Will he really not commit to signing a long-term deal with any team that might trade for him this summer or next season, including his longtime choice, the Brooklyn Nets? Has he signed his last contract of any kind with the Magic? Is he still bitter about giving up his right to become a free agent, the turning point that resulted in Howard being stuck in Orlando through this endless summer?
The plain truth is, there isn't much news on the Howard front other than whatever insights Howard himself could offer when he resurfaces in a couple of weeks. Trade discussions continue with teams like the Lakers, Rockets and others, but the strong belief is that whatever deal is available to the Magic now will still be available next week or next month. In some ways, better deals could be available at the February trade deadline, since the Nets will be back in the picture and able to offer up Brook Lopez again -- and thus give other potential Howard suitors someone to negotiate against, if nothing else.
For his part, Hennigan is showing himself to be a man of remarkable patience. In his first time in the lead chair as a GM, there has been not a hint of panic. It's almost as though Hennigan wants to see what happens if training camp opens in October and Howard is still in a Magic uniform. How does he respond? Will he be healthy and in camp, on schedule? Or will the uncertainty over his recovery from the back operation form another cloud over the circus tent?
The most difficult question of all is whether Howard, the Magic and the rest of us can stomach another month, two months, three months or six months of Howard locked in a stalemate with Orlando management. Whichever side has the highest tolerance for absurdity might just find the leverage needed to get what they want.
We've got all the scores, highlights and news for Thursday night

The Sixers big man got his first All-Star selection -- and maybe some revenge -- on Thursd...

It appears some players are not entirely taking the All-Star voting process seriously
There were some weird discrepancies between the fan, media and player votes

LeBron and Steph will be the captains for the 2018 NBA All-Star Game

Arron Afflalo was involved in an altercation with Timberwolves big man Nemanja Bjelica on...