Nick Collison's ode to Kevin Durant: 'Hard not to be in awe'
"It's hard not to be in awe of him sometimes." - Collison on the MVP
• 2 min read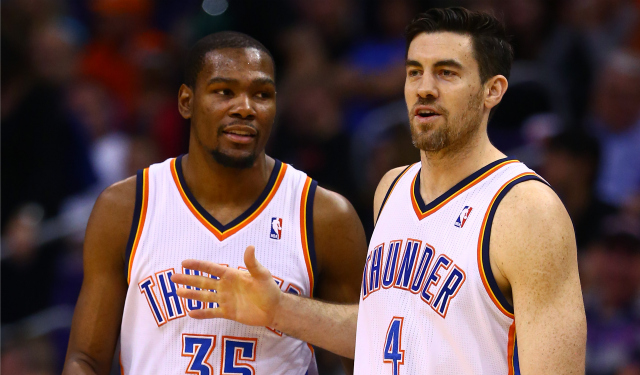 More NBA: Season Awards | Grades: East | Grades: West | Seasons in Review
Kevin Durant's public display of appreciation for his teammates on Tuesday was unlike any acceptance speech that came before it. When Durant was named MVP, he thanked each and every member of the Oklahoma City Thunder personally, sharing anecdotes with tears in his eyes. On Friday morning, Sports Illustrated published a piece penned by Thunder big man Nick Collison returning the favor.
Collison, who has a long history of writing about being a professional athlete —  his GQ blog post on how to survive in the league as a role player stands out — called it an honor to play with Durant. The only other Thunder player who suited up for the Seattle Sonics, he described a rookie Durant as "a real nice kid," and said that, from the beginning, the No. 2 pick of the 2007 draft "was all about basketball."
If you watched the MVP ceremony, you know the admiration is mutual.
"Nick, the first guy I met when I first got to Seattle as an 18-year-old, you took me in," Durant said on Tuesday. "You believed in me from the beginning. You knew that I had potential. Every single day, I know I could look at you and know that you respect me as a man, as a player and you're going to ride with me to end. I thank you."
In the SI story, Collison raved about Durant's work ethic and his ability, writing, "It's hard not to be in awe of him sometimes" even after all these years. He also credited him for listening to his teammates and making them better. 
Look at my career. I'm viewed as a guy who does the little things that help a team win. I have a niche, even a little bit of a cult following. But if I were on a losing team, no one would talk about that. And the reason for that is Kevin, and Russell Westbrook. Their success raises all of us.

We don't talk about Kevin's place in history, but I think about that a lot. I remember growing up watching Michael Jordan and all those guys who played with him. When you play with a guy like that, you play on a special team. It's cool to think that someday people might remember me the same way they do [former Bulls role players] Cliff Levingston or Luc Longley. And it's cool to think that I'll be able to say that not only did I play with Kevin but that I also liked the guy.
He also said Durant "managed to stay true to who he was on the first day I met him seven years ago." Quite the compliment for a mega-star, and the fact he went out of his way to put it in writing says as much about Collison as it does about Durant.   
Westbrook's late layup gave the Thunder a 109-108 victory

LeBron became the seventh player in league history to reach the milestone

There were a few things that stood out from Tuesday's All-Star selections
Here are three players from each conference who had legitimate claims to make the game

LeBron achieved the milestone in the first quarter Tuesday

Here are the full lineups for the 2018 NBA All-Star Game