Nick Young agrees to offer sheet with Philadelphia 76ers
Sixers reach agreement with Nick Young on one-year, $6 million deal.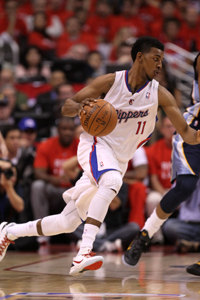 Nick Young will be a Sixer next year.
(Getty Images)
Ken Berger of CBSSports.com confirms multiple reports including Yahoo and ESPN confirm through Nick Young's agent that he has agreed to an offer sheet with the Philadelphia 76ers on a one-year deal worth $6 million. 
Wait. 
It wasn't a four-year, $30 million deal? No massive contract size? No excessive length on the contract? A reasonable contract for a bench scorer who can help himself into a better contract with a good year in a featured role and no long-term committment? 
Is this still the NBA? 
This is a sweetheart deal for the Sixers. They get a bench scorer with considerably more scoring potential than last year's bench scorer Lou Williams to hit shots, and Young's a superior defender. Young is 27, but likely still has several good years in front of him. He's a versatile scorer who can get up and out in transition and on several nights will light up the scoreboard. 
This is a great move by Philadelphia, assuming the don't re-sign Lou Williams to a long-term deal. This gives them flexibility and allows them to fill their bench scoring position. 
Plus, you know, swag. 
Knicks forward had his truck stolen out of his driveway

The Celtics will send No. 34 to the rafters in Boston when they take on his old rival

It's never too early to look at June's NBA Draft
Cousins uses some colorful language to get his point across

The awards are voted on by peers in the NBA and adds to Russ' league MVP award he won this...

Minnesota is facing even bigger expectations headed into next season, and they'll be difficult...