Nicolas Batum says LaMarcus Aldridge doesn't want a trade
Blazers guard says LaMarcus Aldridge hasn't demanded a trade and is still "the man" in Portland.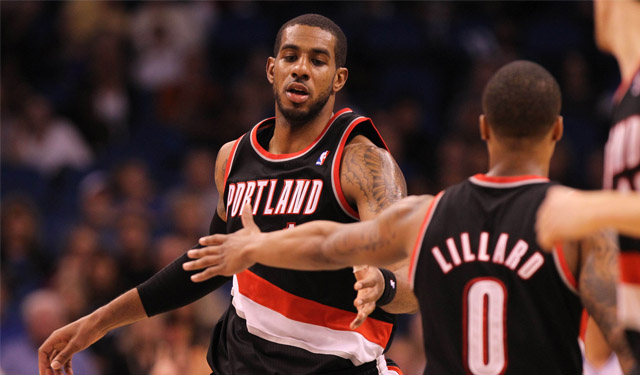 Nicolas Batum told HoopsHype.com that he thinks Trail Blazers forward LaMarcus Aldridge is still the No.1 guy on the Blazers despite Damian Lillard's rise to stardom last season, and that he doesn't believe Aldridge has demanded a trade. 
Who do you think is going to be the No. 1 guy on the team?

NB: Although Damian had a great rookie season and has unbelievable talent and a bright future in front of him, I think LaMarcus [Aldridge] is our go-to guy. He is our franchise player. Damian may be a Top 10 point guard in the league right now, but LaMarcus is one of the best three power forwards and maybe No. 1.

There have been these rumors that he has privately demanded a trade from Portland...

NB: I heard that too and I laughed when I read that. He doesn't want to get traded, he wants the team to get better. LaMarcus is a winner.

He has told you that?

NB: I mean, I know that's what he wants. We had two bad seasons and missed the playoffs and wants the team to improve. I think he didn't ask for a trade. He wants to stay and win with the Blazers. He just wants a better team around him so we can get back to the playoffs.
via HoopsHype - Nicolas Batum: "LaMarcus doesn't want to get traded, he wants the team to get better".
Couple interesting notes here. There's obviously a little bit of a tug here between Aldridge, who for years was passed over as "the guy" in Portland for Brandon Roy and Greg Oden, only to become the best player of the three, and Lillard, who was the source of the revival of the Blazers as a team last season. Batum sayig this follows a support line that's pretty typical. Veterans are going to back the older guy, and it's a little more important to protect Aldridge's ego. 
He's also right. Just based off experience and skill level, Aldridge is better. Aldridge is a top-five power forward in the NBA, Lillard's just starting his career. 
There have been rumors over the summer that Aldridge has asked the Blazers for a trade, which Aldridge and the Blazers have denied. What's notable here is that usually teammates will give their fellow players room. They'll say "Aldridge is a winner" or something like that, instead of out and out stating that he hasn't asked for a trade. It's rare to see a player get involved in another player's business. Maybe that's a sign of where Aldridge stands on the issue, or just that Batum doesn't tend to think about that stuff much. 
Either way, for now at least, it looks like things are quiet on the Aldridge trade front. 
Hayward is expected to make a full recovery, but don't expect to see him on the court this...

Well, Suns fans ... it can only go up from here

Teague no longer plays the game, however, because he's mad about his rating
Our NBA scribes break down what we've learned from the first two nights

Imagine if the Orlando rookie ripped off his warmups and stepped on to the court topless

After Brett Brown said his star would likely play somewhere in the teens, Embiid logged 26...