Nightly Grades: OKC gets back to itself
Nightly grades for Pelicans-Suns, Grizzlies-Thunder, Warriors-Knicks, and more.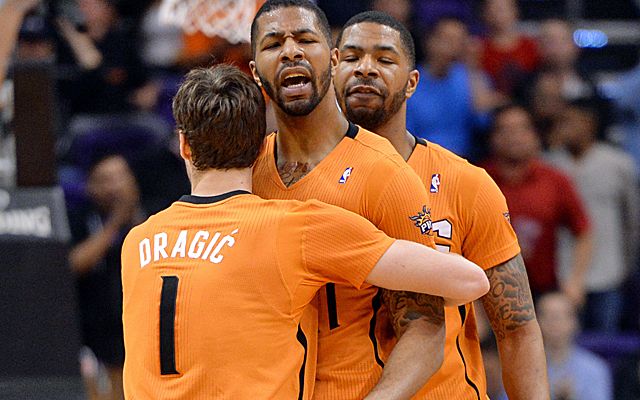 Each night, Eye on Basketball brings you what you need to know about the games of the NBA. From great performances to terrible clock management the report card evaluates and eviscerates the good, the bad, and the ugly from the night that was. 



Team
Grade
Analysis
A-

It's nice to see Kyrie Irving back to himself. Irving had a triple-double (21-10-10) for the Cavs and they pulled away from the Utah Jazz after Utah shoved them around for a half. It was a reassuring win for Cleveland which is now 3.5 games back of Atlanta. 

Doing this without Varejao and Anthony Bennett is especially impressive. (Yes, Anthony Bennett, who's been good lately.). Their interior defense was superb and had a big part in neutralizing the Jazz in the second half. 

D

Let's talk about Derrick Favors . 

The problem is that the history of guys who have been talented, athletic big men who are incosistent and drift game-to-game turning into franchise anchors is small. This was a year where Favors could go out and put a mark on the league. And yes, his scoring is up, his percentages are up, his rebounds are up (his rebound percentage, factoring pace, is down). 

But he has too many games like tonight (3-9, eight points, 3 rebounds, 3 assists. They need him to be the guy, or at least the B-guy to Hayward's A. They need more from him Not just this season, but as a player. He's only 22. But he's got to start putting some stuff together with the minutes he's getting, and he's got to do it consistently. 

A-

The New York Knicks are horrible, the Golden State Warriors are good. This is the exact kind of game the Warriors feast on. They didn't even need Andrew Bogut . 

Biggest thing here is that Klay Thompson got loose. They needed him to break out of his slump and 9-17 for 25 points will do just fine. Also, Stephen Curry was just simply amazing. Outlet passes, whip passes, threes off the screen, the works. Just everything. He was unstoppable. Not that he had to be. It was the Knicks. 

F-

For the most part, their body language has been good this year. Even in losses, they'd be loose on the bench, laughing or just staying professional. It's been tough, but not something they've let get into their souls.

They were awful Friday. Tyson Chandler 's ejection, Carmelo Anthony 's complete apathy and resignation, everything. J.R. Smith was the lone guy trying to keep the morale up.

Think about that.

The cracks are starting to spread, and you wonder if it's getting to the point they're going to shatter.  

C+

Played San Antonio tough as nails, and defended them well. They forced the San Antonio Spurs to not only try, but have to adjust to find some answers. It was about as good of a loss as you're going to find. They're not ready to go toe-to-toe with San Antonio, but they are ready to throw some punches and make them think about it a bit. 

B

They executed. It's what they do. I'm not taking anything away from them, there's just not much light to shed at this point. They are who they are, and getting Kawhi Leonard back really does make this team a different squad. 

D-

Memphis climbed back in late with 19 from Mike Miller in the fourth quarter. But this game was mos concerning for their offense. Memphis finally is as healthy as they're going to get (everybody but Quincy Pondexter healthy), and they still don't have enough offensive weapons. 

The Oklahoma City Thunder defense justworked them over from the get-go, and they don't have the punches to swing back. Mike Conley can't have disappearing acts (1-10, six points, nine assists) in games like this. They need him for floor spacing too much.

The late run was nice, but they really needed this one, or at least a better performance. 

A-

The fourth quarter drops them from an A+. They got back to their defensive principles before then and just swallowed up Memphis. Nick Collison cut off drivers to the rim, Serge Ibaka distracted, their doubles were effective and their hands were active. This was a huge performance for them to get right. 

Oh, and it turns out Russel Westbrook doesn't turn the Thunder into the Milwaukee Bucks . Imagine that. 

F+

A team that can't score, on the road, with Memphis and the Phoenix Suns losing and Golden State winning and Dallas can't take care of business. 

Their defense is just so, so, so horrible and in late game situations they always go for the home run swing. That's going to cost them at some point, postseason or before. This was a bad loss, even agains a touh team like Dallas. Veteran teams should know better. 

B

Joakim Noah and the Chicago Bulls just keep pounding and pounding on you and eventually you fall. They may look like raw steak by the end of it, but the first guy on the mat is never them. They're George Foreman. They take the beating and then just wail on you. 

Great win for Chicago who is closing in on a third seed. 

F-

From a tank perspective, this was great. Blowing a fourth quarter lead, letting the Lakers hit every three ever, not fouling when down 6 with 26 seconds left? 

Great tank game. 

But as a team-building exercise, just awful. So much of their action is sourced from the perimeter, like a college team. They have size advantages all over: Rudy Gay, Derrick Williams, Jason Thompson, and they just let their guys try and drive from the perimeter. They didn't contest and you saw why Isaiah Thomas still hss question marks because of his size. 

They should have killed this team, but yet again, Kings gonna King. 

C+

Hey, if they plan on building around MarShon Brooks and Pau Gasol, this is a great game. Otherwise, they shot a lot of threes and played no defense. 

They also fell behind Boston in the tankings and are just a game and a half from falling to the 8th spot. 

But hey, Pau Gasol got to act lke a player again and Jordan Farmar was fantastic. 

C+

They hung really well in this game. Anthony Davis (see above) was just fantastic, hitting all of his jumpers, attacking the rim, working with the ball out of the pick and roll. The kid is so special, in just his second season. 

Luke Babbitt gave them good minutes and Tyreke Evans, fresh out of the elevator, was really productive. They just don't have the defense they need. Youth, scheme, whatever. 

They just don't have enough, unfortunately. 32-9-2-3 for the Unibrow.

B

Poor defense for much of the game, and their interior is in a slow slide towards "not good." But man, Goran Dragic. 40 points, five assist for the Dragon, who just took over. But it was Marcus and Markieff Morris who really took this home for Phoenix, making big plays. 

They needed this one, bad. They're back in the hunt for the sixth seed. 
T.J. Warren gets paid big money by the Suns in a four-year deal

Melo didn't hold back on his feelings about President Donald Trump and urges for help in Puerto...

The Wizards star says the NFL won't change until important players like Brady and Rodgers speak...
Popovich spoke at length about sports, race, culture, and politics during Spurs media day on...

Carmelo Anthony finds the idea of coming off the bench very funny

Several teams spoke about Trump's recent comments about protests and the Warriors' White House...