Nine years later, the NBA and New Orleans remain connected
Nearly a decade after the devastation of Hurricane Katrina, Chris Paul returns for the city's second All-Star Game since the storm.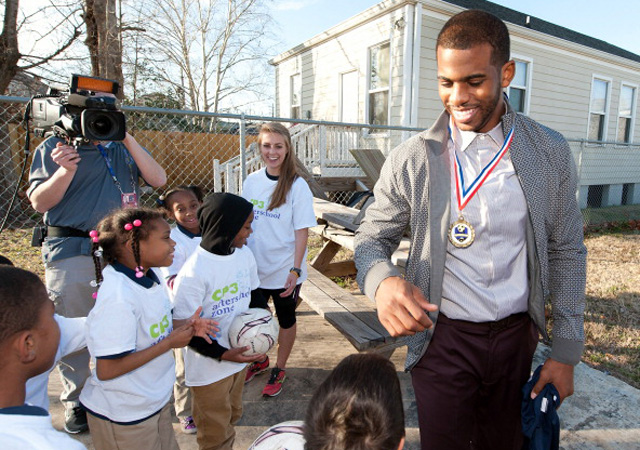 NEW ORLEANS -- You have to understand, none of this could have been here.
There are parades Saturday in New Orleans. The quarter is alive, filled with people doing the touristy things which don't define New Orleans. Drinks are had, reverie is made, and most importantly, cash is spent. Sunlight spreads across old pavement and new buildings.
Soon the kids from schools like KIPP Central City where NBA All-Star Chris Paul's Afterschool Zone program still runs will be running around a city that could very easily have never been theirs. And Paul himself will be continuing this second-home-coming in the city he came to love and embrace, even after being traded from there years ago.
"As I always say, it is not Bourbon Street, not the beignets, not the amazing restaurants," Paul said earlier this week. "It is the people that make the city of New Orleans. As much as I am excited to get down to the city of New Orleans, I am most excited to get down there and see those familiar and fresh faces of the people of New Orleans who really just became a part of my family."
As NBA All-Star Weekend gets into full swing headed towards its zenith Saturday night, it's impossible not to take stock of this beautiful, wretched, lively, twisted city and marvel in two things. One, the NBA is still here, despite so many challenges that should have sent the Pelicans flying elsewhere with that creepy mascot of theirs, and two...
New Orleans is still here.
This is the second NBA All-Star Game in the nine years since Katrina. In the aftermath of the storm, the then-Hornets were forced to spend the season in Oklahoma City. You can point to that event as opening up Oklahoma City as an NBA market. But that also could have ended the NBA in New Orleans. They could have simply never returned. The city could have never returned.
After the storm, people nationwide wondered if the city would ever recover. I was a legitimate question. Could any city survive that? Hundreds of thousands were evacuated, many simply never returned. Many more moved away when they returned to the destruction left behind in the flood's wake. Amazingly, instead of turning their back on a "lost city," everyone pulled for New Orleans to recover, even as eventually the nation once again turned a blind eye to the continued suffering from not only the storm, but the crippling poverty that has always plagued the city.
Paul was a rookie that first season after the storm. Despite his newness to the town, he embraced it while playing away from it, and almost immediately formed an emotional connection with the broken city.
"I hadn't even been there six months, and it was like losing a part of my family," Paul said Thursday of the devastation.
It's shocking to hear people speak of Paul so highly in this city still, surprising that Paul maintains such a connection to the city. Paul was traded to the Clippers in 2011, and yet maintains his afterschool program in the city, still fosters a deep love of the city he once called home. And people here still love him. There's no bitterness that I could hear about Paul leaving for greener pastures. He returns to the city he left a hero, thanks in part to the success he had in the team's best season here six years ago.
Less than three years after Katrina, New Orleans hosted All-Star Weekend in 2008. It was a shining example of the city's recovery. It was also my first All-Star Weekend and the first time I'd been back since the storm. Many of the places I'd wasted away my early 20's in were gone. You could still see the FEMA trailers. But the weekend was more proof that the city had come back, even if it wasn't the same city as before.
How could it be?
Even still, the NBA in the city was a question mark. Under financial duress, the NBA purchased the Hornets in 2010, taking ownership of the team. Let's just say that caused some complications when the team needed to trade Chris Paul as he was nearing free agency. Owners openly questioned why the league wasn't selling the team to the highest bidder, like to Larry Ellison who planned to move the team to San Jose. Wasn't New Orleans just a market that professional basketball can't survive in?
It is this point in history that makes this so fitting as the first All-Star Weekend after David Stern's retirement. The NBA could have bailed on New Orleans, written it off like so many have. But whether it was related to the fallout from the Sonics' move to Oklahoma City, watching out for their own PR hits, or the simple fact that they couldn't make San Jose viable with the other California owners, the fact remains.
David Stern and the NBA fought like hell to keep basketball in this town.
"How did this team stay viable, especially after Hurricane Katrina?" asks Benjamin Hochman, columnist for the Denver Post who worked as the Hornets beat writer for the Times-Picayune before and after the recovery. "Much of the credit goes to David Stern. It's my understanding that he believed this was bigger than basketball, that keeping the franchise in New Orleans was a symbol of recovery and of resiliency. He understood that New Orleans matters. So he worked to keep the team there and bring the All-Star Games there. It was the ultimate example of 'NBA Cares.'"
Stern and the NBA made a decision based at least not entirely on the bottom line, a pretty rare move for the monolith sports organization. They invested in the idea of New Orleans. But while the league struggled to find an owner, the notably fickle Hornets fan base also engaged in a shockingly strong response to the team's situation.
Joe Gerrity runs the Pelicans blog BourbonStreetShots.com. (Shots, like basketball shots, get it?). Gerrity says that the team's ticket sales approach when the team was floundering financially went a long way towards pulling in a local owner.
"The plan was simple and effective," according to Gerrity. "The team reached out to season ticket holders and asked them to throw ticket sales events at their houses, literally in their living rooms in some cases. President Hugh Weber, GM Dell Demps, Coach Monty, and more attended these events and pleaded with fans to say "I'm in". After the big name guest (or guests) spoke, ticket reps swarmed anyone and everyone in attendance, offering up great deals on full season packages.
Heading into an off-season marred by a lockout, the Hornets had approximately 6,300 season ticket holders. By the time the first game was played at the end of December, they had over 10,000. While most teams shed fans, the Pelicans increased their dedicated fan base by over 50 percent."
The city bought in to keep the team. Stern, who is honored as much in New Orleans and Sacramento as he is despised in Seattle, held firm to their commitment to the town. And in 2012, Saints owner Tom Benson bought the team, ending any concern about their future in the town. And still people wondered, "How do you find success with pro basketball in this market?"
Earlier this week, the team signed Smoothie King to an arena naming-rights deal. It's the kind of move that shores up the team financially and prompts more business to become involved in a struggling franchise. Attendance is still low, which bugs Hochman and Gerrity, but both say the same thing. It's like any team in any town when there's a lot to do in the city. Win, and the people will come.
The Pelicans feature All-Star Anthony Davis and a team that has the talent to push for a playoff spot. It has an arena with corporate sponsorship, committed ownership, and a town itching to throw a party for any reason.
Rita Benson LeBlanc, the granddaughter of owner Tom Benson said during All-Star availability Friday that All-Star Weekend brings in over $90 million to the city, $50 million of it direct-spend. Parties are booming across town, the liquor is flowing, and the music is playing.
But Paul's right, none of this, especially not Bourbon Street, really speaks to what made this happen. The country thinks of New Orleans as a town that doesn't need a reason to party. They're wrong. The party is the reason. It's the celebration of life in a city where it's easy to find reasons not to celebrate.
It's not about tourism or corporate growth. This town remains after the worst natural disaster to ever hit a U.S. city because of the people. Everyone here has a Katrina story, though most are growing tired of telling it as one local told me this week. It's not the same city, that much is clear even to me. Whether it's better or worse is a difficult question, even for those who know and understand the city far better than I do. But the love for it is still here.
From Chris Paul to Rita Benson LeBlanc to the mayor to shrinking unemployed population to writers and dock workers and everyone else, the town has recovered, the NBA has recovered.
There are parades in the Quarter of New Orleans for NBA All-Star Saturday, and the streets are lined with its people.
Allen has filed an emergency motion in an Orange County court in response to an accusation...

Larry Hartstein has been crushing NBA picks and just made a play for Bulls vs. Lakers on Tuesday...

He also apparently knows how to navigate the city risk-free
LeBron's minutes are a common point of discussion this season

Kevin Garnett thinks a one-and-done rule change would benefit schools more than anything e...

The Warriors are light years ahead, but James Harden is off to a red-hot start with the Ro...