No handshakes to bobbleheads: Journey down the rabbit hole
Isiah Thomas wishing he had given handshakes can get you to fun collectible bobbleheads if you know how to traverse the rabbit hole.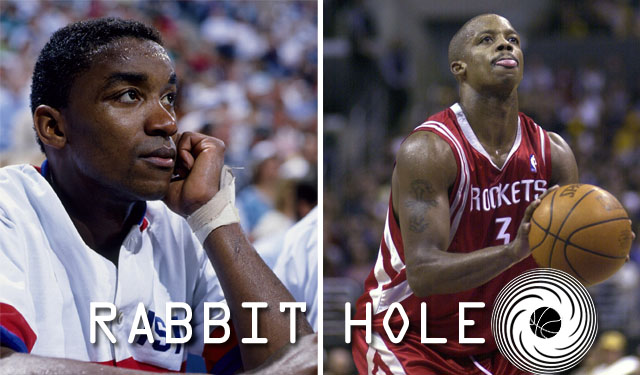 The first NBA preseason games tip off on Saturday and we'll get our first looks at how Derrick Rose is doing, what Andre Iguodala looks like in a Warriors uniform, what Nick Young looks like in Mike D'Antoni's system, and the new perimeter attack of the Pelicans (and Pelicans jerseys in action!) against the new interior defense of the Rockets with Dwight Howard. We've finally made it to games that almost matter, which means that games that do matter are right around the corner.
We still have to kill some time though and find a way to get through Friday and to the weekend when the action starts. What better way to do it than to find some old Isiah Thomas videos and see where the tangential aura of the internet and YouTube take us? Let's journey down the NBA rabbit hole, shall we?
First stop: Isiah Thomas regrets not shaking hands
Open Court, NBATV's extremely entertaining roundtable discussion show that involves former greats, is coming back with new episodes on October 8. As a teaser to the new shows, the NBA has posted a couple of clips of an interview with Isiah Thomas in which he discusses Karl Malone being a weak link for the Utah Jazz in the 90s and how he regrets giving the Chicago Bulls the cold shoulder when his Detroit Pistons were swept out of the playoffs in 1991.
It's great that Isiah Thomas hasn't kept up this air of bravado about that experience and is willing to admit that he doesn't feel it was the proper way for the Pistons to conduct themselves. Typically, I don't really care if a team decides to not shake hands with an opponent after they've been beaten. If they don't want to show that standard display of showmanship, that's on them to deal with the consequences or fallout afterward.
It's a great lesson from Zeke. I wonder what else he can teach us...
Isiah Thomas will teach you how to play basketball
Let me start off by saying I do not expect you to watch this entire video before you continue on with this post. In fact, I don't really expect you to watch much of the video at all. It's 50 minutes of Isiah Thomas teaching you the fundamentals of basketball. From proper timing on your layups to how to dribble a basketball to shooting form, Isiah covers all of the basics to help you be a better player while providing background on his basketball development and career.
Here's the video and if you want to open it in a new tab and check it out later, here's the link for that.
There are some real gems in this video and if you do happen to have the time today or this weekend to watch the entire 50 minutes, I highly recommend it. But I'll break down a couple of the highlights for you with the timestamp so you can check them out at your leisure:
8:55 -- Isiah Thomas teaches you how to shoot a basketball. To kick off this section of the video, he informs us of The Secret of basketball that I don't think made it into Bill Simmons' Book of Basketball. "How do you put points on the board? Because the name of the game is the team who has the most points at the end of the game wins." Why wouldn't the Knicks want this guy running their franchise again?
9:13 -- Without any explanation for why we're getting this demonstration, we get computer-generated layups. Technology!
18:50 -- Isiah teaches us about the two-handed chest pass. He tells us that it's a quicker way to deliver a pass and that if the defender tries to steal the pass, you can just fake it and keep the ball. This is clearly something he learned after Bird stole the ball. 
21:30 -- Isiah teaches us how to throw a baseball pass in basketball. What's interesting about this is as he's showing when and how to throw a "baseball pass," he finishes off the lesson with, "touchdown Troy Aikman." 
31:30 -- Joe Dumars makes a cameo and then gives Charlie Villanueva $48 million.
36:40 -- Zeke name-drops like crazy with these big man names. This must be how he convinced Jerome James to sign with the Knicks. Either that or it was because he offered an amount of money nobody else would ever think to offer Jerome James. It's one of those.
41:50 -- While teaching defense, Isiah informs his students that, "if you're not close enough to touch, you're too far away." I'm not even going to mention the time he got sued for sexual harassment when he was running the Knicks. Also, it's weird that this lesson is now irrelevant because hand-checking has been abolished.
43:05 -- "Peripheeyul."
46:30 -- This is a pretty cool comment about how Isiah knew Michael Jordan had figured it all out.
I will say this: the dribbling drills and display he puts on are kind of mesmerizing.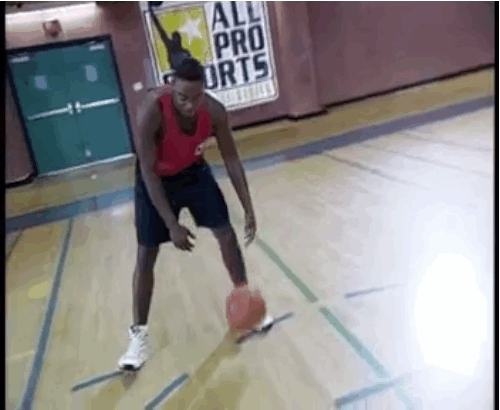 It's hard to stop watching that.
The awkward time Isiah Thomas was interviewed live about his Larry Bird comments
After the Boston Celtics eliminated the Detroit Pistons from the 1987 playoffs, Dennis Rodman and Isiah Thomas had some choice words about Larry Bird. Rodman assessed that if Bird was a black player, he'd be just another guy in the NBA. But because Bird is white, he was treated differently by the media. Isiah echoed Rodman's sentiments and caught quite a bit of heat for it. If that happened today, it would result in talk shows eating themselves like some kind of rogue bacteria and the player would issue a statement of apology through the media.
Back in 1987, Isiah ended up being interviewed on live television during Game 2 of the Finals and Brent Musburger actually hit him with some pretty hard questions, didn't give him any softballs, and even played the audio of the comments to see if Thomas was telling the truth about the joking nature of said comments.
I don't know if interviews and today's media have just become a lot more cookie-cutter in the way they conduct an interview or if Musburger just wanted to really set Isiah or the Isiah situation straight, but this is a little bit of an awkward interview 26 years later. Considering race was the issue at hand, the questions were pretty tough for live television. 
Also with Twitter, blogs, and how things catch wildfire (often for no reason), it's funny how it allegedly took Isiah so long to speak out and clarify that his comments just jokes because in Detroit it wasn't just a big deal like it was everywhere else. There wasn't such thing as "trending topics."
There are some pretty great Isiah Thomas mixes
One of the trickier parts of doing these posts is finding mixtapes that have music with appropriate lyrics to post on CBSSports.com. Sometimes, it can be pretty tough and you get a lesser video because the better ones usually have hip-hop music with explicit lyrics. Other times, you come across a video by someone who took the time to set up the highlights to go along with the lyrics to the song "House" by Elton John.
The parts where Isiah Thomas is banging on the hardwood and Elton sings, "this is my floor..." and that leads into Zeke falling to the ground only to hear, "this is where I lie," may have caused me to giddily laugh out loud. 
We have another really good mixtape for Isiah in which it's more of a tribute to the trials and tribulations of the Detroit Bad Boys. You see the pain and suffering of losing out to the Celtics in 1987. Then you see the redemption of the Pistons (SPOILER ALERT) winning back-to-back titles in 1989 and 1990.
Like the Ohio Players say, "Heaven must be like this!"
There are some even better Isiah Thomas commercials
We've had some really inspirational commercials involving NBA players and we've had some unintentionally hilarious ads involving NBA players. Here are some of Isiah's best commercials:
Isiah Thomas wants you to be on Plug Patrol and not electrocute yourself.
Zeke loves selling Toyotas.
Selling Toyotas is actually a family affair for him (assuming that wasn't an actress paid to pretend to be his mother).
He'll even sell you a Ford!
Do not leave you Minute Maid soft drinks in the cooler when Isiah is lurking. You're likely to never taste the orange flavoring unless you're a millionaire athlete that can just go out and buy a Scrooge McDuck vault full of them.
All of those commercials were really good, but I don't know that any of it will compete with Isiah Thomas and Reggie Theus teaching us that you can't smoke cigarettes while you're trying to play basketball. (Warning: you get a more current anti-smoking ad around the 30-second mark)
Reggie Theus' mustache really steals the acting effort.
Why do Isiah Thomas highlights make me think of Steve Francis?
Some of the flashy highlights of Isiah Thomas end up reminding me of some Steve Francis highlights that we've enjoyed over the years. The way they both handled the ball, the tricks they'd do with certain passes or the self-alley-oops we'd see from them are just some fun aesthetic similarities in their respective games. When I looked for the self alley-oop play that is in a mix below, I came across this classic play from his Orlando days in which Francis did a bounce pass alley-oop to himself.
I get really sick of casual fans or non NBA fans saying that all guys do in the NBA is travel. It's really just incorrect and often shows they don't understand the rules or the gather step a lot of players are legally allowed to take. With that said, Steve Francis got away with one of the biggest travels of the last 20 years on this play. He takes about four or five steps before he drops down the pass to himself. You can see Rasheed Wallace in the background, trailing the play, and pleading for the violation call.
The NBA put out this "Anklebreakers Volume One" DVD as a part of the "NBA Street" series a few years ago. It was an attempt to capitalize on the streetball craze that was so prevalent at that time. In this oddly edited YouTube video (highlighting Steve Francis but sloppily including other segments too), you get a great flash of just how fun Stevie Franchise was with the basketball during his big years.
Advanced statistics don't look fondly on that Allen Iverson, Stephon Marbury, Steve Francis era of play and it really wasn't great basketball at the time. But the individual talent and showmanship was pretty fun. When he was in Houston, Francis was as good of a show as you could get. It's funny how he got to Houston, too.
Steve Francis never wanted to be in Canada
When Francis lit college basketball on fire in his one year at Maryland, he was one of the biggest names coming into the draft. This class was pretty stacked as well with Elton Brand, Baron Davis, and Lamar Odom all supposedly franchise guys, along with The Franchise, that you could build a team around. In this "Beyond the Glory" show about Francis, you got a snippet of his stock at the time of the draft, how he viewed going to Vancouver with the second pick, and the fallout of him actively pursuing an exit from Canada before he even played a game.
This Beyond the Glory episode about Francis is really good and interesting. You can view it in five parts on YouTube (Part 1, Part 2, Part 3, Part 4, Part 5) and it has a lot of good, old footage of him in high school, at JUCO colleges, Maryland, and the NBA. You can even see this definite game shot that he practiced in high school: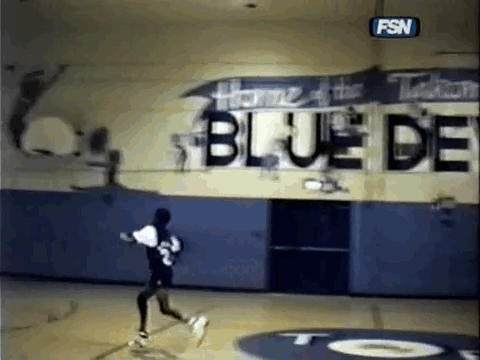 This is a very Steve Francis shot and at such an early age.
By the way, in his first game in Vancouver Francis had a line of 24 points, 10 assists, nine rebounds, two blocks, two steals, and zero turnovers. He shot 10-for-18 from the field in an eight-point victory. That's just twisting the knife deeper.
Probably because he'd have an awesome crib in Houston
Remember when MTV Cribs was a big deal? Do they still have that show or are we just now resigned to The Challenge (which is great) and shows about pregnant teenagers (which is not)? Regardless, Francis and his Houston home (after he was traded to Orlando) were once featured on a segment of MTV Cribs and as you can imagine, it's a pretty nice abode.
The highlights are probably the Phantom he owns (owned?), the comment that "most people keep Cristal in their refrigerator or Moët," his lucky Diamondbacks hat even though he doesn't like the team, Stevie pretending he doesn't know exactly how many people fit in his tub, and his own barbershop. 
The only confusing thing is that we didn't see Cuttino Mobley there at his house during that episode. Why didn't he take us to see Cuttino's room? If you ever want to read about how close their friendship is and how much the value each other's friendship, check out this old article that I believe was in ESPN The Magazine back in 2005.
Moochie Norris bobbleheads were all the rage
While Cuttino and Steve were close friends, Moochie Norris was also a close friend of Stevie's. They grew up in Washington, D.C. together and ended up playing together on the Houston Rockets together for a few years as well. Moochie Norris was nothing more than a solid backup point guard, but his Don King-like hairstyle was often a big hit with basketball fans, especially Rockets fans. When the bobblehead craze started up, the Rockets took advantage of this perfect storm of fan giveaways and fan favorite hairstyles by giving away Moochie Norris bobbleheads. 
Owning League Pass way back then, I was privy to the giveaway by the Rockets and used my eBay skills to acquire such a memento. By eBay skills, I mean that I stupidly got into a bidding war back when my responsibilities were not quite so expensive in life and I was blowing money on Jean-Claude Van Damme DVDs and whatever shoes were coming out next. Because of my competitive nature, I didn't take too kindly to someone also trying to win the Moochie Norris bobblehead. I don't remember the exact figure I ended up spending on the bobblehead, but it was around $78. 
It ended up being not the wisest of purchases because while it gave me joy for years to have it next to my computer, he ended up getting broken in a move and is now just lying in a drawer in my nightstand because he's wounded.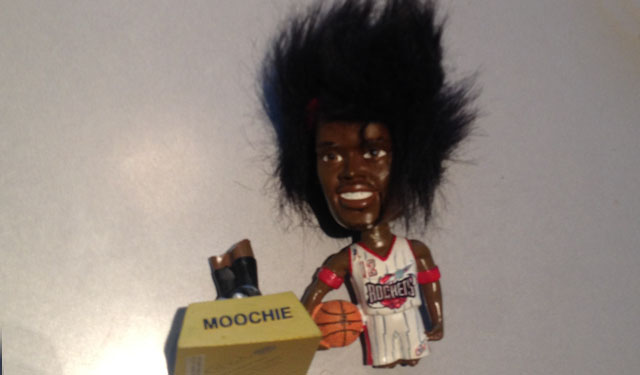 If anybody knows the name of a specialist that can help my Moochie bobblehead out here, I'd love to get that name. 
We've got all the scores, highlights and news for Friday night

George Hill, who is unhappy in Sacramento, could be a solution to Cleveland's backcourt si...

Shaquille O'Neal and Sir Charles cruise to an easy victory over some hot peppers
If Charlotte indeed moves its star guard, there's going to be more people impacted than just...

Trading Kemba Walker (and dumping salary in the process) may be harder than expected for C...

Our advanced computer model simulated Friday's Jazz-Knicks game 10,000 times