No minutes restriction for Pacers' Paul George in Game 3 vs. Heat
After suffering a concussion in Game 2 and being cleared to play in Game 3, Paul George won't have any minutes restrictions Saturday night against the Miami Heat.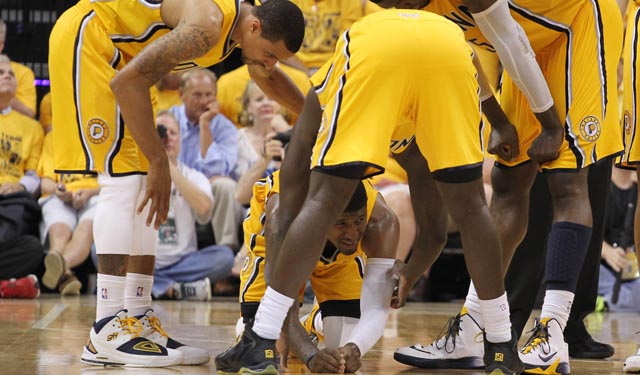 More postseason coverage: Playoff schedule, results | Latest news, notes
With just under seven minutes to go in the fourth quarter of Game 2 between the Indiana Pacers and the Miami Heat, Dwyane Wade's knee collided with the back of Paul George's head as the two went to the ground for a lose ball. George was on the ground for a few minutes before getting up and joining his teammates during the timeout. He returned to the game immediately and played out the remaining time.
George admitted to blacking out and being a little dizzy after the hit, but concussion tests weren't administered at the time. After going through several tests the last couple days, George has been cleared to play in Game 3 Saturday night with no restrictions.
No minutes restriction tonight for #Pacers Paul George (concussion) who went through morning shootaround

— Candace Buckner (@CandaceDBuckner) May 24, 2014
Being without George would have been a huge blow to the Pacers' chances of winning Game 3 and the series in general. He's been so important to their success the past two seasons, and they don't have anybody who can fill his shoes at a moment's notice. And while he doesn't have any symptoms now, it's tough not to worry some may pop up in the near future because of how brain injuries can work. George claims to be symptom-free for a couple of days and he did pass the protocol tests for getting back on the court.
Still, he wishes he hadn't made his blackout comment:
Paul George still regrets sharing his "blacked out" comments: "So the media wouldn't have gotten a hold of this."

— Candace Buckner (@CandaceDBuckner) May 24, 2014
While it's admirable he wants to do whatever he can to be on the court, the media "getting a hold" of comments about him blacking out isn't a bad thing. Concussions are very serious injuries and need to be dealt with properly and carefully. 
A report last week indicated Charlotte is looking to move Walker, along with one of its hefty...

Barea responds by claiming that none of Wall's teammates like him; the Wizards continue to...

Cousins finished with 44 points, 24 rebounds, and 10 assists
Love left Saturday's game, which the Cavs lost 148-124, due to illness

Kidd was fired by the Bucks on Monday afternoon

We've got all the scores, highlights and news from an NBA Monday