No shortage of obvious candidates to replace Mike Brown as Lakers coach
The big names are lined up to replace Mike Brown as Lakers coach, with Phil Jackson and Mike D'Antoni among the early favorites.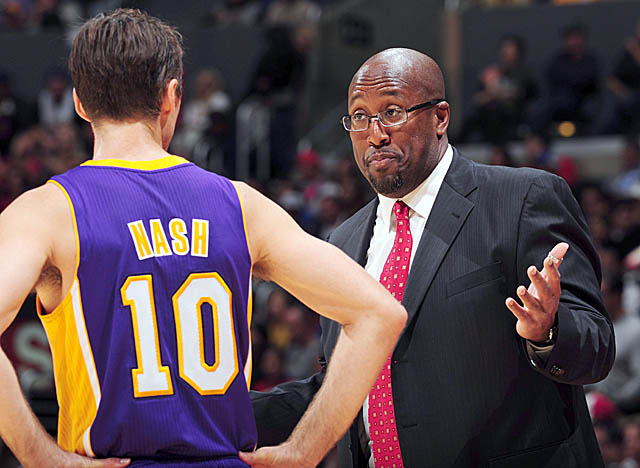 Brown was trying to install the Princeton offense as the Lakers also adjusted to a new roster. (Getty Images)
There's no shortage of obvious candidates to replace Mike Brown as Lakers coach, which perhaps provides some insight into why Brown was let go Friday after only five games.
More on Los Angeles Lakers
Related links
More NBA coverage
While assistant Bernie Bickerstaff will coach the Lakers on Friday night against Golden State, a permanent hire from outside the organization is likely to come sooner than later. The Lakers started 1-4 under Brown, who had new addition Steve Nash for only a game-and-a-half, and now embark on a six-game homestand without a permanent head coach.
Let's get right to the candidates, in no particular order:
* Phil Jackson: While it isn't clear if the Lakers have contacted their former coach yet, it is widely known Jackson, 67, is healthy, ready to go and interested. It's worth remembering the organization was expunged of nearly all signs of Jackson's reign, however, after he stepped down following the 2010-11 season. Jackson's first lieutenant, Brian Shaw, left to become an assistant with the Pacers once it became obvious he was going to be passed over as Jackson's heir. The transition from the Princeton offense back to the triangle presumably would be smoother than the transition from whatever it was the Lakers were running last season to the Princeton. "When there's a coach like Phil Jackson, one of the all-time greats, and he's not coaching, I think you'd be negligent not to be aware that he's out there," GM Mitch Kupchak said in a news conference Friday.
* Mike D'Antoni: The mind swoons at the thought of D'Antoni igniting a Lakers offense piloted by Nash. But D'Antoni recently had knee surgery and is laid up for a while, and changing offensive systems again would result in yet another potentially lengthy learning curve. D'Antoni has long been a favorite of Kobe Bryant's, from their lengthy association with Team USA and to their Italy connections. The Nash connection goes without saying. D'Antoni would have perhaps the best pick-and-roll combination in the league with Nash and Dwight Howard, but a dearth of 3-point shooters. Kupchak made a point of saying Brown's replacement needn't have championship experience, and he's looking for a coach who will install a system that is "not too complex." D'Antoni's offensive system is a favorite among players because of its simplicity.
* Brian Shaw: It's difficult to lure an assistant under contract with another team for a head coaching position during the season, and the Pacers like Shaw and recently increased his salary to just under $1 million a year, sources say. Some view Shaw as a logical long-term choice, since he has no head coaching experience. But given the short leash with Brown, the Lakers obviously are not in the midst of a long-term plan here. And Shaw left LA with a bitter taste after being passed over as Jackson's replacement. Kupchak characterized the chances of luring an assistant from another team as "a remote possibility. ... I think it's more likely that we would look to coaches that are not presently employed."
* Jerry Sloan: A Hall of Famer, Sloan is admired by Bryant for his hard-nosed coaching and tactical style. Sloan's emphasis on defense and pick-and-roll offense would be a shot in the arm for the Lakers on both sides of the ball. Sloan is 70, but still has some fire left in his belly. It's unclear if Sloan would have the patience for the Lakers' current organizational structure in which owner Jerry Buss' son, Jim, has more sway than general manager Mitch Kupchak. For years, Sloan enjoyed an atmosphere of quiet, reassuring support from ownership in Utah and worked hand-in-hand with his general manager, Kevin O'Connor, without undue meddling from above.
* Nate McMillan: The former Trail Blazers coach emphasizes defense and prefers a slowed-down, possession-oriented approach on offense. Despite McMillan's strong resume and Olympic connections with Bryant and Howard, it's not clear whether those tactical changes would be what the Lakers need.
* Steve Clifford: Clifford, a Lakers assistant, is highly regarded around the league, but it's unlikely the team would promote from within on a permanent basis after making such a hasty decision to ditch Brown. In fact, Kupchak basically said as much Friday.
* Stan Van Gundy: The basketball gods have been good over the years, but there's no way they'd ever be this good. Pairing Van Gundy with Howard, the player who ultimately ran him out of Orlando? You couldn't write a better script that will never happen.
Right before Wiggins hit his shot, Carmelo Anthony hit a 3 to put the Thunder in front

The Suns firing Earl Watson three games into season is second-quickest firing in NBA histo...

Bledsoe tweeted, "I Dont wanna be here"
Giannis had his hand on McCollum's hip when he poked the ball away

Teodosic had to leave the Clippers' game Saturday night against the Suns

Irving said recently that he does not regret the profane outburst