Noah and Gibson out vs. Knicks Thursday, Deng will play
Chicago Bulls coach Tom Thibodeau says Joakim Noah, Taj Gibson and Derrick Rose are out Thursday against the Knicks. Luol Deng will play.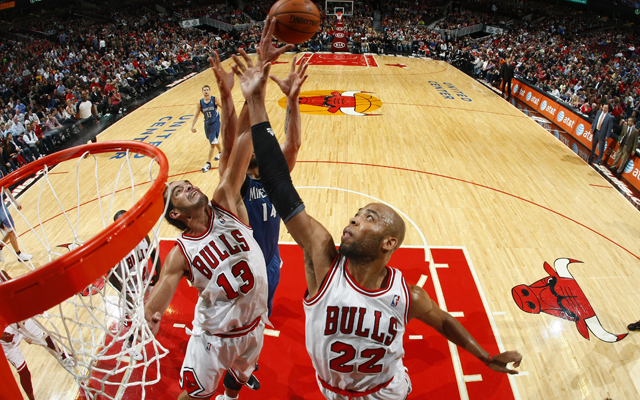 When the Chicago Bulls try to snap the New York Knicks' 13-game winning streak on Thursday night, they will be doing so without three key players in their rotation. We already know about the absence of Derrick Rose, who is recovering from an ACL tear and waiting to decide when he will play again. But there are a couple of frontcourt players who won't be in the rotation against the surging Knicks.
From K.C. Johnson of the Chicago Tribune, starting center Joakim Noah and their best player off the bench, Taj Gibson, won't play. But All-Star forward Luol Deng will start against the Knicks, the Bulls announced.
Thibodeau said Noah, Gibson, Rose are out. Deng is gametime, did shootaround. #Bulls

— K.C. Johnson (@KCJHoop) April 11, 2013
Noah's ailment is plantar fasciitis in his right foot that he's been battling for quite some time. He's only played in one of the previous 10 games for the Bulls, when he had 13 points and seven rebounds in a loss to the Detroit Pistons two games ago.
This will be Gibson's fifth consecutive game in which he hasn't played because of a sprained left knee. He suffered the injury against the Washington Wizards on April 2, and it's the second injury he's had to that knee this season.
Deng is currently battling a sore hip that has caused him to miss the last two games, both of them Chicago losses. As Johnson said, he participated in shootaround on Thursday.
The Rockets beat the Warriors 116-108 on Saturday night

The Cavaliers gave up 148 points in their loss Saturday afternoon to the Thunder

Blatt made the comment before coaching in the All-Star Game in Turkey
We've got all the scores, highlights and news from all of Sunday's games

Is this rock bottom for the Cavaliers because it sure feels like it is

Wade, as he's done so many times in his career, threw it up to LeBron for the thunderous f...