Northwest Division Offseason Report: Rising and falling
We took a team-by-team look at the Northwest Division this week in our Offseason Reports. Now it's time for a bigger-picture look at the division and how it shook out this offseason.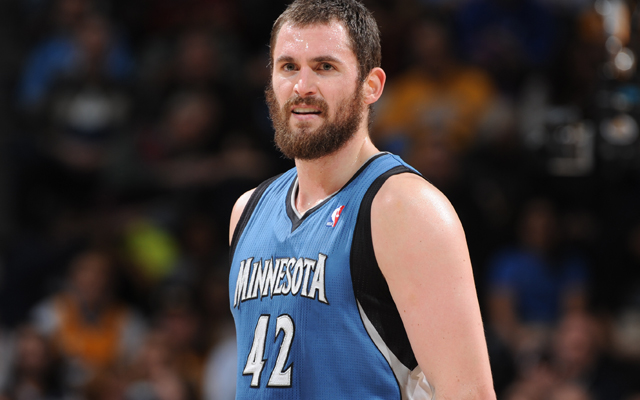 We took a team-by-team look at the Northwest Division this week in our Offseason Reports. Now it's time for a bigger-picture look at the division and how it shook out this offseason. 
The Northwest Division is the NBA's best example this offseason of the cyclical nature of the league. Up comes a team, down goes another. Someone rises, someone falls.
And right in the middle, a contender appears to have stood firm. 
The Nuggets were a 57-win juggarnaut last season, a team that terrified teams with their pace and athleticism. But with a front office shakeup, a fired coach and the failure to re-sign their top offseason target, they seem to have gone from a legit Western threat into the horrible place of NBA purgatory. Good enough to win as much as they lose, but certainly not in an elite place. 
But with the Nuggets slacking back, up come the Timberwolves. With a few shrewd offseason signings, and most importantly, getting back their best player in Kevin Love, the Wolves could be the West's next Nuggets. An athletic, youthful bunch that plays fast and free. Bad luck and injury slowed them last season but assuming things break better for this time around, could they be a 50-win threat?
Down? The Jazz have definitely dropped down. They weren't a contender by any stretch last season, but a quality .500-ish team that nearly snuck into the postseason. But by letting Al Jefferson and Paul Millsap go in free agency, the Jazz have focused on relying on their younger talent to rebuild, especially a young exciting point guard. They could be decent, but probably don't have enough depth to sustain anything. So in other words, what the Trail Blazers were last season.
Which brings me to the, yep, Blazers. They showed a lot of promise last season before eventually running out of gas. Their top issue has been addressed as their bench has been stocked. With an improved Damian Lillard, the addition of C.J. McCollum and a solid starting five, the Blazers appear to be a likely player in the Western playoff race. 
And finally, the team that has ruled the Northwest the last three seasons. The Thunder didn't do much in the offseason other than apparently regress. But they've trusted their process and developmental philosophy the last five years, and it has paid off every time. While the Wolves and Blazers appear to have traded places with the Nuggets and Jazz, the Thunder should still maintain their deathgrip on the division.
Really, the Northwest has changed, but stayed the same. 
Here's a rundown of our takes on the division's teams:
From Zach Harper's 2013 Offseason Report on the Trail Blazers.
As the Western Conference has become more and more loaded, the Blazers haven't just sat there twiddling their thumbs and hoping to strike it rich with a big name. They drafted intelligently and positioned themselves via trades as the third team in one deal and as the beneficiary of preying on a team in desperate need of unloading a young, talented player in order to grab cap space.

Olshey looks like he went to the Daryl Morey school of asset acquisition and in the process, he didn't panic to trade Aldridge when there were rumors of his unhappiness and he just plugged away to fill out a roster that complements a solid core of starters.
The Blazers are going to be a team to keep an eye on the first month of the season. With that remade bench and a second season for Lillard, if they get off to a nice start, there's a chance this could be a top six Western group. But a slow start, and it could reveal a few areas that still need addressing. They're better, but the question is how much?
From Royce Young's 2013 Offseason Report on the Thunder.
For the Thunder, the success of this offseason will probably have to be measured two or three offseasons from now. They avoided breaking into the luxury tax, meaning that's another year skipped in possibly becoming a dreaded repeat tax offender. With Durant, Westbrook and Ibaka all under 25, there's a chance the Thunder are holding their cards until 2014 or 2015, so by not splurging with their mid-level exception now and breaking into the tax, it means they can do it later. And who knows, they may end up needing that money to re-sign Lamb or Jackson anyway.
Did the Thunder get worse, improve or stay the same? With Kevin Martin exiting and Jeremy Lamb likely to step up, along with Reggie Jackson, it would seem that they probably stayed about the same. But consider: Kevin Durant is a year better. So is Russell Westbrook. So is Serge Ibaka. Those three players have improved each year -- siginficantly so, I might add -- so assuming the pattern holds, the Thunder should be better this season, just by default. 
From Matt Moore's 2013 Offseason Report on the Nuggets.
Did the Nuggets get notably worse in the offseason? Maybe not. Did they improve substantially in any area they needed to? Probably not. The most concerning element, judging by the first two months of the new regime, is there likely is no definitive pattern to suggest what direction the Nuggets are headed. Rebuild, retool, playoff push, tread water? You can't see the path because everything seems to be being done at once.

We'll see if Lawson and McGee can come into their own enough to surprise in a season where suddenly the public confidence should be much lower, despite retaining most of the roster from a 57-win team.
It's premature to write the Nuggets off just because of how poorly things went the last four months. Losing Masai Ujiri, then firing George Karl, then losing Andre Iguodala gives the appearances things have fallen apart. But a good roster is still in place with a core of Ty Lawson, Danilo Gallinari, JaVale McGee and Kenneth Faried. The question will be depth and if a few young players can elevate their play, the Nuggets could very well still be a playoff team.
From Matt Moore's 2013 Offseason Report on the Jazz.
This team added bi-annual cap exception money in Jefferson and Biedrins and still got a B because they drafted well and committed to young talent. Would it have been better to get something for Millsap and Jefferson? Sure. But that was a mistake at the trade deadline, not in the offseason. And the worst thing that happened to them was being forced to really commit to their young talent, something they've needed to do for a long time.

They didn't get suckered into bringing back Williams, who could have complicated their rotation. They didn't get suckered into filling in with veterans. They are giving their guys the opportunity to succeed and accumulating picks by renting out cap space. There's a lot to like about that.

The Jazz may not be great next year, but they're sure as heck going to be interesting.
The Jazz have decided to finally take a necessary step back so that they can later take steps forward. Drafting Trey Burke should fill the hole they've had since dealing Deron Williams. They let Millsap and Jefferson go, finally turning those minutes over to Enes Kanter and Derrick Favors. They don't have a lot of proven scoring, they don't have a real identity. But there's a plan apparently in place and with future cap space and assets in hand, the Jazz might've drifted back, while improving their future. 
From Zach Harper's 2013 Offseason Report on the Timberwolves.
The offensive woes appear to be fixed for this team. The Wolves scored just 100.1 points per 100 possessions last season, which was 25th in the NBA. Not having a healthy Kevin Love or Kevin Love at all for most of the season was a big part of those struggles. Pekovic looked great when he was on the floor and Rubio not only got his leg strength back but actually looked improved from his rookie season as the year went along.

But will the offense be enough to suppress the defensive issues? Will the team be able to devise a game plan and execute it to defend as a team? Is it enough to bring the Wolves out of the lottery for the first time in 10 years after a nine-year playoff drought?
It's simple: Keep Kevin Love healthy all season long and this team is headed to the playoffs. They've improved in a number of areas, especially with the additions of Kevin Martin and Corey Brewer. Losing Andrei Kirilenko stings, especially because they play in a division with Kevin Durant, but the Wolves have restocked their offensive arsenal, and assuming they can solve the curious Nikola Pekovic situation, they're going to be good. 
Offseason Power Rankings
1. Thunder: So they didn't do much, but they're still the class of the division. Why? Because Kevin Durant and Russell Westbrook. That's why.
2. Timberwolves: Let's say the Wolves don't suffer a single significant injury all season in 2012-13. How many games would they have won? At least 40, right? Maybe 45? I think they're better this season and if good health finds them, they're a 50-win team. 
3. Nuggets: The offseason hasn't gone well. At all. But don't sign their lottery ticket yet. Losing Iguodala is killer and not having Karl's offensive system might not bring out the best in a few players, but if they can build on a few things from last season, this could still be a 45-50 win team. 
4. Trail Blazers: Lillard, Matthews, Batum, Aldridge -- that's a pretty good group right there, isn't it? If McCollum really does stablize their bench, the Blazers could be a little dangerous. 
5. Jazz: They probably won't be that good, but they might be kind of fun. With a team that's rebuilding, that's really all you can ask for, right?
The Cavaliers won the much-anticipated matchup, 121-112

Two of the league's most interesting teams will meet on national TV on Friday night

A mic on the court evidently picked up what the Cavs superstar had to say to the Lakers ro...
The idea was to bring Bell along slowly, but he's making it harder and harder to keep him on...

Donovan Mitchell kept the top spot in the rankings, but there was plenty of shuffling below...

Stephen Oh is 23-7 picking Rockets and Spurs games and just locked in a play for Friday