Notebook: Kelly Oubre weighing high-level suitors
Kelly Oubre says Louisville is coming at him the hardest; Reid Travis plans visit to Gonzaga and possibly Vanderbilt; JaQuan Newton is taking his time.
• 3 min read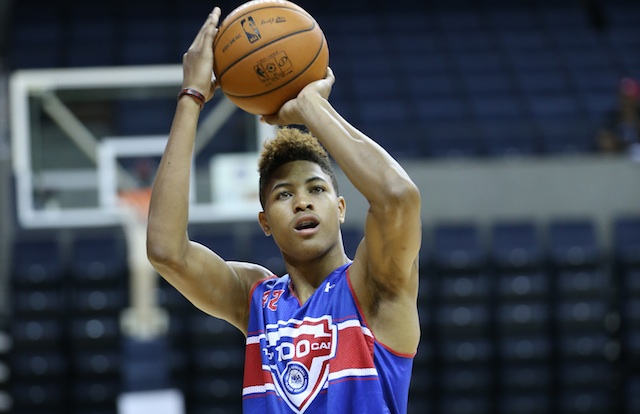 Justin Jackson and Justise Winslow were proven commodities for the Houston Hoops AAU program heading into the spring. Kelly Oubre was a top-50 recruit, but he was going to be overshadowed by the two five-star wings.
At least that's how it was expected to be.
Instead, Oubre averaged 16.1 points and 6.8 rebounds during the EYBL season, moving into the top-25 nationally and becoming one of the most sought-after wings in the country. He followed that up with a big-time performance at the NBPA Top 100 camp, averaging 13.8 points to rank second in the camp and being named to the all-camp team.
"I go out there playing against the best guys, and it's really helped my game," Oubre said. "I stack up pretty evenly, if not better. Going against them is pretty good. I'm not trying to sound arrogant, but all the guys here can play. They wouldn't be here if they couldn't play, so I'm just trying to prove I can play."
Kansas, Louisville, Georgetown, UCLA, Florida, Connecticut, LSU, Washington and all the Texas schools are making a strong effort for Oubre. The defending-champion Cardinals are coming at him the hardest.
"Coach [Rick] Pitino is a great guy," Oubre said. "He's a great coach, he told me he likes to see his players succeed. I like his offense. He's been there awhile, and he doesn't plan on leaving."
The 6-foot-6 small forward from Bush, Texas, has taken unofficial visits to UCLA, Texas and LSU, but he wants to take official trips to Kansas, UCLA, Georgetown and Connecticut.
"Longevity of the coach, coaching staff, style of play," Oubre said when asked what he's looking for in a school. "The offense they run. Who's going to push me to be the best I can be."
Reid Travis planning to trim his list soon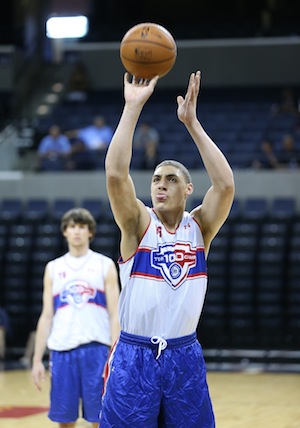 Travis is consistently productive. (Kelly Kline/Under Armour)
Reid Travis is another player who has used the spring and early summer to make a move into the top 50.
The 6-foot-8 power forward from De La Salle (Minn.) is super productive, crashing the glass with a purpose and running the floor for easy baskets. He can also score in the lane against most defenders. Travis averaged 13.0 points and 5.7 boards at the NBPA Top 100 camp, following up averages of 18.2 points and 9.2 rebounds during the EYBL season.
"I'm just trying to prove that I'm up there with the upper-echelon type of players in the country, just trying to throw my name in there, put my name in that category," he said. "I wouldn't say I'm underrated, my game kind of speaks for itself. What people rate me, I really don't worry about that. I'm just trying to improve, make a name."
Travis is hearing from Gonzaga, Minnesota, Michigan State, Stanford, Vanderbilt and Northwestern on a consistent basis, and already has a visit planned to Gonzaga.
One intriguing wrinkle in his recruitment is the move of Harvard assistant Yanni Hufnagel to Vanderbilt. Hufnagel recruited Travis' brother, Jonah, to Harvard, and has kept the Commodores in the running for Reid.
"As soon as he went to Vanderbilt, he offered the next day," Travis said. "I'm definitely looking at them, trying to get on campus sometime in the fall."
He plans on cutting his list to five or seven in August.
JaQuan Newton shows his playmaking prowess
JaQuan Newton has always been one of the toughest players to keep out of the lane from the class of 2014, capable of getting past his defender and finishing at the rim on a consistent basis.
He did that again last weekend at the NBPA Top 100 camp, averaging 13.0 points and 3.6 assists to prove himself as one of the better playmakers around.
Minnesota, USC, Seton Hall, Miami, Villanova and Temple are all in steady contact, with La Salle, Xavier and Georgetown also in the mix.
The only school to which he has taken an unofficial visit is Villanova, a short trip from Neumann-Goretti (Pa.).
"I like Villanova a lot," Newton said. "I like the way they play, I like the coaching staff, and I also like their facilities."
Don't expect a decision soon, though. 
"I don't have any favorites or anything like that," Newton said. "I'm just going to wait until I come around and it's time to choose, and then choose my school."
Teletovic missed the final three months of 2014-15 season with Nets recovering from same i...

Keep it right here for all of the news, notes, scores and highlights from around the leagu...

The NBA's City edition Nike jerseys are bold and very different
The Wolves may be smoke and mirrors, but the Pacers have the look of a team that can hang in...

LeBron said it might be difficult if the Lakers rookie ducks out of the way before he gets...

Galin Dragiev has his finger on the pulse of the Mavericks and just locked in a play for Thursday's...