Nuggets' Andre Miller takes out frustration on coach Brian Shaw
Andre Miller had it out with his coach on the bench during the Nuggets' loss to the 76ers.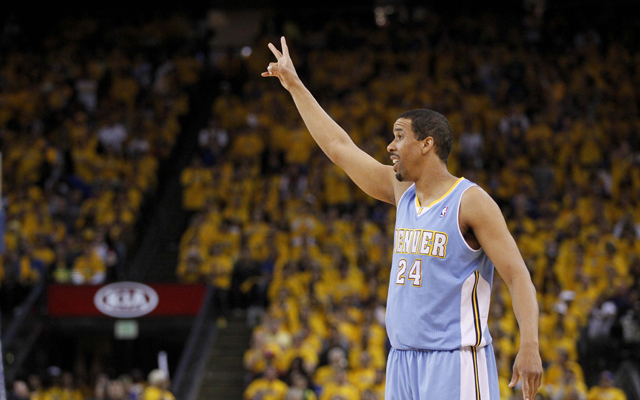 The Nuggetsare in the middle of an ugly free fall right now. With Wednesday's home loss to the 76ers, they've dropped to 14-17 and have lost eight straight games.
And with things bad, some players are starting to get agitated. For example, veteran Andre Miller who was benched last night by Brian Shaw, and then let his coach hear about it. Via the Denver Post:
After the Nuggets' eighth consecutive loss, 114-102 to Philadelphia on Wednesday night at the Pepsi Center, J.J. Hickson agreed with the notion that the Nuggets have hit rock bottom. But that point may have come earlier, in the second half, when Andre Miller, headed for his first healthy scratch, decided he would verbally take it out on coach Brian Shaw.

Miller yelled about the disrespect he felt he was being shown by sitting. And if he was being disrespected, he'd do the same to the Nuggets' first-year head coach.

"There's a time and place for everything," Shaw said. "In the middle of the arena in front of everyone ... I just tried to calm it down."

Asked if Miller understood the reasons for his one-game seat on the bench, Shaw said, "You'll have to ask him."

But by that time, Miller had already left.
Miller's last five games: 29 minutes, 15 minutes, 11 minutes, nine minutes and finally, a DNP-CD. Denver bench has been an area of concern for the team, and Miller has always been a steady influence on it. 
But he's clashing with Shaw. Miller's always been an outspoken player, one to talk about his playing time and role openly, so he's not shy about this kind of stuff. He's mad that a) he's not playing and b) that his team's losing.
So as the trade deadline nears... anyone want a disgruntled veteran?
Kobe the rookie had no fear facing off against Michael Jordan the legend. Then he gave up a...

Once again the Jazz will be without Rudy Gobert due to injury. How will they fare?

Lorenzen Wright's ex-wife has been charged with his 2010 murder
Hayward, free of his walking boot as of Wednesday, says his mind is open to a return before...

The former Knicks star returns to New York for the first time since joining the Thunder

Former longtime Knick Carmelo Anthony makes his return to New York