Nuggets F Chris Andersen's home searched by police, property seized
Nuggets forward Chris "Birdman" Andersen's home in Colorado has been searched by police.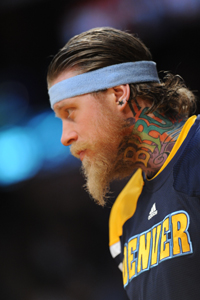 Police seized property from Chris Andersen's home Thursday.
(Getty Images)
Via 9News in Denver: 
Denver Nuggets center Chris "Birdman" Andersen's home is the target of an ongoing investigation in a suspected Internet criminal case, 9Wants To Know has learned.

Douglas County Sheriffs Office Internet Crimes Against Children investigators seized property from Andersen's home in Larkspur.

Investigators have an ongoing investigation that began from a referral from a California law-enforcement agency. Deputies recovered property from the residence they believe is connected to the ongoing case.
via Chris Birdman Andersen target of an Internet criminal investigation | 9news.com.

The Dougas County Sheriff's Office has released a statement in connection with the report. 

From the Douglas County Sheriff's Office in relation to the ICAC: 
Currently, the Internet Crimes Against Children Unit (ICAC) consists of one detective that is supervised by the Special Victims Unit Sergeant. This ICAC detective gets assistance from SVU detectives on ICAC cases. Both the ICAC and SVU detectives follow-up on tips from the National Center for Missing and Exploited Children. These tips can be internet related crimes or other types of crimes where a child is a victim like child prostitution and child sex tourism.
via Internet Crimes Against Children | Investigations | Douglas County Sheriff.

The Denver Post notes that at least one other person is listed as a resident at the home searched:
"The Sheriff's Office did contact him this morning while he was at his house and he cooperated fully," said spokeswoman Deborah Sherman.

Sherman said the investigation is ongoing and declined to provide details about any specific allegations against Andersen. The search warrant has been sealed.

...

Proving who used the computer or computers in question is frequently a tricky part of Internet crime cases.Property records show at least one other person lives at the Larkspur home.
via Property seized from home of Denver Nuggets center Chris "Birdman" Andersen - The Denver Post. 

ABC Channel 7 in Denver reports that the investigation involves child pornography. Law enforcement officials have not confirmed that publicly.


A law enforcement source told CALL7 Investigator John Ferrugia that the case involves child pornography.
via Deputies Seize Property From Nuggets 'Birdman' - Denver News Story - KMGH Denver.
Andersen has not been arrested nor charged with anything at this time. The Nuggets told 9News in Denver that they are unaware of any investigation at this point. 

Andersen has not logged any time in the Nuggets' first-round playoff series against Los Angeles. Andersen, 33, was expelled from the NBA for violation of the league's substance abuse policy from January of 2006 until his reinstatement in March of 2008.  

This story will update as news develops.  
The former Clipper apparently had some tricks up his sleeve after a chippy game

The Rockets were apparently looking for Austin Rivers and Blake Griffin after a chippy gam...

If they don't meet in the Finals again, let's appreciate every one of the 27 matchups since...
D-Wade picked up the steal and got creative on the fast break as the Cavs headed into half...

Despite the embarrassing hiccup, the youngest Ball had himself a pretty great day on the c...

The players were both ejected in the closing seconds, then continued their discussion off the...