Nuggets finally enter season with a little stability ... for about 45 seconds
The Denver Nuggets entered training camp this week with stability on their roster for the first time in two years, but will it be short-lived?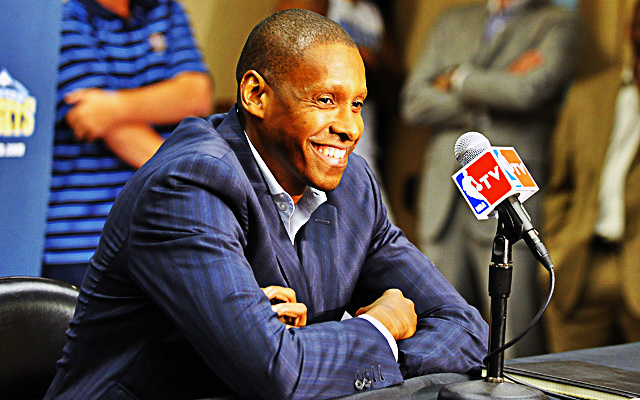 General manager and the mastermind of the Denver Nuggets roster, Masai Ujiri, is in a contract year with Denver.
(Getty Images, edit by Pixlr-o-matic)
George Karl characterized the Nuggets on media day as having had the best September that he's had since he took over as coach. Everyone, as usual, is upbeat like they are at the beginning of training camp, before the injuries, the tough stretches, the grind sets in during those winter months. But maybe the biggest factor that's different in Denver this season is that, for the first time in three years, they could make it at least through four months of playing time without a significant shift in their roster. 
In 2011, they traded Carmelo Anthony and Chauncey Billups to appease Anthony's request and end the drama. They swapped Raymond Felton at the draft, acquiring Andre Miller and a pick that became Jordan Hamilton. They added Rudy Fernandez and Corey Brewer. They moved Nene at the trade deadline for JaVale McGee, and in the offseason landed Andre Iguodala for Arron Afflalo and Al Harrington. 
The locker room has been written in pencil, not ink, for two years. 
But even with the addition of Iguodala costing the loss of their best shooter in Afflalo and one of their locker room leaders in Al Harrington, the Nuggets will have more stability this season than in year's past, in part because they finally get a full training camp and normal nonlockout schedule to get adjusted. 
"It's going to help, it's going to be big," point guard Ty Lawson said this week. "When the Melo trade happened, we didn't know who was going to go, who was going to be back.
"We know who our core is going to be for the next couple of years, so we've gotten to know each other a lot more than we did then, and now we just go forward. I think it's better for us mentally just to have more stability as a team."
Lawson cited getting to know things like to never bounce pass to center JaVale McGee ("always throw it to the rim") and understand more of where players like the ball. 
So with a team that was good enough for the sixth seed last season, and with what Karl called a "defensive stopper" in All-Star Iguodala, and with the development of McGee, Kenneth Faried and Jordan Hamilton, the Nuggets should have a solid core and won't have to feel like things could come apart at any minute. 
Well, for a little while, anyway. 
There are three huge pieces of business awaiting next summer for the Nuggets.
First, Lawson is up for an extension. On media day, both sides expressed optimism about a deal getting done, but Lawson's extension has been talked about since July. Specifics of the negotiations are unknown, but you have to wonder if part of the question comes down to whether the Nuggets want to use the "Designated Player" clause of the CBA, which allows them to extend Lawson for five years instead of four.
Lawson reportedly is pursuing the max, which hamstrings the Nuggets trying to determine if the flashes of brilliance that he has shown will develop into consistent greatness. 
The second question involves Iguodala, who has a player option for 2013-14. From the moment that he stepped foot in Denver, he and general manager Masai Ujiri have spoken of wanting to establish a long-term commitment. Iguodala genuinely seems to have little interest in pursuing free agency, but it raises the question inherent in the NBA: Why sign an extension, which would be at most four years, when a player can pursue a five-year max contract by entering free agency and then re-signing? 
The third piece of business and the biggest question for the team's stability comes from the man who has created the roster and caused much of the uncertainty in his efforts to remake the team. Ujiri himself is in a contract year. On Monday, owner and president Josh Kroenke eluded questions about a potential extension for Ujiri saying only that conversations have been "comfortable." Ujiri went on record as saying he'd be around as long as Kroenke would have him, but the question lingers whether the Nuggets will be willing to put the money forth to keep Ujiri, especially after a seven-figure salary was reportedly waiting from the Sixers. (Kroenke denied reports that the Nuggets had granted permission for the Sixers to interview Ujiri.) 
So, you know, finally some stability on the Nuggets! ... Except for their two best players and their GM whom many consider a genius. No biggie. 
Finally, despite the need for the team to have just a little bit of time to try to work together, Ujiri said Monday regarding whether the Nuggets have enough three-point shooting something that echoes his general approach and which lingers over all teams, but especially this team over the past two seasons. 
"We'll take a look at it," Ujiri said, "and if we need to adjust, we will."
You gotta wonder if anyone who joins the Nuggets should even unpack. 
Is this rock bottom for the Cavaliers because it sure feels like it is

Wade, as he's done so many times in his career, threw it up to LeBron for the thunderous f...

The Warriors coach added there should be no shame in being picked last since everyone's an...
We've got all the scores, highlights and news from all of Saturday's games

The two teams have reportedly not had any substantial discussions to this point

Oladipo may be getting most of the shine, but this second-year big man has been phenomenal...