Nuggets GM Ujiri accepts front-office position with Toronto Raptors
Nuggets GM Masai Ujiri is returning to Toronto as head of basketball operations for the Raptors and Denver faces several questions as he departs.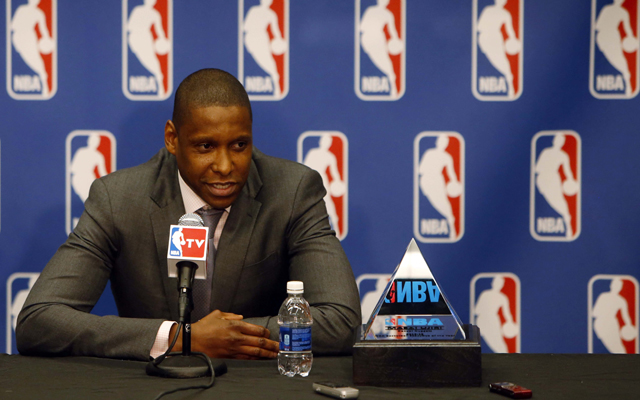 Ken Berger of CBSSports.com reports that Denver general manager Masai Ujiri, after weeks of discussions with Toronto, where he was an assistant under Bryan Colangelo, has been hired as head of basketball operations for the Raptors. Yahoo Sports first reported the deal was done. 
It's a major coup for Tim Leiweke, the new president of MSE (the group that runs the Raptors), who had first targeted Phil Jackson to take over. Ujiri gives Toronto a young, vibrant executive who has already proven he can manipulate a roster into a winning group of cost-effective players while maintaining flexibility to upgrade through trades and free agency. 
Yahoo reports the deal at five years, $15 million, a handsome sum considering his Denver salary was estimated in the $500,000 range. 
For Denver, it does nothing to dispel the notion that ownership is cheap when it comes to management, and it leaves in doubt the long-term status of the roster. Denver elected not to pursue extension talks with Ujiri, even as the team thrived and as Ujiri headed toward the 2013 Executive of the Year Award. The Nuggets won 57 games this season, finishing third in the West before bowing out to an unreal shooting performance from the Warriors. 
The roster is almost entirely made of players designed to be moved for an upgrade later. Will a new GM who might be more conventional move toward dismantling the roster and starting over? Does this mean George Karl may be entering the last year of his contract? Will Andre Iguodala decide to opt out of the $15 million owed to him next season with new management who did not trade for him coming in?
For Toronto, it's a day of celebration and a time to wonder if Ujiri will try to move Rudy Gay and the absurd contract he's under, if the Raptors will stick with Dwane Casey as coach, and how Ujiri will handle the huge amount of salary they've wrapped themselves into. Maybe more interesting is to wonder what the relationship will be between Ujiri and his former boss Bryan Colangelo, who was was "reassigned" last week (read: banished to lands outside of basketball operations). The internal politics at MSE remain fascinating. 
Two things are for certain, though. This was a win for Toronto and a loss for the Nuggets. 
The Suns firing Earl Watson three games into season is second-quickest firing in NBA histo...

Bledsoe tweeted, "I Dont wanna be here"

Giannis had his hand on McCollum's hip when he poked the ball away
Teodosic had to leave the Clippers' game Saturday night against the Suns

Irving said recently that he does not regret the profane outburst

Wade is having a rough start to his first season playing in Cleveland