Nuggets Hickson, Randolph likely to start over Faried in opener
Kenneth Faried has been a fan favorite and a productive player in his two years in the league. But Brian Shaw won't start him over J.J. Hickson and Anthony Randolph in the opener.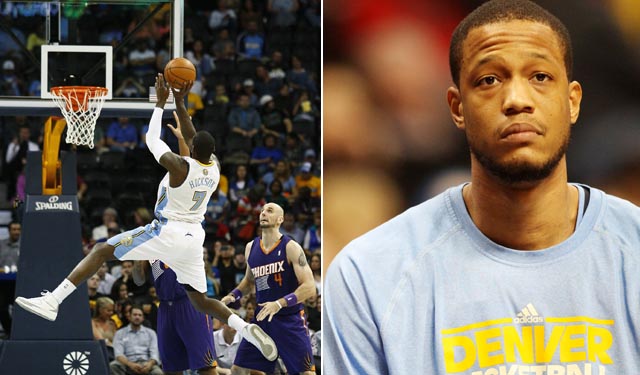 During the 2011-12 season, Denver Nuggets rookie Kenneth Faried needed roughly 11 games before he became a constant fixture in the starting lineup for George Karl. His ability to attack the rim, rebound like his "Manimal" nickname might entail, and providing enough hustle and energy to power a hospital were endearing to his teammates and the fans. However with the regime change to Brian Shaw in Denver, it doesn't look like his new coach has much faith in his impact.
Shaw informed the media on Tuesday that he would likely have a starting lineup of Ty Lawson, Randy Foye, Anthony Randolph, J.J. Hickson, and JaVale McGee on Wednesday when the Nuggets travel to open their season against the Sacramento Kings. Faried is apparently not the right option at either starting forward position over Hickson and Randolph, but especially not at the power forward position.
If Lawson plays, Shaw says he will start, along with Randy Foye, JJ Hickson, Anthony Randolph and JaVale McGee. #Nuggets

— Denver Nuggets (@denvernuggets) October 29, 2013
You may remember Anthony Randolph from such failed experiments as "Anthony Randolph could be a really good player in this league and has the potential to be a difference-maker." Randolph has been a disappointment in various organizations, spending a lot of time on the bench with the Golden State Warriors and Minnesota Timberwolves. His lack of playing time has often been linked to poor coaching decisions by Don Nelson and Mike D'Antoni, but that didn't seem to come about when he couldn't get on the court for Rick Adelman in the 2011-12 season.
J.J. Hickson was someone that made an impression in the box scores last season with the Portland Trail Blazers, but he hurt the team a lot by having to attempt defense as a center. To be fair, he was playing way out of position with the Blazers, but his statistics of 12.7 points and 10.4 rebounds per game were good enough to get a lot of interest from the Nuggets. The problem is trying to decipher whether or not he's giving you productive stats with his scoring or rebounding or if he's giving teams empty calories on the stat sheet.
Regardless, Shaw feels more comfortable going with a guy that can rebound and score like Faried while being able to hit a midrange jumper in Hickson at the power forward position. You could play Faried at the 3 but you'd have to convince him he can out play Randolph. Somehow that case hasn't been made over the last month.
Westbrook's late layup gave the Thunder a 109-108 victory

LeBron became the seventh player in league history to reach the milestone

There were a few things that stood out from Tuesday's All-Star selections
Here are three players from each conference who had legitimate claims to make the game

LeBron achieved the milestone in the first quarter Tuesday

Here are the full lineups for the 2018 NBA All-Star Game