Nuggets' JaVale McGee to star in reality show with his mother
JaVale McGee will get his own show. Or rather, his mother will, but it's about him. It's a whole thing.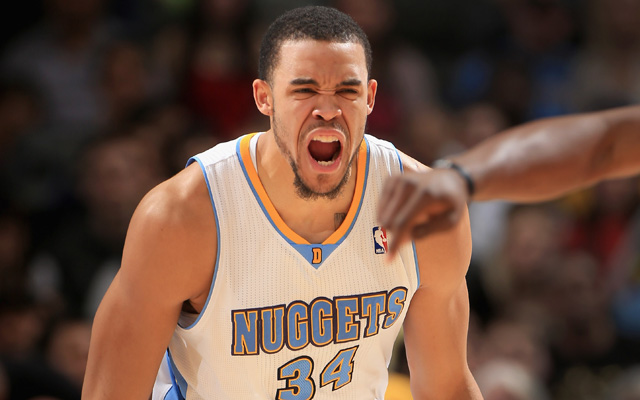 The league's most wacky personality is getting his own show. 
Nuggets center JaVale McGee is set to star in his own reality show along with his outspoken mother Pam McGee.
  MILLIONAIRE MAMA'S BOY The new OWN series Millionaire Mama's Boy explores the dynamic relationship between former WNBA basketball star Pamela McGee and her 25-year-old son, Denver Nuggets center, JaVale McGee. Famous for being domineering on and off the court, Pamela is not only JaVale mom, she also his business manager, working to build an empire while trying to keep a tight rein on the glitz and girls that come with the life of an NBA star. Meanwhile, Pamela managing her own life, which consists of her equally fabulous single girlfriends who also have sons coming up in the league.When Pamela needs someone to laugh with or a shoulder to cry on, she turns to her girls. Like Pamela, they are single mothers raising their sons while dating and chasing their own ambitions. With her hectic schedule, Pamela relies on her Jay to get things done.She trusts him to oversee her mansion, bank accounts and properties. While her friends think there could be a love connection, Pamela and Jay deny it but they certainly fight like a married couple. Like any good mother, Pamela is a force to be reckoned with, and no one is going to stop Mama McGee from taking care of her own. After all, she is basketball royalty herself. They may be crazy, loud and a little wild, but family what it all about for the McGees and their friends. Ultimately, it a show about family, love and the unbreakable bond between a mother and her son all seven feet of him. The series is executive produced by Pete Tartaglia and Amy Palmer Robertson and distributed by Sony Pictures Television.
via Tyler Perry Series Get Launch Dates On OWN.
So that should be ... fun, I guess? 
It's going to be probably more than a little annoying for McGee, who seemed nonplussed about the show when asked Thursday about it. I mean, McGee's not a fan of the media in the first place and now he's got cameras all over. 
Pam's quite the personality, so she should make for good television. And even if it's just her talking while McGee rides past in the background on his Segway, I'd watch that. 
Stephen Curry, who grew up in North Carolina, wants to be part of the next Panthers ownership...

Vince Carter is destined for a Raptors reunion; he doesn't know when it'll happen

Thomas has a target date for his return, and with the Cavaliers scorching, this could be h...
LeBron James once again is using his platform to be socially active

Not many games, but still plenty of action and intrigue Sunday in the Association

Kobe Bryant had a solid piece of advice for back in 2016 when he left OKC for Golden State