Nuggets' Kenneth Faried moving toward return from ankle injury
Kenneth Faried could play in Game 2, George Karl said Sunday.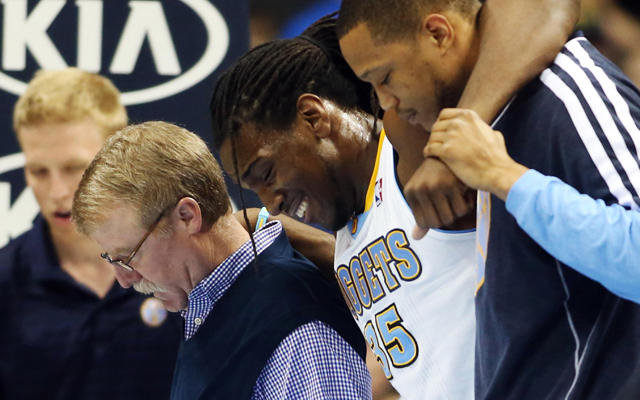 After the Warriors lost rebounding big man David Lee to a torn hip flexor on Saturday in Game 1, the Nuggets are set to get their rebounding big man back. Kenneth Faried appears to be "moving in that direction" to return from an ankle injury, as Nuggets coach George Karl put it Sunday. From the Denver Post: 
Will Kenneth Faried play in Game 2?

That seems to be the plan.

"I think he's moving in that direction," Nuggets coach George Karl told The Denver Post after Saturday's Game 1 win against Golden State. "I wouldn't guarantee it, but I think he's moving in that direction."
via Nuggets' Kenneth Faried might be able to play in Game 2 vs. Warriors -- The Denver Post.
The Nuggets badly need Faried back in two areas. One, as mentioned, the rebounding, which is a problem with their likely lineup of Andrew Bogut and Carl Landry to get heavy minutes, and two is their ability to push the pace with his relentless energy. The Nuggets were forced to deploy a JaVale McGee-Kosta Koufos combination Saturday that had only played 108 minutes all season and that goes against almost all of Karl's tendencies. 
Faried also has a huge intangible effect on the game, lifting the energy, adding possessions, and making life miserable for opponents. His bad ankle may limit that some, but the effect would still be a net positive. 
Karl said Friday that if there's any question about him playing the day before the game, he'll keep Wilson Chandler in the starting lineup with rookie Evan Fournier at the 2-guard spot.
Vince Carter is destined for a Raptors reunion; he doesn't know when it'll happen

Thomas has a target date for his return, and with the Cavaliers scorching, this could be h...

LeBron James once again is using his platform to be socially active
Not many games, but still plenty of action and intrigue Sunday in the Association

Kobe Bryant had a solid piece of advice for back in 2016 when he left OKC for Golden State

An old rivalry is reignited between LeBron James and the Cavaliers and John Wall and the W...