Nuggets' Nate Robinson fined $25,000 for criticizing officials
You can do a lot of things in the NBA but you can't criticize officials and not expect to pay for it. Just ask Nate Robinson.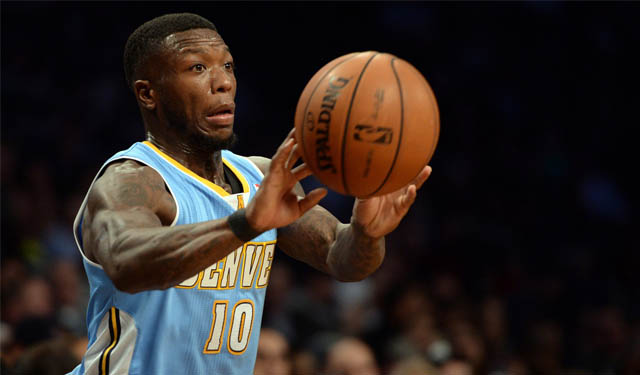 There are a lot of things you're allowed to do when you're an NBA player but criticizing the officials in any way is not one of them. If you're going to say something negative about them or the job they're doing, you can expect to get a pretty hefty fine. Denver Nuggets' guard Nate Robinson certainly knows this after being fined $25,000 for criticizing officials after a Nuggets' win over the Knicks.
The league announced the fine on Friday:
Denver Nuggets guard Nate Robinson has been fined $25,000 for public criticism of the officiating, it was announced today by Rod Thorn, President, Basketball Operations. Robinson made his comments following the Nuggets' 97-95 victory over the New York Knicks on Friday, Nov. 29, at Pepsi Center in Denver.
What did Robinson say exactly that would get him fined after a close victory? Simply put, he feels the referees in the NBA hate him and have put a target on his back. 
"They hate me, they hate me," he said. "I don't know why, but it is what it is. I already know I've got the target on my back, but I'll play through it; I don't care. I really don't. It doesn't bother me none. If I get a call, I get a call. If I don't, I don't. If I get a tech, hopefully it's not in the fourth quarter. Hopefully I don't get any more. But I know I will. It's nothing new for me."
This is Robinson's ninth year in the NBA, so the officials are certainly aware of him. In his career, he's taken 2.3 free throw attempts in 23.2 minutes per game. For comparison's sake, the average NBA player attempted 2.0 free throws per game, according to HoopData. 
ASM represents dozens of NBA players, including Kristaps Porzingis, Kyle Lowry and Serge I...

Barea will return with members of his family after Mark Cuban loaned him the team plane

Wade, recently bought out by the Bulls, has reportedly made his decision
Dwight Howard apparently wasn't well liked by some of his Hawks teammates

Kyrie Irving created a movement -- but even he had no way of knowing the damage he could d...

Parsons, a Magic fan growing up, says his situation in Memphis with the injuries and big contract...