Nuggets part ways with George Karl
The Denver Nuggets and coach George Karl are parting ways according to Ken Berger of CBSSports.com.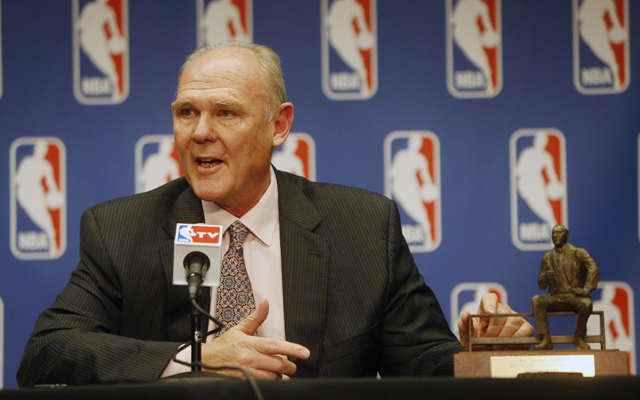 The Denver Nuggets and coach George Karl have parted ways, the team announced Thursday. 
Most NBA coaching wins
Coach
Record
1. Don Nelson
1,335-1,063 (.557)
2. Lenny Wilkens
1,332-1,155 (.536)
3. Jerry Sloan
1,221-803 (.603)
4. Pat Riley
1,210-694 (.636)
5. Phil Jackson
1,155-485 (.704)
6. George Karl
1,131-756 (.599)
7. Larry Brown
1,098-904 (.548)
8. Rick Adelman
1,002-707 (.586)
9. Bill Fitch
944-1106 (.460)
10. Red Auerbach
938-479 (.662)
Karl, who won Coach of the Year this season, was reportedly pushing for a contract extension but ownership wasn't prepared to give him one. With general manager Masai Ujiri -- who won Executive of the Year this season -- leaving the Nuggets for the Raptors recently, Karl lost one of his biggest supporters. 
"George has been an instrumental part of our success over the past decade, and we appreciate everything he did to keep us among the top teams in the Western Conference," team president Josh Kroenke said in a release. "He is a Hall of Fame coach whose legacy in Denver will last for years to come. George is a legend in the game of basketball and I could not have more respect for him as a person and coach."
Karl was headed for the final year of his contract and was reportedly agitated by the contract negotiations along with Ujiri leaving the team. The Nuggets decided to pull the plug early on Karl rather than deal with tensions throughout the season. And there's also the fact the Nuggets experienced yet another disappointing first round playoff exit. 
The Nuggets went 57-25 this season, their best mark in nine seasons under Karl. 
Nuggets forward Kenneth Faried tweeted, "So we lost a GM now a coach what's next!?"
There will certainly be potential suitors for Karl if he chooses to dive back into coaching right away. Per Ken Berger of CBSSports.com, the most attractive destination for Karl is the Clippers, who have a ready made roster built to contend right away. Plus Karl's high-paced style could certainly fit Lob City. 
As for the next Nuggets coach, ESPN.com reports there's a chance of a "trade" where Lionel Hollins heads to Denver and Karl goes to the Grizzlies. Another name likely to emerge as a candidate is Pacers associate head coach Brian Shaw. 
Karl, 62, has been with the Nuggets since 2005 and has compiled a career coaching record of 1,131-756. 
Since joining the team, the Nuggets have never finished lower than second in the Northwest Division, and have made the playoffs all nine seasons. However, Karl and the Nuggets only progressed past the first round once, with Carmelo Anthony in 2009 when they lost in the Western Conference finals. 
Trail Blazers guards Damian Lillard and C.J. McCollum have been pushing for Anthony to join...

Anthony reportedly gave the Knicks an expanded list of teams he'd waive his no-trade clause...

The Suns will also receive a second-round pick in the deal
Kerr noted Warriors are deeper than the NBA championship team of last season

The Dubs will make a decision as a team on visiting the White House, but Steph would vote...

Wolves are an up-and-coming NBA squad, but this region knows heartache too well