Nuggets-Warriors: Andre Miller's 'Old Man Game' takes over in Game 1
Andre Miller came up big in a Game 1 win for the Nuggets vs. the Warriors Saturday.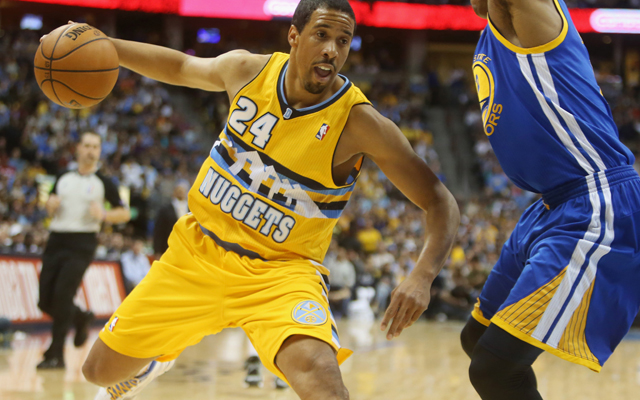 DENVER -- I've got a million "old man" jokes about Andre Miller.
"In 10 years guys at the rec league will see Andre Miller making the exact same plays he's making now."
"Dinosaurs learned their post moves from their elder, Andre Miller."
And most often, just "Old Man Swag."
On Saturday in Game 1, the joke was on the Warriors as "Old Man" Miller, 37, slipped, stutter-stepped and squirreled his way to 28 points on 11 of 16 shooting as the Nuggets beat the Warriors 97-95.
Oh, and this.
Asked if he had told the team before the final possession he was taking the shot, Miller said, in true "Old Man" fashion, "I was tired, actually."
You know, like you get when you're 700 years old. But the truth is that in a game where very little went right for the Nuggets, as the Warriors crushed the pace to a crawl and controlled the glass, the Nuggets needed someone with control, with experience, with composure to make a play.
And Andre Miller delivered.
"On a night like tonight, I just have to say it was an incredible play by Andre Miller," coach George Karl said. "I just love him.
"We won tonight because of Andre Miller and our defense."
"I'm never surprised by Andre Miller," forward Corey Brewer told reporters after the game. "I say he's unguardable. They always talk about these guys like Kobe Bryant or LeBron James, but if you give Andre Miller the ball, he's one of the toughest guys to guard in the NBA.
"Coach was going through the play but we were looking at each other. Andre was hot, so we were kind of like, 'Why don't we get out of the way and let Andre have the ball?' And that's what happened, and he had Draymond Green on him -- we like those odds."
So the Old Man Game won out again. Karl's confidence in Miller, which has never wavered, resulted in a game-winning shot. And it turns out that it was Miller's first game-winner in the playoffs. Ever.
"I've never hit a game-winning shot. I've taken a few and missed, but to hit that was big," Miller said.
But Miller made shots all night, and that in part shows the strength of the Nuggets' versatility. Golden State deployed a zone, which was fairly brilliant considering the Nuggets' inablity to shoot in general, and especially on a night where they shot 3 of 16 from behind the arc. But the cost of that zone, Ty Lawson said, was that the middle was wide-open, allowing Miller to snake inside with Golden State's zone extended so far out.
So in a season where the Nuggets defied the traditional model of the NBA and surprised many by succeeding with a team that was good on paper, Denver took a 1-0 series lead on the back of a veteran play from a veteran player exploiting a well-schemed tactic from the opponent. The mental toughness of a team known for its flashy play continues.
And for all the tactical adjustments, sometimes it comes down to just making plays, and Karl summed up his favorite point guard pretty succinctly in that regard.
"When the game is in that guts-and-glory mode, [Andre Miller] is pretty damn good."
No joke.
San Antonio's track record speaks for itself, but they've made a few puzzling moves this o...

The Kings top pick thinks your burgers are trash, California

Popovich added that Trump is 'unfit intellectually, emotionally, and psychologically' to be...
Larry Hartstein turned in a massive profit to close last season and locked in a pick for R...

Too many stars and not enough spots on the upcoming season's All-NBA teams

It appears Philadelphia will continue to be extremely cautious with its potential franchise...